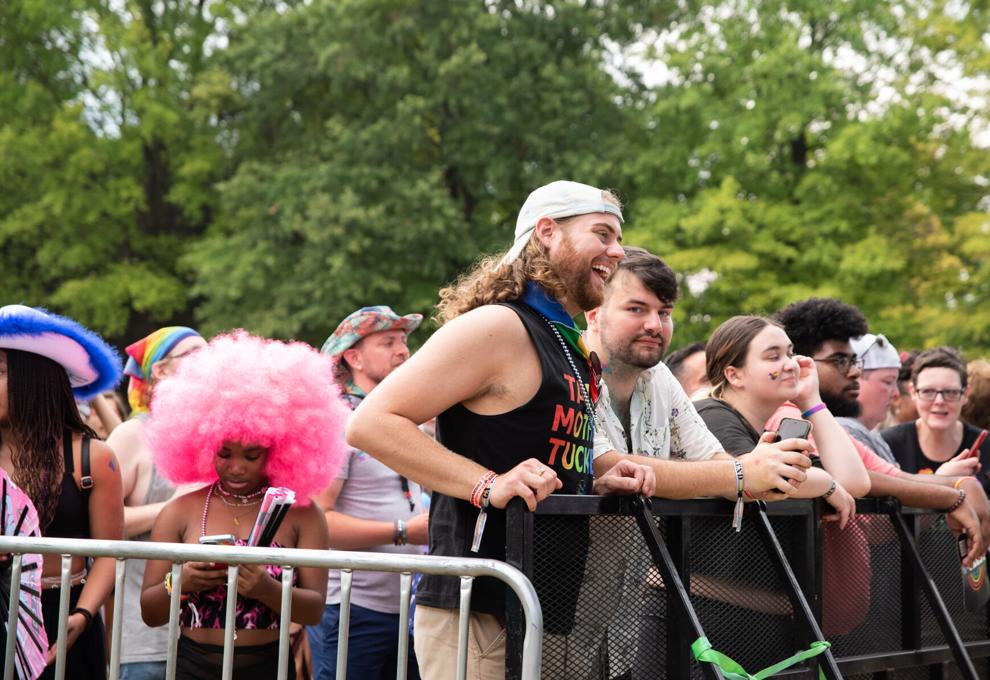 The weekend after the Supreme Court voted to overturn Roe v. Wade was not a time to be alone amid a rising tide of frustration and unease. Faced with anger about the decision itself (which effectively ends half-century-old protections for a woman's right to get an abortion) and concern about other decisions that the nation's highest court could reverse (like Obergefell v. Hodges, which forms the legal basis for same-sex marriage) many folks badly needed a reminder that hurtful, backward-ass policy choices aren't universally accepted or condoned.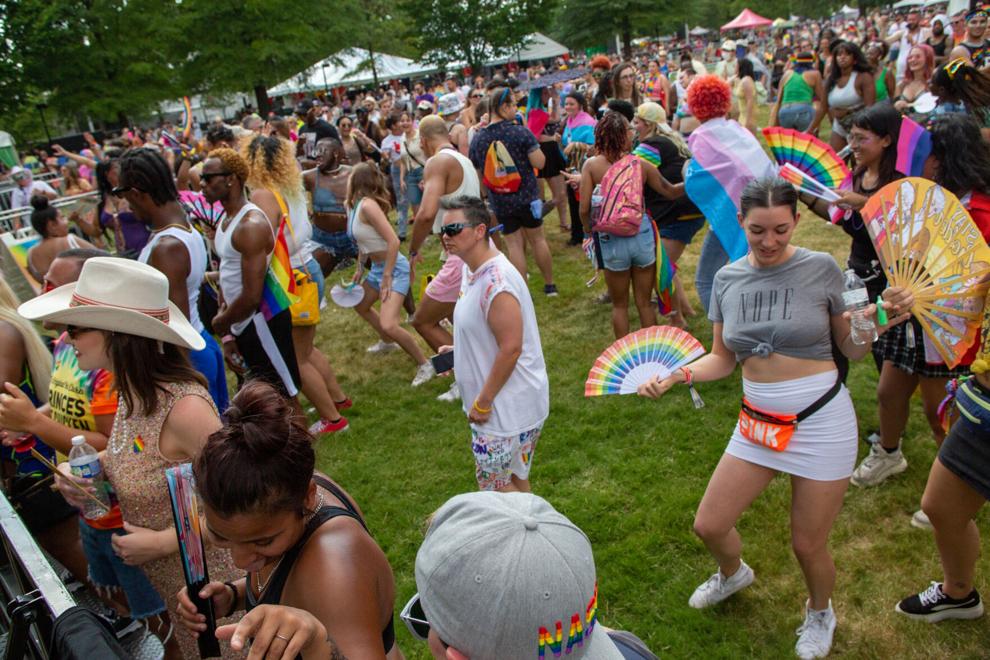 Saturday and Sunday, an early-summer heatwave made the pavement around town feel like a flattop griddle. But thousands of LGBTQ Nashvillians and allies gathered for the Nashville Pride Festival, creating an overpowering atmosphere of inclusivity and support. Following the annual Pride Parade on Saturday, revelers in colorful gear streamed into Bicentennial Capitol Mall State Park. Toddlers frolicked, queer teen couples awkwardly held hands and older couples strolled in the shade wearing shirts with the slogan "Protect Trans Kids." The crowd seemed even more racially diverse than the one at Bonnaroo the week before.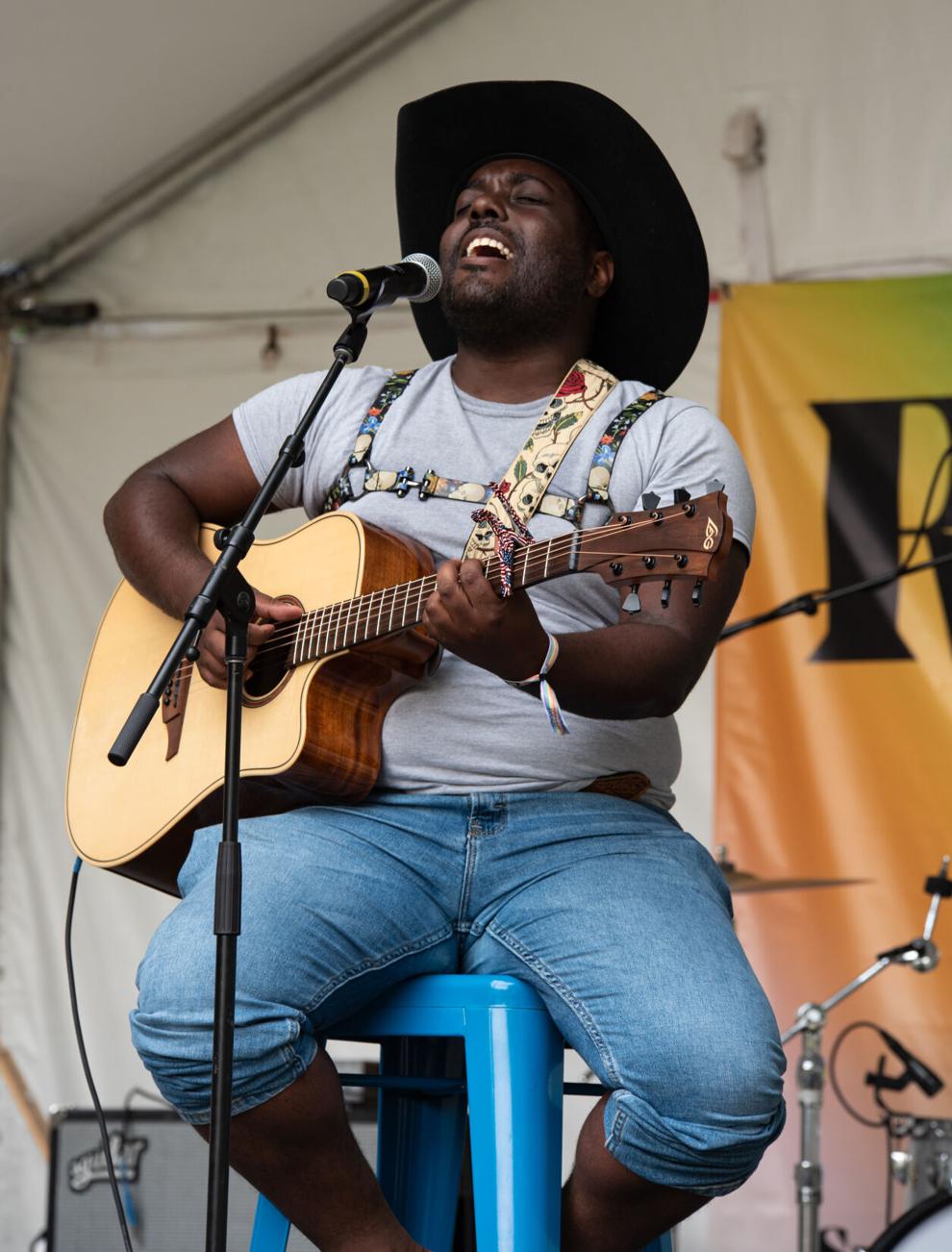 At one end of the park, in a natural amphitheater created by the slope down from Jefferson Street to the carillon that plays songs like "The Tennessee Waltz" on the hour, the Rainbow Stage curated by Nashville LGBTQ music org RNBW featured a host of queer singer-songwriters. The schedule got a little chaotic, exacerbated by pandemic-related last-minute changes to the lineup. But the RNBW crew rolled with it, drawing on a vast network of outstanding performers to keep up a continuous flow through the weekend. There were short sets from country and folk songsmiths, like Breann Young who played on Saturday and Jett Holden (who I just missed despite a timely tip from photog H.N. James) on Sunday. Also appearing were multifaceted vocalists like Rosemary Joaquin and her band, piano-popster Charlie Brennan and dance-pop singer Gia Woods.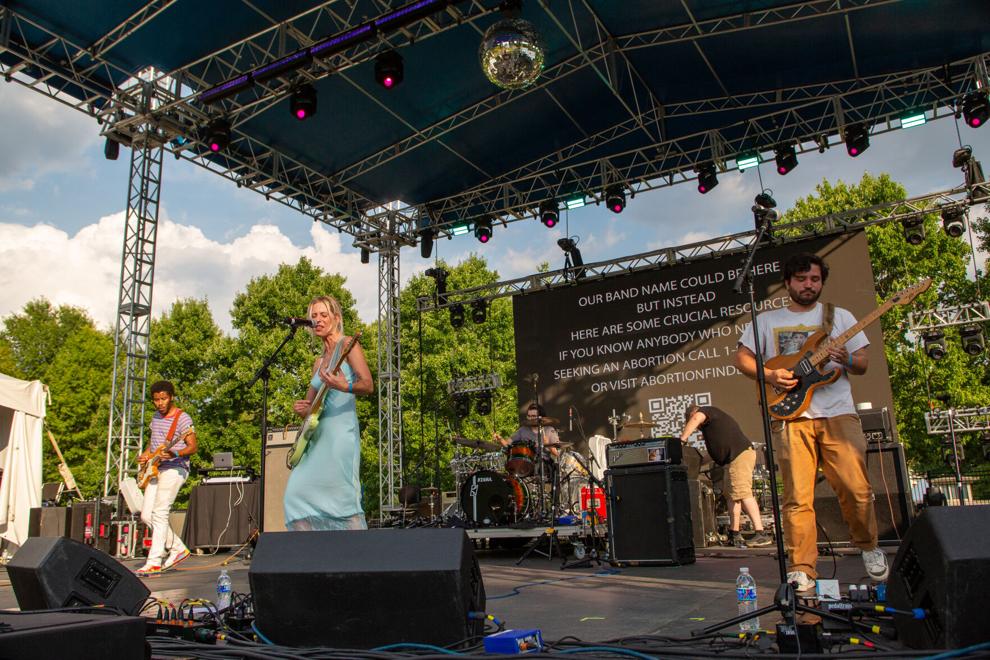 On Saturday, the main Equality Stage, at the other end of the park's quad with its back facing James Robertson Parkway, featured a triumphant set by Music City rockers Bully. They drew the crowd out of the shade to pogo along to songs like "Where to Start" from 2020's Sugaregg and a heartfelt cover of Prince's "Nothing Compares 2 U." During others' sets, the LED wall at the back of the stage scrolled graphics with the artist's name, or some video clips. Bully made a different choice: "Our band name could be here," read the screen, "but instead here are some crucial resources. If you know anybody who needs help seeking an abortion, call 1-800-230-7526 or visit abortionfinder.org." Alicia Bognanno, the singer, songwriter and sole constant member of the group, mentioned that it was a bucket-list achievement to play Nashville Pride. "It feels good to be in a safe space after yesterday," Bognanno noted. "We got to look out for each other because we're all we got. The Supreme Court sure as hell isn't."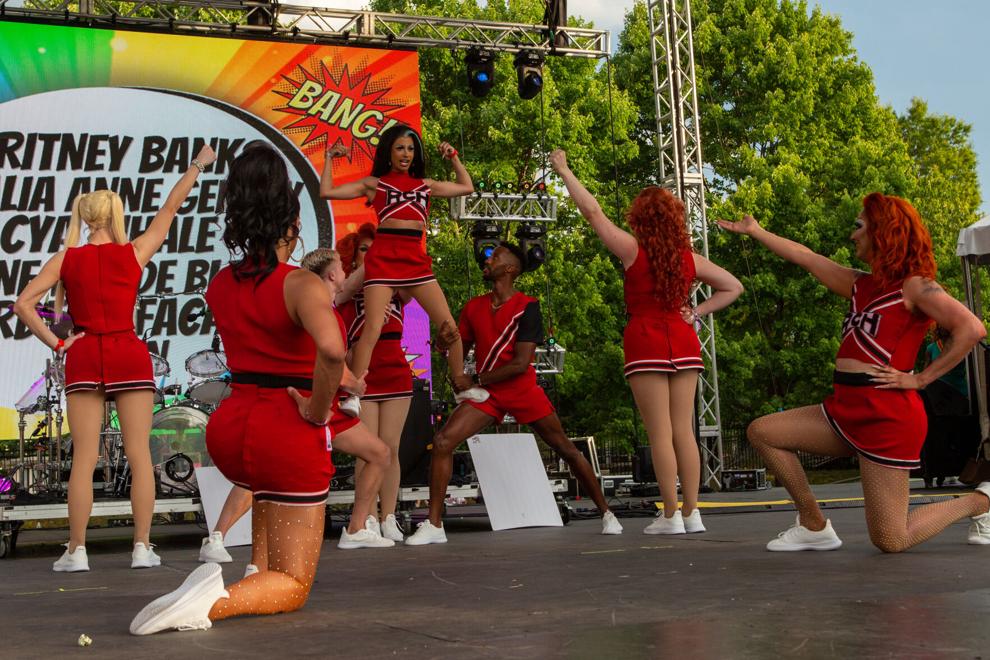 It finally started to cool off after the sun dipped below the treeline, but the inaugural Nashville Drag Extravaganza heated things right back up. A collection of 25 Music City drag performers, with Vidalia Anne Gentry and Cya Inhale serving as mistresses of ceremonies, showed off their individual talents and joined each other on group routines. It was a full hour of performances that could easily have kept going all night. The queens wound down and teed up Cincinnati dance-rock band Walk the Moon, who kept the crowd on a high as the twilight deepened.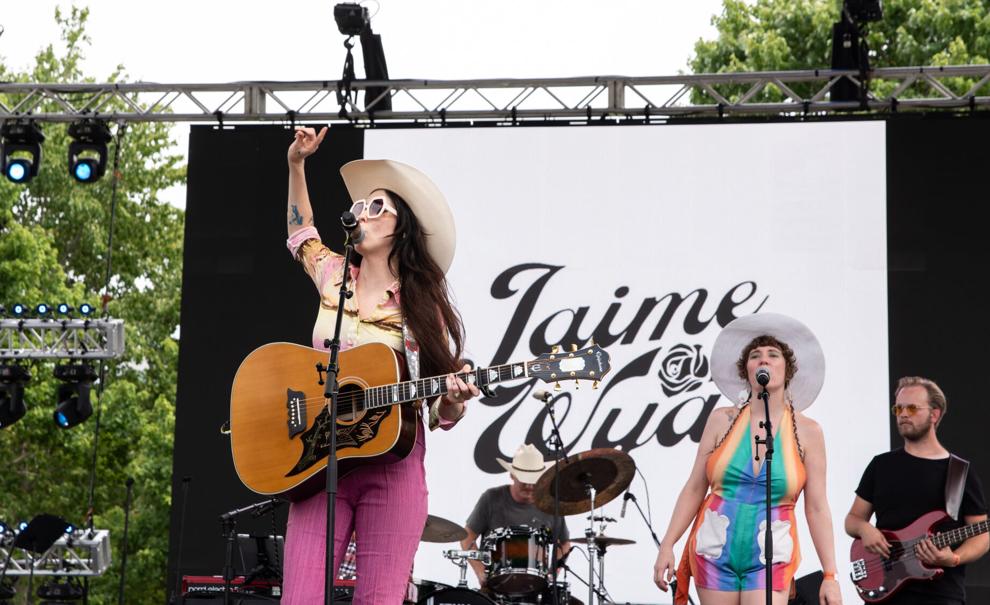 Sunday afternoon, the heat was back as relative Nashville newcomer Jaime Wyatt and her band took the main stage. They offered up a right-in-the-pocket set of rocking country tunes focusing on Wyatt's most recent release, 2020's Shooter Jennings-produced Neon Cross. Wyatt pointed out that the opportunity to play a Pride event meant a lot to her, as she came out during the pandemic when there wasn't any opportunity to join in a big public celebration. She also noted the importance of Tanya Tucker, the revered country legend who would be playing the fest's closing set, making it a point to perform at the fest when others might actively speak out against LGBTQ rights or stay silent about their support to avoid ruffling feathers. "That's the move we need — we need more of that, that's allyship," Wyatt said.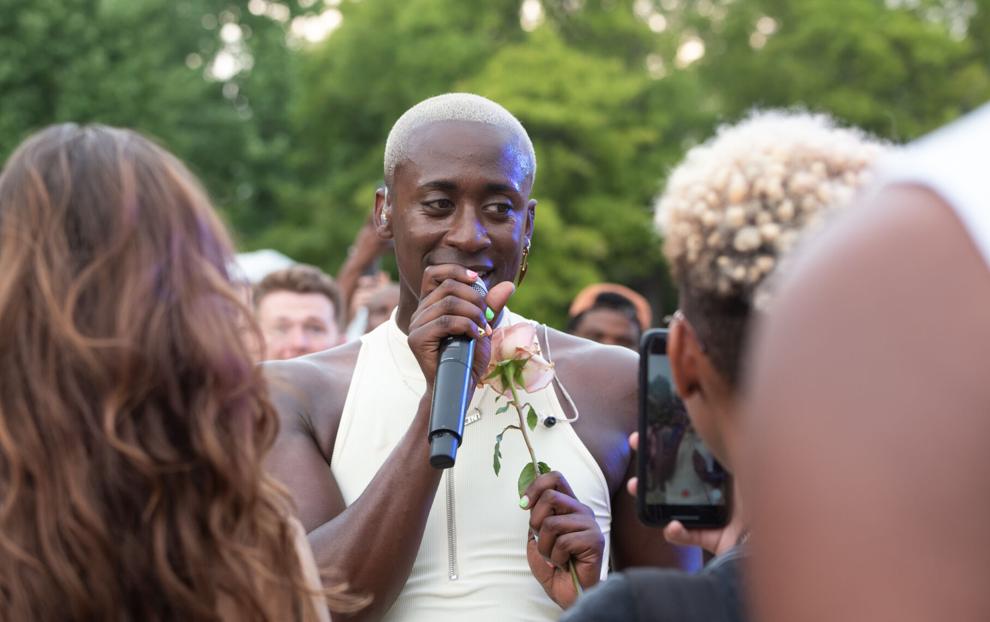 As the evening rolled on, dancer and mellifluous R&B singer Vincint performed, spending about as much time out in the crowd as on the stage. It took me a full minute to realize that Reba McEntire had not dropped in to sing "Can't Even Get the Blues," but Nashville drag queen extraordinaire and Reba megafan Obsinity was lip-syncing expertly in a brief interlude.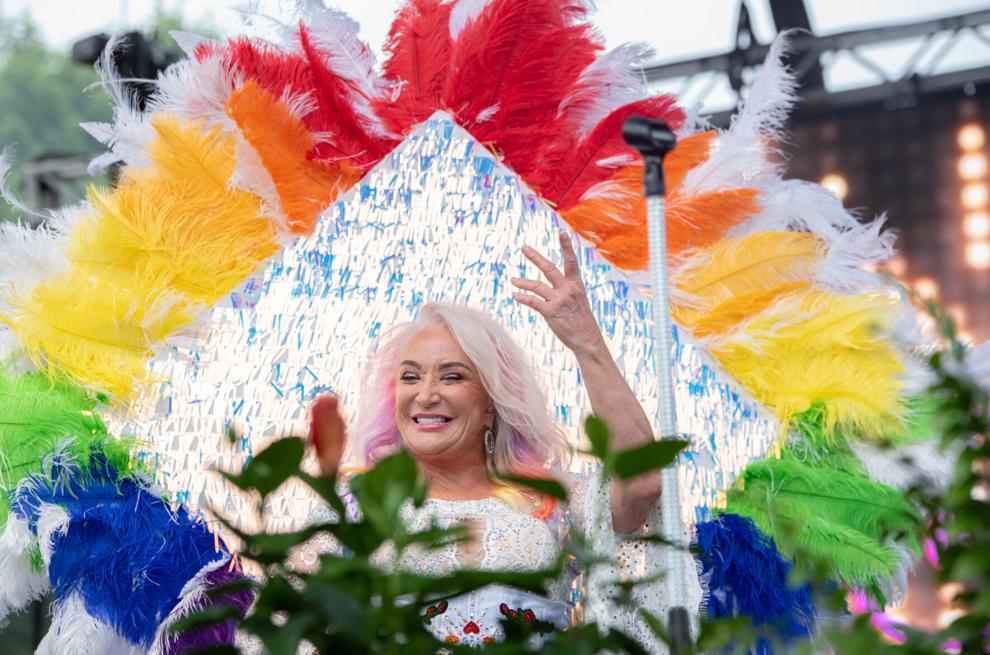 When at last it was Tucker's turn to take the stage in a cloud of fog and rainbow lights, she brought a lot of things with her. There was her phenomenal band. There was a video introduction from queen of queens RuPaul, who collaborated with Tucker last summer on the country-trap single "This Is Our Country." There were five decades of incredible songs, from the tender and resilient Brandi Carlile co-write "While I'm Livin'," from Tucker's 2020 album of the same name, to 1992's rollicking "It's a Little Too Late." There were drag performers aplenty, and Tucker sang the first three songs with a glittering rhomboid peacock tail at least twice her height strapped to her back. She brought up her dog Stella Quaid, and her daughter Layla Tucker, who sang her version of Merle Haggard's "The Way I Am."
But maybe most importantly, Tucker brought a warm, welcoming demeanor that was reminiscent of a favorite grandma. Her banter included thanking everyone from her new accountant to Dolly and Reba, who'd sent notes of encouragement. She signed as many LPs, hats, guitars and "Tanya Mother Tucker" T-shirts as fans could pass over the security barrier. The country icon stretched her one-hour set to about 90 minutes, making clear just how much it meant for her to be there with the crowd at Pride — some of whom might not have heard kind words from a mom, a grandma, or an aunt in a long time. The fest finally wrapped up with an audience-assisted rendition of "Delta Dawn," which was Tucker's first hit, released when she was just 14 years old in 1972. It would have been special at any show, but here it was thoroughly transcendent.
Nashville Pride Festival, 6/25/2022
With performances from Daisha McBride, Bully, Walk the Moon and more