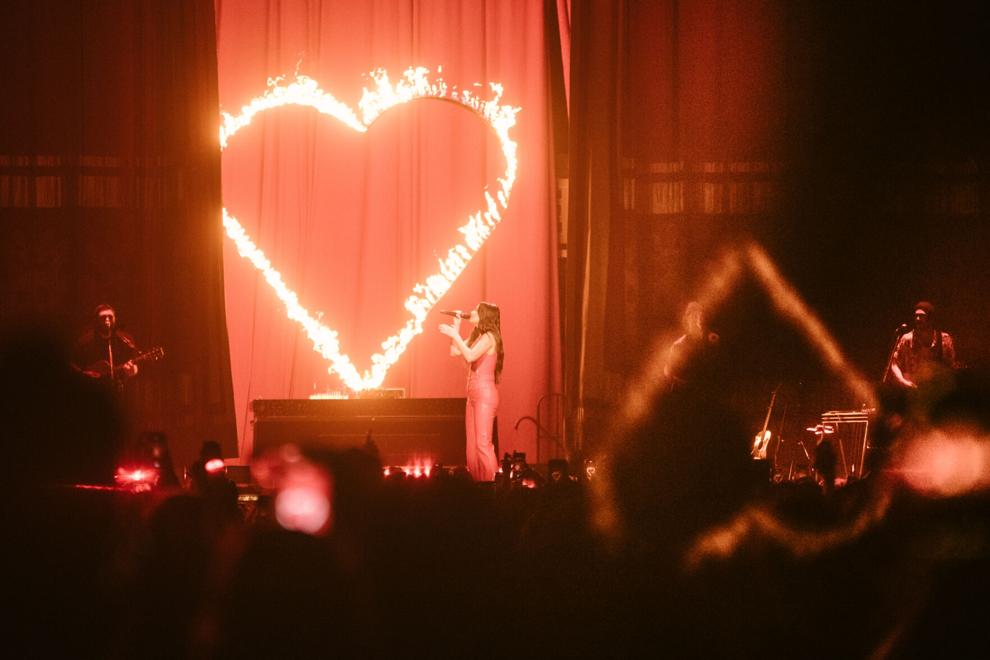 In October 2019, Kacey Musgraves headlined Bridgestone Arena for the first time as she wrapped up a long run of tour dates behind her critically acclaimed, platinum-selling, Grammy- and CMA Award-winning 2018 album Golden Hour. When she returned to the 'Stone on Friday for a stop on her Star-Crossed: Unveiled tour, the trippy Technicolor spectacle that previously served as the backdrop for her performance was gone.
In place of the sparkles and rainbows was a comparatively subdued set design that mimicked the stage of an old theater, with a massive red curtain draped between white columns. It's fitting decor to present 2021's Star-Crossed, an album that Musgraves has described as a modern version of a Greek tragedy. It's based on her marriage to fellow singer-songwriter Ruston Kelly, a story of new love that was at the heart of Golden Hour but ended in divorce — it's been called "amicable," though that's not to say it was enjoyable — in 2020.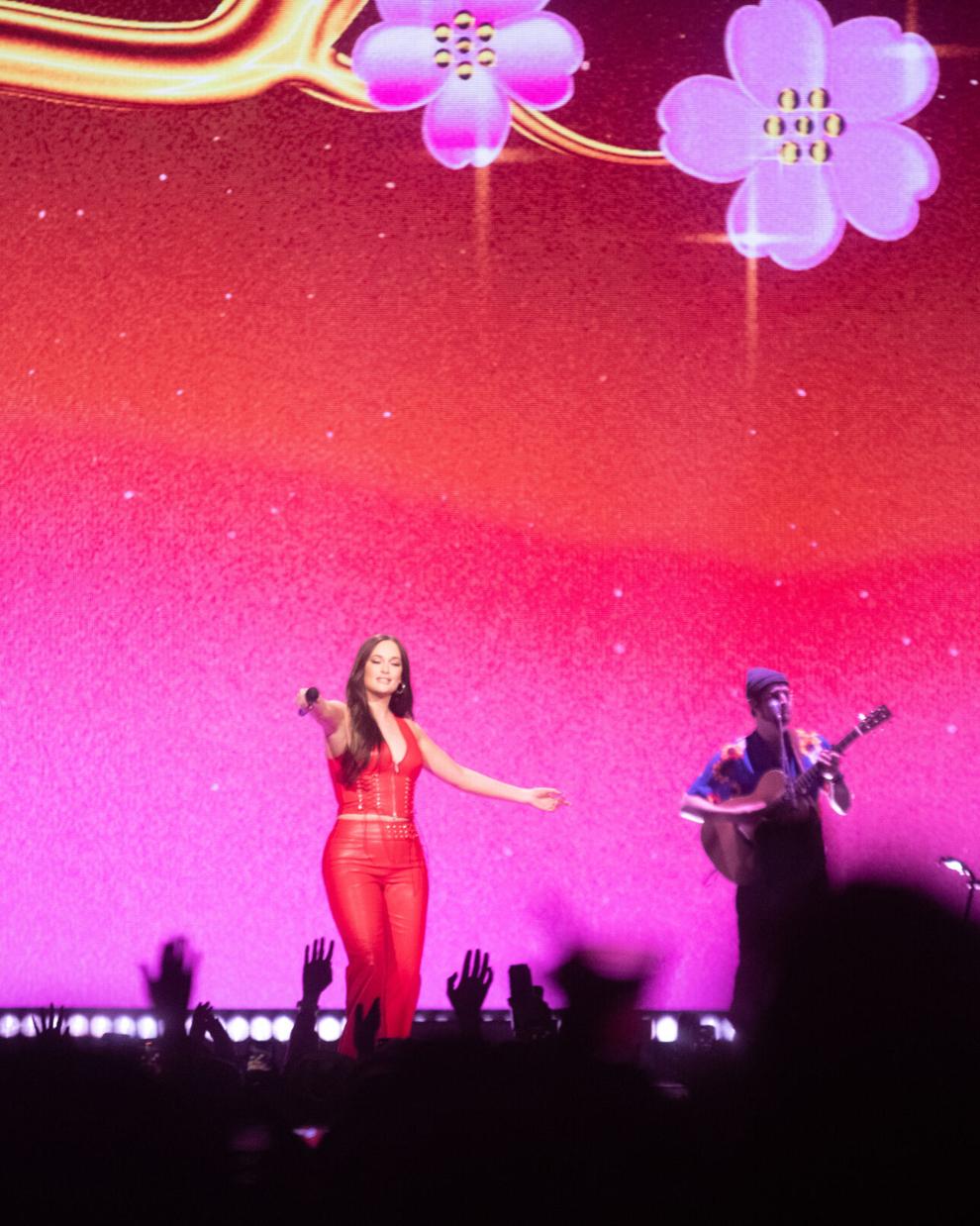 So how do you bring an audience into your "golden hour faded black" without falling too deep into the abyss? Following opening sets from MUNA and King Princess, Musgraves and her band took the stage, and the weight of the material at hand was clearly on her mind. 
"We're gonna have fun, even though this album is so fucking depressing it should've come with a trigger warning," Musgraves told the crowd. "I appreciate you going there with me and celebrating the sadness together."
From time to time, the shift toward a somber tone affected the energy level in the room. Vocally, though, Musgraves never faltered. There were beautiful renditions of songs from Golden Hour, especially those with an overt sadness like "Lonely Weekend" and "Space Cowboy." Another of that album's standouts, "Butterflies," didn't feel out of place in the set, even though it's an ode to the excitement of a relationship that's beginning to blossom. Now, it comes across bittersweet, in context with devastating Star-Crossed songs like "Camera Roll." 
Star-Crossed is ultimately about confronting heartbreak and becoming stronger by processing it. But Musgraves made sure to keep the balance with danceable bangers and a playful attitude, to the delight of a packed house of fans ready to cut loose in rhinestones, neon faux fur and cowboy hats. She pulled out a money gun and rained fake bills over screaming concertgoers during the caustic "Breadwinner," and showed off some disco-schooled dance moves for her infectious kiss-off "High Horse." When a production snafu caused confetti to stream onto her heart-shaped stage rather than on the crowd in front of her, Musgraves grabbed a leaf blower and got to work.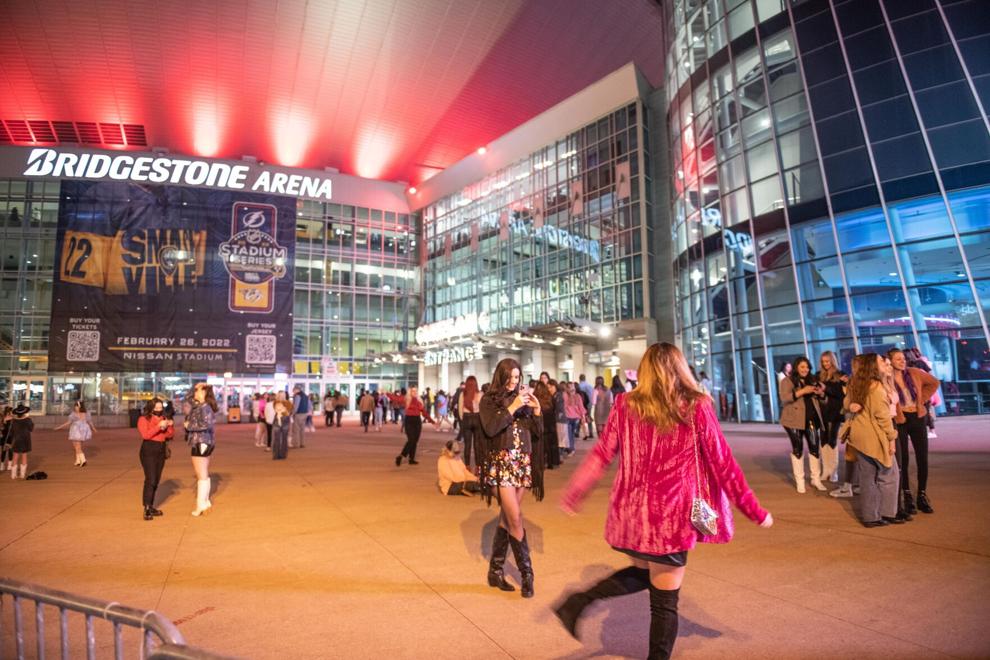 "This really isn't in my job description," she said as she wafted the clouds of pink and red confetti back into the audience. "But it's kind of fun!"
During a midset segment appropriately called "Kaceyoke," Musgraves picked a fan from the crowd to choose one of four possible cover songs for her and the band to perform. This time around, Dolly Parton's "9 to 5" won out, serving up a lighthearted reminder of Musgraves' deep country roots. The show focused heavily on her two most recent albums. The set list skipped right over her second album Pageant Material and included just one song from her lauded debut Same Trailer Different Park, the melancholy story song "Merry Go 'Round."
It's been only five months since Musgraves released Star-Crossed, but in some ways it already seems like a closed chapter for her. When she gave shout-outs to some special guests in attendance — including her therapist, her pottery teacher and her current boyfriend — it felt like she's found the light at the end of the tunnel that she sings about in the Star-Crossed song "There Is a Light."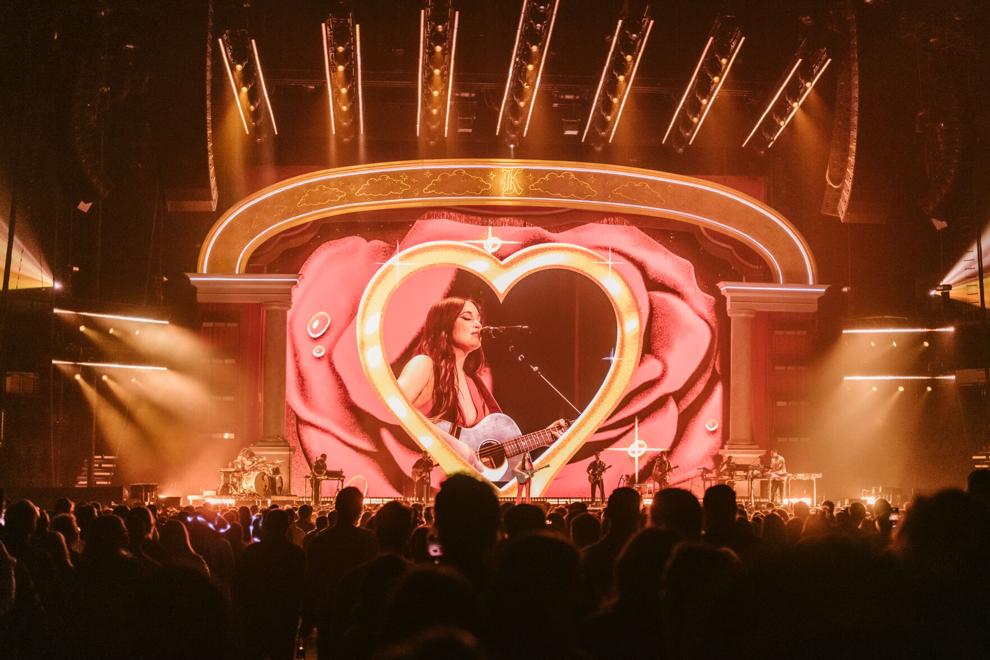 When she finished her rendition of "Gracias a la Vida," the cover that closes the new album, Musgraves walked back to the red curtains from which she'd emerged and crossed her arms over her chest. Closing her eyes, she fell backwards, making a dramatic disappearance into the darkness below. After a few moments of roaring encouragement from fans, Musgraves appeared from behind the curtain and returned to center stage to sing "Slow Burn," the dreamy opener from Golden Hour. With the past few years for context, the lines "I know a few things / But I've still got a lot to learn" landed heavier than they used to. 
"Rainbow," a Golden Hour anthem for holding on through the darkest of days, was the statement Musgraves chose to end with. As multicolored lasers skimmed across the audience's tear-filled eyes, it felt like we were on the same wavelength with her. It's tough to keep believing that things really will get better — but knowing that you're not alone in that feeling makes it just a little bit easier.
The Spin: Kacey Musgraves at Bridgestone Arena, 2/11/2022
With MUNA and King Princess