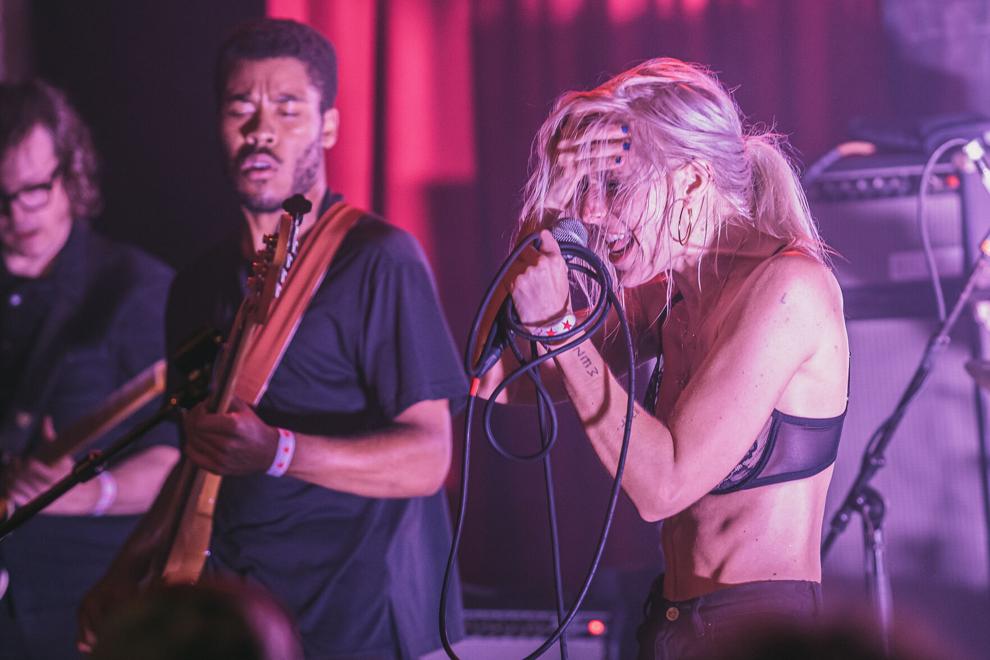 Bully received a hero's welcome Saturday at Mercy Lounge. It was the second engagement in a two-night run — the Nashville noise-pop crew's first local club shows since playing Third Man Records in 2018. Last weekend's shows were a follow-up to a last-minute appearance at Outloud Fest in June and served as a better-late-than-never release celebration for the group's third album Sugaregg. The LP came out this time last year and took home top honors in our Top Local Albums Critics' Poll. 
Bully and its singer-songwriter-guitarist (and frequently its producer-engineer) Alicia Bognanno have been local fixtures for eight years now. The Sub Pop signees have helped build a bridge from the party-hearty garage-rock explosion of the late Aughts and early 2010s to the more introspective, less dude-centric and often just-as-noisy current landscape of contemporary rock. Bognanno has not so much changed up the Nirvana- and Pixies-rooted sound that marks the group's 2015 debut album Feels Like as she has fine-tuned and expanded it. Saturday's performance introduced a new five-piece lineup that, over 23 rapid-fire songs, capably articulated the more nuanced aspects of Sugaregg while thrashing as hard as the band ever has.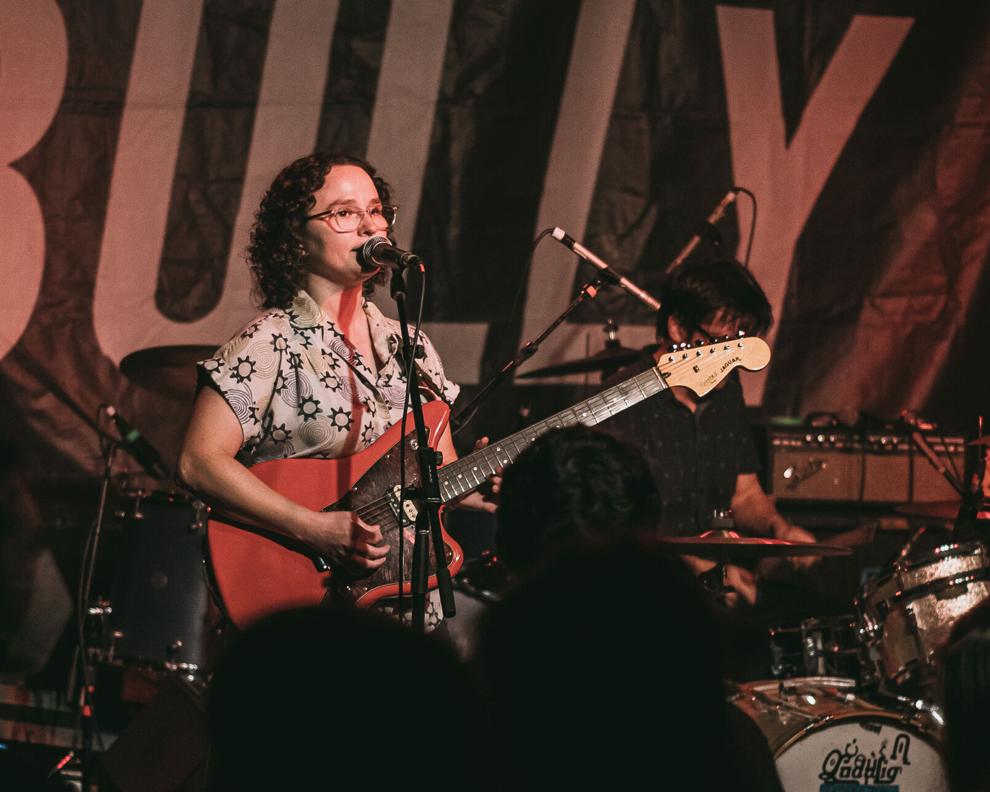 Mercy Lounge filled up early for Peachy, the punk-pop trio co-fronted by bassist Leah Miller and guitarist Rachel Warrick, with Benji Coale pounding the skins. Peachy burst out of the gate a few summers ago with a high-energy, harmony-heavy sound with equal parts riot-grrrl indignation, Muffs- and Redd Kross-esque poppiness and Descendents-like brevity. They've only sharpened their attack since, building anticipation for an eventual follow-up with songs like the closer "Waiting," a Warrick-penned midtempo rocker with a huge hook delivered with just the slightest bit of twang.
Bully took the stage with little introduction, firing off 10 of Sugaregg's 12 tunes in the set list's first act. The fact that Bognanno's trademark searing, coarse-but-melodic howl is one of the best yells around is common knowledge, reaffirmed on the go-for-broke single "Where to Start" and Runaways-like "Stuck in Your Head." If anyone had concerns about her ability to sustain it over time, they'd have been reassured by her dialed-back vocal approach on slower, more dynamic newer songs like the Sugaregg centerpiece "Prism" and its penultimate epic "Hours and Hours."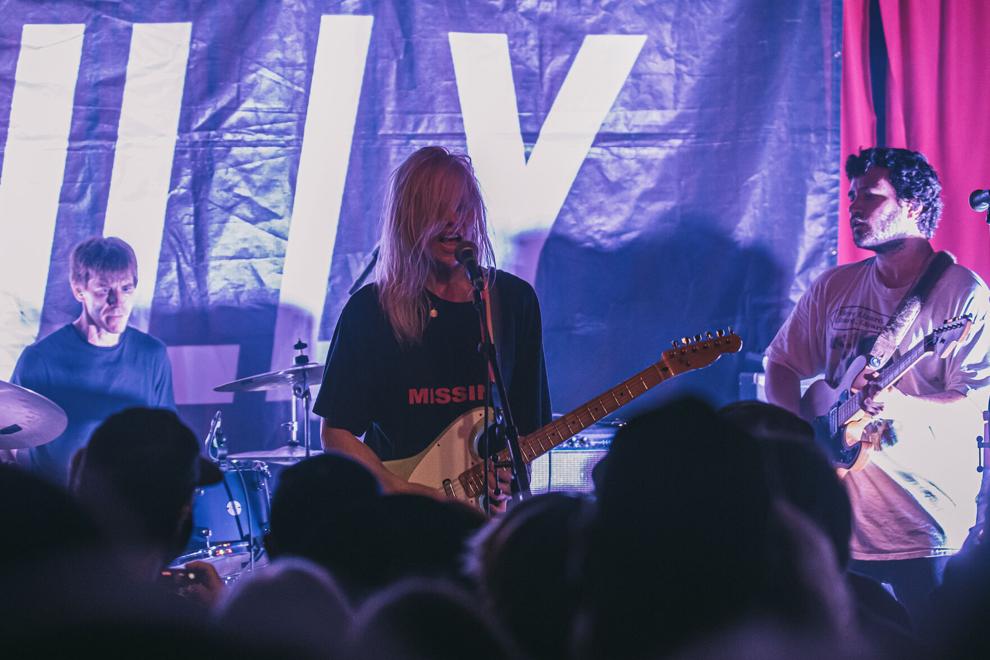 And where Bognanno's past live bands have tended to match up closely to her parts — giving the effect of being attacked by one giant guitar — new lead six-stringer Chappy Hull added color with his penchant for serpentine, lightly overdriven riffs, carried over from his primary band Shell of a Shell. Drummer Wes Mitchell and bassist Nick Byrd kept a firm foundation. At stage right, meanwhile, fifth member Brett Mielke alternated between second guitar, shaker and tambourine, freeing Bognanno up to go berserk hardcore frontperson style, unencumbered by guitar. She leaned into the role on furious originals like "Focused," from Bully's second LP Losing, and "Add It On," Sugaregg's scorched-earth, Hüsker Dü-esque opener.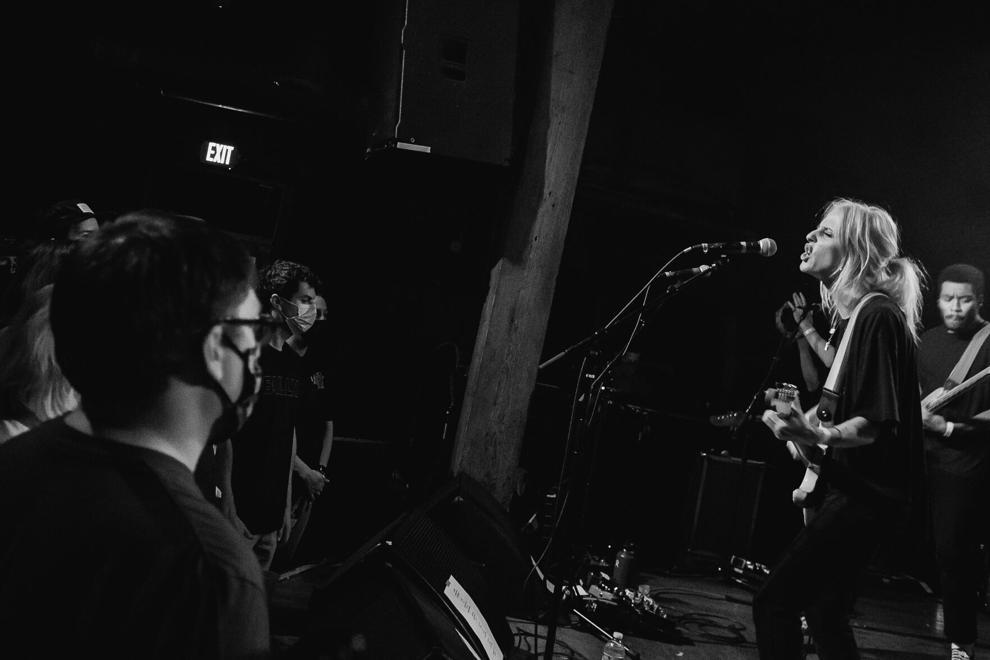 Anxiety about the severity of the new Delta variant cast a slight pall over the evening. A week before the shows, the band announced that proof of vaccination or a negative COVID test would be required for entry; a few days later, the venue (along with a slew of other Nashville venues) announced it would do the same. Both the group and the venue requested that patrons mask up, and they obliged. Putting aside future uncertainties, Bully and Nashville's youthful rock faithful made the most of the present on Saturday. For how hectic Bognanno & Co.'s sonic maelstrom got — especially toward the end of the hour-plus performance, once the quintet reached set-list staples like Feels Like's loping, low-end-guided "Trying" and the super-charged "Milkman" — there was never a mosh pit at the front of the room so much as gangs of friends ecstatically, cathartically and conscientiously headbanging and belting out lyrics in unison.
The Spin: Bully at Mercy Lounge, 8/14/2021
With Peachy