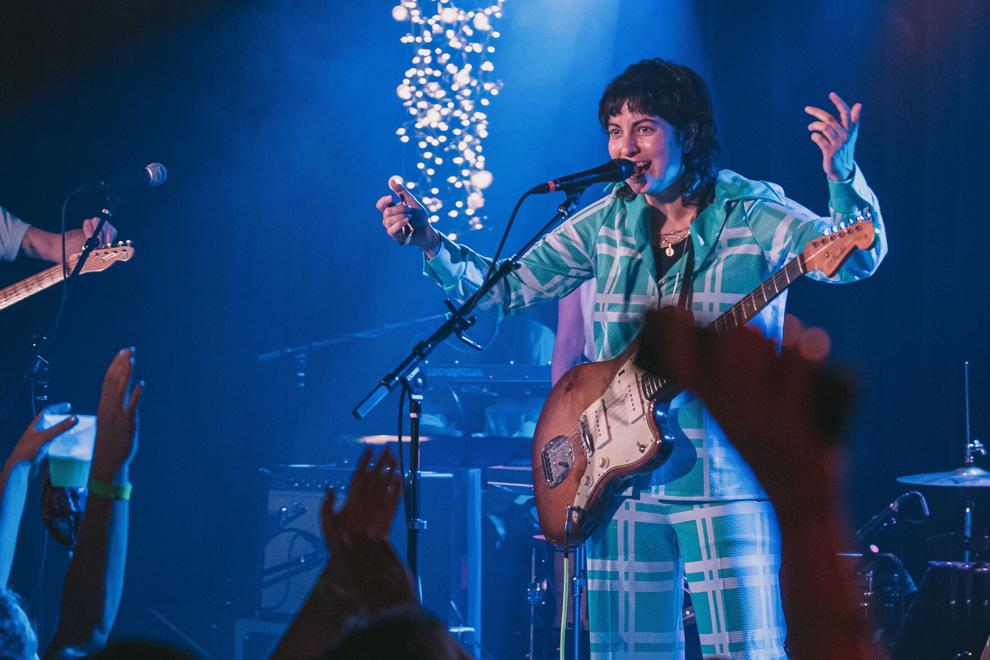 At its most compelling, pop music contains a multitude of emotions. One big emotion pop has addressed throughout history is love, a beautiful — and sometimes devastating — state of mind that's inspired artists as different as Frank Sinatra, Prince and Taylor Swift. 
Friday night at The Basement East, singers and songwriters Becca Mancari and Annie DiRusso proved themselves masters of the art of delineating the puzzle-pieced landscape of love in all its variety. It was a bravura display of songwriting chops and rock-band dynamics. From Mancari, it was also outreach from a queer singer who, during her 75-minute set, proved that understanding the vagaries of love is indeed a universal pursuit.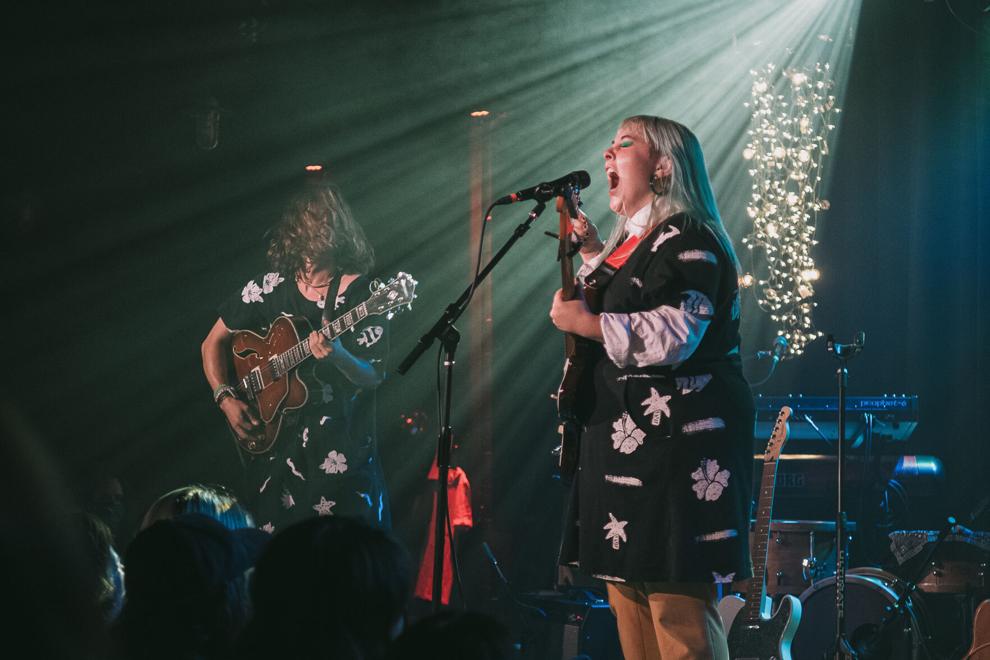 DiRusso's set included songs she's been releasing over the past couple of years that might be best known to her followers on TikTok, whose format seems uniquely suited to her message. The Nashville transplant — she grew up in Westchester, N.Y., before moving to town to attend Belmont University — hit the mark with her indie-rock arrangements of tunes that would also work without the benefit of a band. Listeners could hear echoes of, among other influences, Pavement in the slightly skewed guitar lines that helped focus the tunes.
DiRusso favors a loud-soft dichotomy that gives her a chance to control the emotional temperature of her songs. On "Nine Months," she laid out a plan of growth, singing about the painful necessity of leaving a failed relationship. Like her music, her singing included elements of indie rock, and her style was dramatic without ostentation. As she sang on "20," another superb song: "So bad at being alone / I'm almost 20 years old." You could hear the lessons she's learned from the aforementioned Swift, one of her avowed influences.
Fronting a seven-piece band that included new background singer and percussionist April Lee, Mancari came across as a bandleader who gives her musicians plenty of room to express themselves within the tight structures of her songs. One of her techniques is the canny use of repetition. It's especially prominent in a song called "I'm Sorry," in which she uses just a couple of lyrics to maximum effect. The lines, "Do you know your body anymore? / Does it haunt you every night?" form the verses, while the choruses go, "I'm sorry / I'm sorry / I'm not done yet." Her skill with this technique puts Mancari in the company of first-rate tunesmiths on the order of Swift and soul master Dan Penn. 
Mancari sang other material from her acclaimed 2020 album The Greatest Part as well, along with songs from its 2017 predecessor Good Woman. As she introduced "Lonely Boy," she explained that she wrote it about her dog, and her reading was moving. Mancari's electric guitar parts melded with lap steel, keyboards and lead guitar. She sounded both strong and vulnerable on "Tear Us Apart," another fine song about the pressures of the world and their effect on relationships.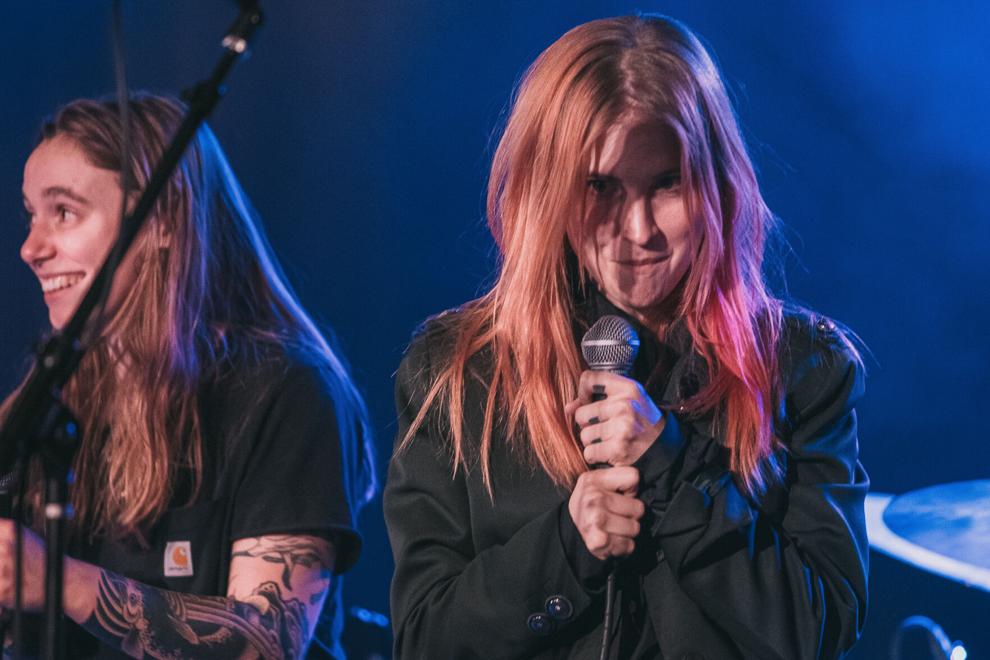 She was joined on one song by Memphis-born and Nashville-residing popster Julien Baker and Paramore leader Hayley Williams, and the packed house responded enthusiastically. Similar cheers greeted another of Mancari's collaborators, Alabama Shakes singer Brittany Howard. She joined in for "Annie," one of Mancari's sparest and most affecting songs. The show was Mancari's first in town in more than a year, thanks to the pandemic, and served as a release party for The Greatest Part.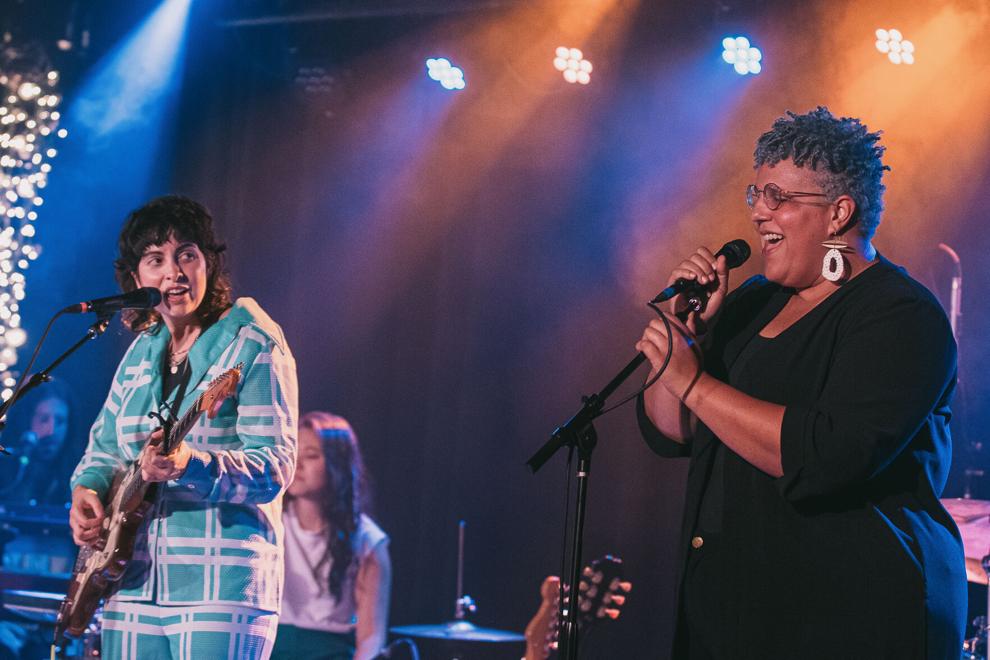 In line with a protocol that's becoming increasingly common, all fans, performers and staff had to present either proof of vaccination or a negative COVID test taken no more than 48 hours before the show. Rapid tests were available for free at a Grab-A-Lab popup in the parking lot.
What was most impressive about Mancari's set was the skillful way she referenced a world of smart pop, from Prince to confessional singer-songwriters. Some of the performances had a country-pop feel, as if the spirit of 1990s country had been revived in a slightly different guise. Terri Clark and Lee Ann Womack came to mind, but Mancari's music had its own velocity and textural richness. Her considerable instrumental finesse served the songwriting — something else Mancari's music has in common with country. 
Still, she isn't a mere formalist. Every song could have worked as a no-frills acoustic performance. What Mancari has to say about the nature of love puts her in the forefront of pop songwriting, and her conception is advanced and accessible to any pop fan who's willing to follow Mancari's muse, wherever it leads her. When pop works just right, nothing gets in the way of its message of love.
The Spin: Becca Mancari at The Basement East, 8/6/2021
With support from Annie DiRusso and guest appearances by Brittany Howard, Julien Baker and Hayley Williams