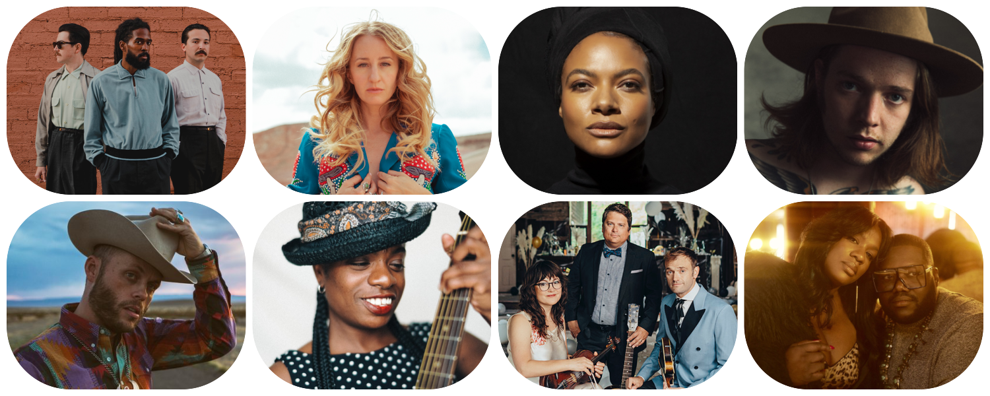 Word came a few weeks back about the initial round of artists who will perform during AmericanaFest 2023, which rolls into town Sept. 19 through 23. In an event held at the National Museum of African American Music and broadcast live on Facebook, an equally diverse and impressive roundup of nominees was announced today for the Americana Music Association's Honors and Awards. The winners will be revealed at AmericanaFest's keystone ceremony and concert at the Ryman on Sept. 20.
Nashville's own Margo Price and Texan ace Charley Crockett have the most nominations this time out with three apiece — Artist of the Year, Album of the Year and Song of the Year. Music City's Allison Russell comes in a close second with nominations for Artist of the Year and Song of the Year. 
As is often the case, there is a mighty strong Nashville presence throughout, including Artist of the Year nominees Sierra Ferrell and Billy Strings, Duo/Group of the Year nominees The War and Treaty and Instrumentalist of the Year nominees Kyle Tuttle, Jeff Picker and SistaStrings (aka the great Chauntee and Monique Ross, who you've also seen in Allison Russell's band). The Emerging Artist of the Year nominees include fantastic musicians who've spent some significant time here in recent years, like Adeem the Artist, S.G. Goodman and Sunny War. And while two of the 2023 Album of the Year nominees were made in California with producer Jonathan Wilson, Hermanos Gutiérrez made El Bueno y el Malo with Dan Auerbach.
Check out the full rundown below, and visit the AmericanaFest website for all your ticketing information.
Artist of the Year
Charley Crockett
Sierra Ferrell
Margo Price
Allison Russell
Billy Strings
Duo/Group of the Year
49 Winchester
Caamp
Nickel Creek
Plains
The War and Treaty
Emerging Act of the Year
Adeem the Artist
S.G. Goodman
William Prince
Thee Sacred Souls
Sunny War
Instrumentalist of the Year
Isa Burke
Allison de Groot
Jeff Picker
Chauntee and Monique Ross, aka SistaStrings
Kyle Tuttle
Album of the Year
Angel Olsen, Big Time, produced by Angel Olsen and Jonathan Wilson
Tyler Childers, Can I Take My Hounds To Heaven?, produced by Tyler Childers
Hermanos Gutiérrez, El Bueno y el Malo, produced by Dan Auerbach
Charley Crockett, The Man From Waco, produced by Bruce Robison
Margo Price, Strays, produced by Margo Price and Jonathan Wilson
Song of the Year
Margo Price, "Change of Heart," written by Jeremy Ivey and Margo Price
Charley Crockett, "I'm Just a Clown," written by Charley Crockett
Bonnie Raitt, "Just Like That," written by Bonnie Raitt
Zach Bryan, "Something In the Orange," written by Zach Bryan
Allison Russell feat. Brandi Carlile, "You're Not Alone," written by Allison Russell