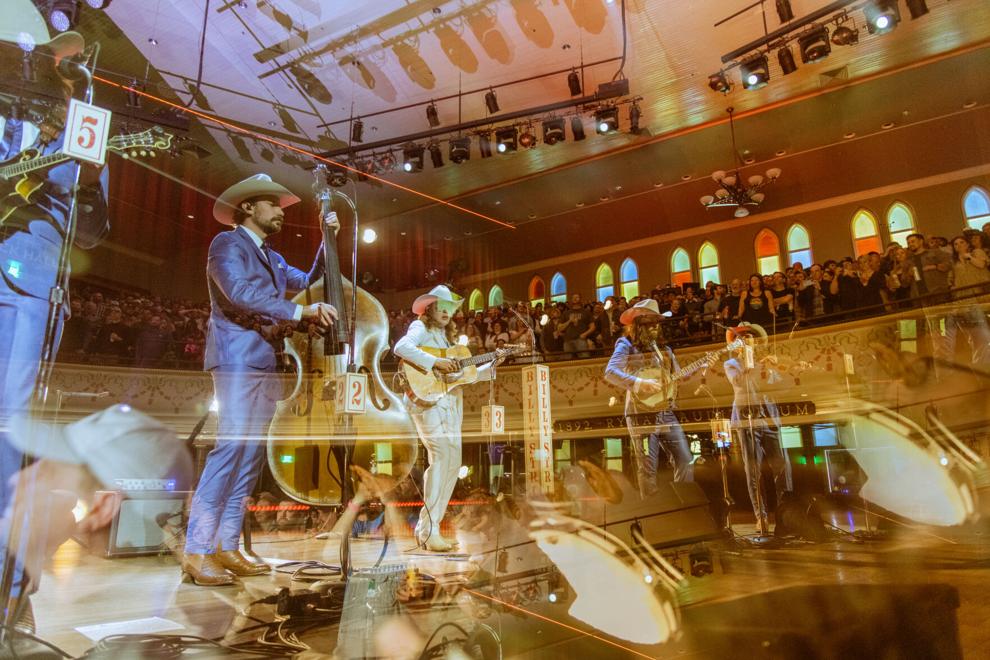 The jam-packed pews of the Ryman practically vibrated for the entirety of Billy Strings' adopted-hometown headlining performance on Sunday. At just 30 years old, the Michigan-born singer-songwriter and guitar wiz has notched an impressive list of career achievements, from IBMA Awards and Grammys to selling out venues around the world. In barely 10 years of pursuing music professionally, Strings has developed the kind of massive, dedicated following usually attributed to jam bands or rock 'n' roll legends who've been on the road for decades. Along with his mind-blowing six-string skills, Strings brings a polished, youthful edge; like so many greats, he's far from a strict traditionalist, but the fundamentals of classic bluegrass are at the core of his style. Alongside genre-expanding peers like Jake Blount and Molly Tuttle, he's part of a cadre of players who are opening up new generations of fans to beloved tradition.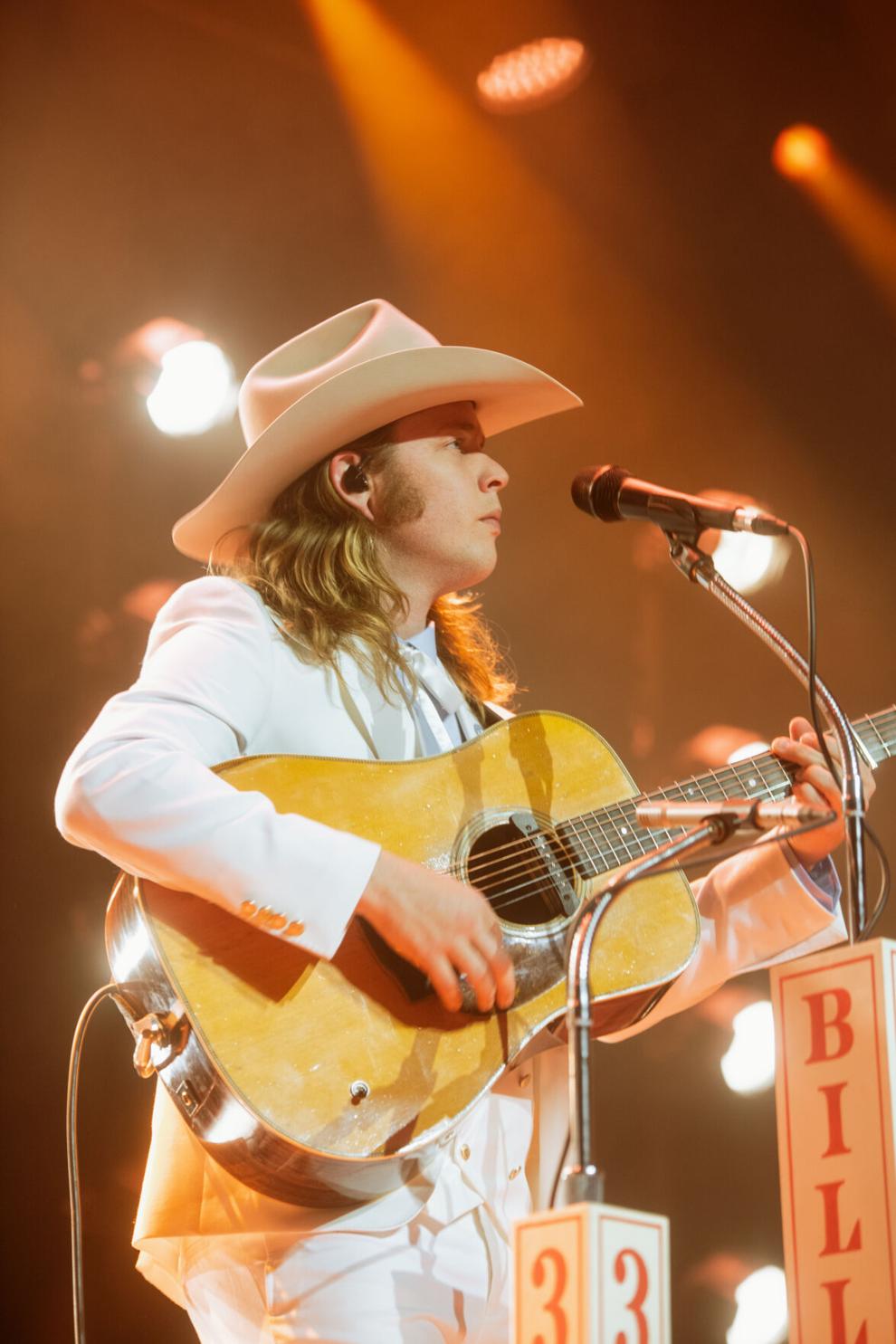 The Mother Church show — which comes about five years after his first show as a support act at the venue and about nine months after his most recent turn as Ryman headliner — bookended a landmark weekend for Strings, who had also sold out the previous two nights at the 10-times-larger Bridgestone Arena. The set lists at the 'Stone leaned toward the originals and rock-leaning covers in his repertoire (like Pearl Jam's "Elderly Woman Behind the Counter in a Small Town" and Widespread Panic's jazz-tinged "Pickin' Up the Pieces"), with some noteworthy nods to trad 'grass. Surprise guests included Derek Trucks and Noam Pikelny on Saturday night. Strings and his band of aces had something a little different in store for those who lined up outside the Ryman hours before the doors opened on Sunday.
Sporting a crisp all-white suit with a silver bowtie and an off-white Western hat, Strings made his way to center stage, where his mic stand was adorned in the style of the Grand Ole Opry, its square surround bearing his name in red block letters. His bandmates — fiddler Alex Hargreaves, banjo picker Billy Failing, mandolinist Jarrod Walker and bassman Royal Masat — were clad in matching powder-blue suits.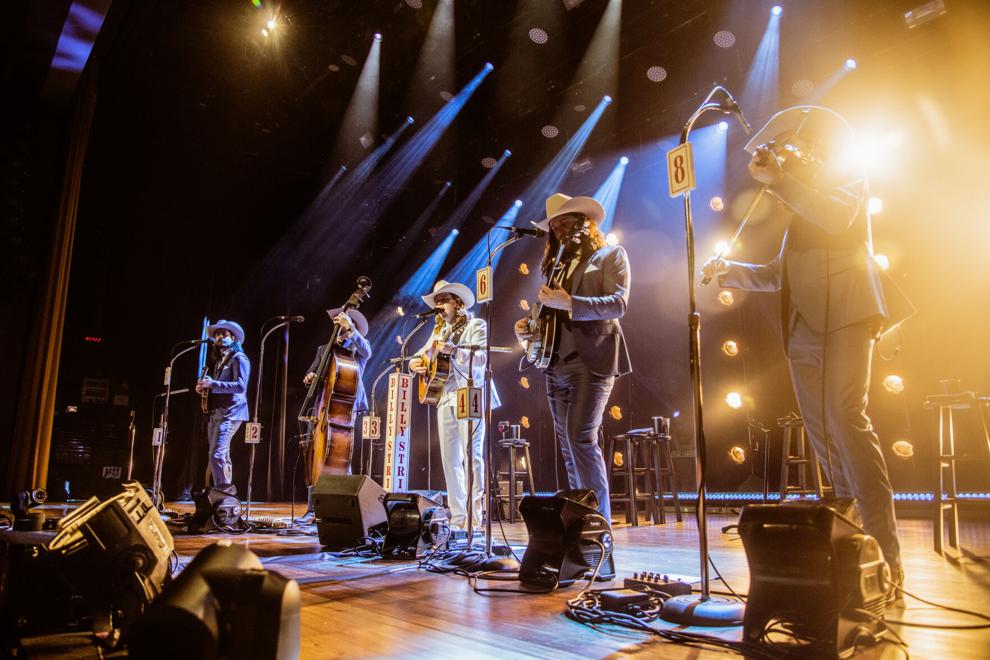 "This is hallowed ground — ground zero for bluegrass music," Strings told the crowd. "We're so honored and privileged to play this music we love so much for you folks, who we also love so much."
After kicking off the proceedings with a version of Jimmy Martin's "Tennessee," Strings & Co. rolled through a brilliantly chosen set of bluegrass classics, many of which Strings first discovered in his early youth. From The Dillards' "Old Home Place" to Flatt & Scruggs' "Somehow Tonight," Strings curated a stellar mix of some of the most influential tunes in bluegrass history.
Midway through the first of two full sets, Strings invited banjo master Rob McCoury to the stage for a run of songs that included "Eight More Miles to Louisville," "Foggy Mountain Breakdown" and "Long Journey Home."
A shining bluegrass star in his own right, McCoury and his brother Ronnie appeared on Strings' most recent LP Me/And/Dad. Released in November, the album is a passion project for Strings, featuring collaborations with his adoptive father Terry Barber, who first exposed him to bluegrass and helped him learn guitar. Onstage, Strings took a moment to reflect on the sessions and Rob McCoury's ability to seemingly nail every performance on the first try.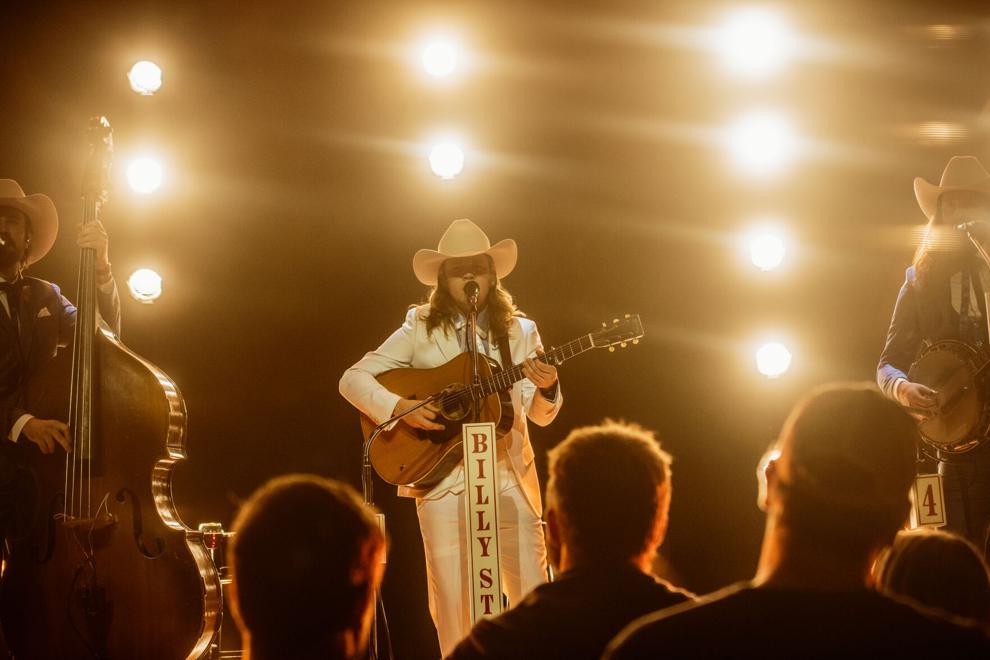 "I asked him at the studio, 'How'd you do that on every take?' " Strings recalled with a chuckle "[He said,] 'Man, those notes are flying by so fast, nobody notices the wrong ones.' "
After 17 songs, the band retreated from the stage for a brief intermission. They returned even looser and more energized than before, burning up the stage with their version of Johnny Horton's "Ole Slew-Foot."
Although chatter in the crowd during intermission indicated fans seemed to expect a second set filled with Strings' originals, he kept his focus on paying tribute to the artists that inspired him. Along with songs made famous by The Delmore Brothers, The Stanley Brothers and Doc Watson, he and his cohorts focused heavily on Bill Monroe and the Bluegrass Boys' songbook, busting out tunes including "The Road to Columbus," "Ashland Breakdown" and show-closer "Roll On Buddy, Roll On."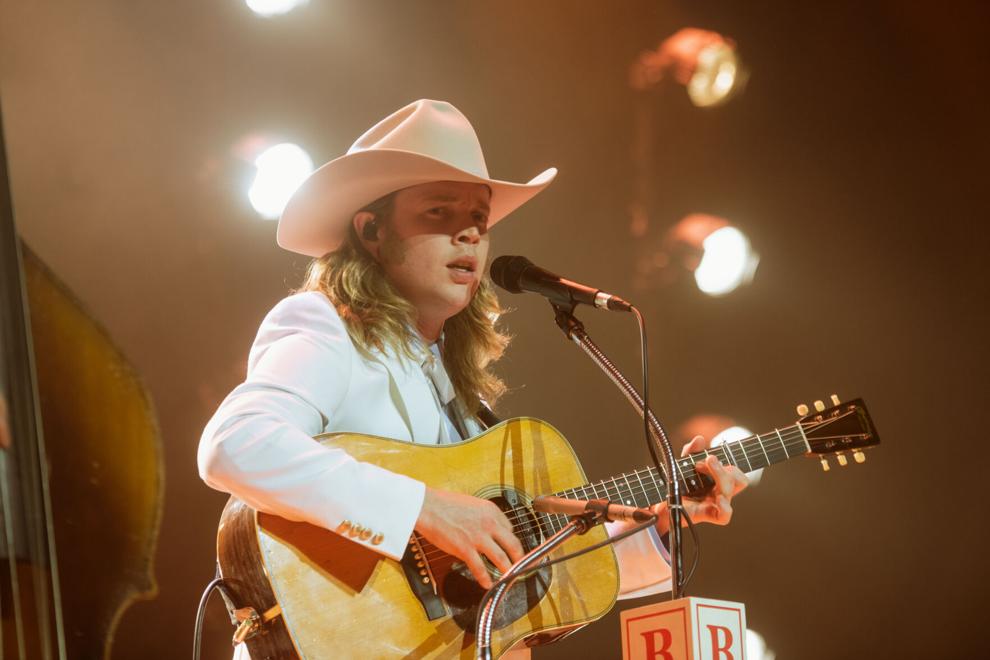 From the molten-gold melodies reeled off by Strings and band at lightning speed to the hoots and hollers of the rowdy crowd, the infectious joy of the evening was undeniable. The importance of the show, capping a career-highlight weekend for Strings and his crew, didn't get lost amid the hubbub.
"It's crazy to play a gig like this and then go home and sleep in your own bed," said Strings, gazing around the full-to-bursting auditorium beneath the same spotlight that's shone on so many of his heroes from decades past. "You go, 'Oh my God — did we really just do that?' "