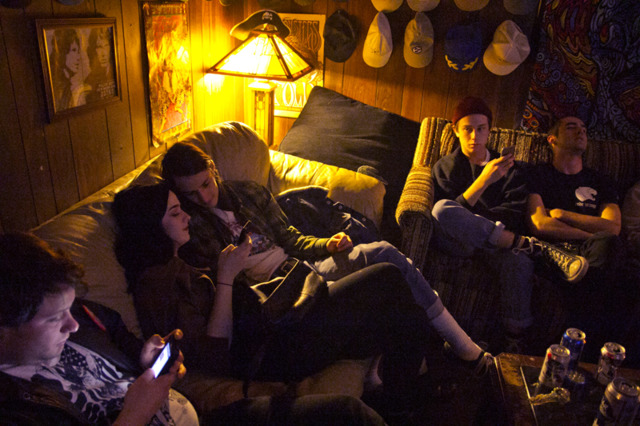 With tours canceled and venues shuttered temporarily as we attempt to halt the spread of COVID-19, musicians are doing their best to adapt. In addition to providing ways to buy albums and other merch (available online through local record stores, too), many have also organized one-time livestream events or recurring streams from their homes or home studios. Some are accepting tips to help offset their own costs from lost work, and others are collecting funds for other causes.
Below, we'll keep a running list of streams organized by local folks that we'll update as often as possible. Keep an eye on your favorite musician's social media — opportunities to catch a show from the comfort of home while helping them out with a few dollars sometimes come up quickly.
---
A couple of quick links:
Billboard
 has assembled
a running list of organizations offering assistance to musicians. Included are national-level nonprofits like The Recording Academy's
MusiCares
and the Nashville-based
Music Health Alliance
, as well as organizations listed by state, including the
American Federation of Musicians
union local 257. If you need assistance or would like information on how to donate, click through for more details.
Also, we've been keeping a running list of local venues that have established community funds for displaced staffers and business expenses. And if you want to tip a local service industry worker as you drink at home, the serviceindustry.tips platform has you covered with a way to tip an individual at random via their online pay app of choice — here's the Nashville tip link.
---
Ongoing
---
By Date
March 18, 6 p.m.: Rocker Kelly Hoppenjans is set to go live on Twitch. Donations accepted for the Community Foundation of Middle Tennessee's tornado relief fund.
March 18, 7 p.m.: Emma Swift and Robyn Hitchcock will perform on StageIt. Proceeds will benefit folks left out of work by the tornado and COVID-19.
March 18, 7:30 p.m.: Stick around on StageIt, because expert songsmith Kevin Gordon is set to perform.
March 19, 6 p.m.: The Luck Reunion, the annual party at Willie Nelson's ranch held around SXSW, can't happen this year, but Willie & Co. have organized an online event called 'Til Further Notice. See the website for links to stream via Twitch and Facebook Live. It's a free, five-hour event packed with ace musicians including Margo Price, Lucinda Williams, Paul Simon and Edie Brickell and tons more. Per the site, tips will be split evenly among the performers to tend to whatever need they see most pressing, whether it's keeping their band paid or donating to a charity.
March 20, 6 p.m.: Banjo aces Béla Fleck and Abigail Washburn will host a livestream from their home via Facebook Live, called Banjo House Lockdown.
March 31, 5 p.m.: Rising country champs Caylee Hammack and Tenille Townes will perform together via Hammack's Facebook and Instagram profiles.
March 31, 5:30 p.m.: Liza Anne will participate in a Q&A via Instagram.
April 4, 6 p.m.: Multifarious pop maestro Nicole Atkins will perform via Facebook and Instagram. To get the link to watch the show, donate via Venmo and leave your handle. Donations will go to her bandmates who are stuck at home; see Atkins' Facebook post for details.
April 4, 7 p.m.: Country musician Ray Fulcher will perform on Instagram Live as part of Exit/In's Stay/In streaming series.
April 4, 8 p.m.: Bluegrass ace Billy Strings will perform via nugs.net as part of the Live From Out There concert series for Sweet Relief's COVID-19 relief fund.
April 9, 6 p.m.: Songsmith Liz Longley will perform via YouTube right here on the Scene website.
April 11, 6 p.m.: The People Supporting Artists telethon for MusiCares' COVID-19 relief fund, featuring performances by Rosanne Cash, Kelsey Waldon, Erin Rae, Chuck Mead and tons more, will stream via the PSA website.
April 11, 6 p.m.: Nicole Atkins' Alone We're All Together series will feature appearances from Lilly Hiatt, Erika Wennerstrom and Oliver Wood. See Atkins' Facebook post for information on how to donate and get access to the stream.
April 21, 11 a.m.: Courtney Marie Andrews will perform

on Martin Guitar's Facebook page

 as part of the company's ongoing Jam In Place series.


April 22, 2 p.m.: Our Native Daughters (Rhiannon Giddens, Amythyst Kiyah, Leyla McCalla and Allison Russell) will perform for Shut In and Sing via StageIt.

April 22, 6 p.m.: Brandy Clark will perform the latest in her series You Can't Come Over But You Can Come In on Instagram, with a guest appearance from Lindsay Ell.
April 22, 6 p.m.: 

Kalie Shorr

 will perform 

via Instagram

 as part of 117 Entertainment's Hangin' at Home livestream series.