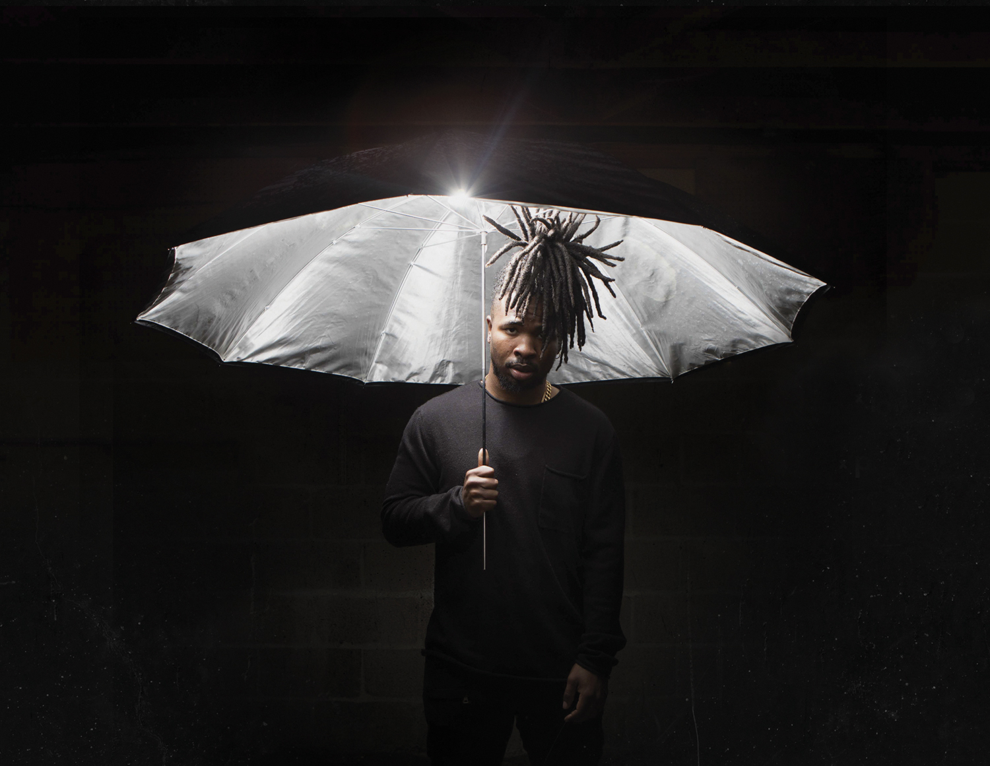 Dylan Phillips' rap career is on the verge of taking off, but it took a leap of faith (following a shove) to get him here. The 26-year-old Nashvillian, who was born in the Bay Area and grew up in Bell Buckle, Tenn., has been a fan of hip-hop since he was a youngster. He's been an MC since middle school, but he entered the business as tour manager to chart-topping Christian rapper Derek Minor — who fired him. Minor wanted to encourage Phillips to work on his own music full time, even though Phillips had completed just three songs of his own.
"We were still on the road when he first heard my stuff," Phillips tells the Scene via phone. "But he sat me down and was like, 'You know what? I'm going to fire you, because I know you won't pursue it if you still have a safety net.' "
Phillips, who performs as nobigdyl., makes his major-label debut with his second album SOLAR, out Friday on Capitol CMG, which he'll celebrate with a release show Monday at The Basement East. SOLAR features production from Shaun Lopez (French Montana, Crosses), Sam Farrar (Maroon 5), Grammy and Dove winner Dirty Rice, and a crop of producers Phillips has worked with since his days as a student at Middle Tennessee State University.
The tracks on SOLAR alternate freely among a variety of styles. The opening tandem of "Anime" and "Block Me Back" bounces along on skeletal grooves that fall in line with contemporary hip-hop trends. But Phillips sounds equally at home rhyming over a flamenco-laced acoustic hook ("Bad Motives"); dense, swirling dream pop ("Psycho Heart!"); or an atmospheric soundscape so hazy and weightless it lingers like mist from a nearby waterfall ("Shadow"). The hooks are portioned just right, and Phillips' flow is both warm and commanding. He exercises the instincts of a seasoned songwriter and arranger, and though he and his family were not country music fans when they moved to the Bible Belt, Phillips got much of his appreciation for form and songcraft from the genre.
Says Phillips, "The narratives, how complete the stories were and the wordplay definitely shaped how I started to approach storytelling."
Phillips was raised in the church — his dad and his uncle, Derrek Phillips, a respected studio and touring drummer, would secretly introduce him to harder-edged hip-hop because his mom wasn't having it under her roof — but he took his own path to arrive at his faith. The lyrics on SOLAR reflect a journey fraught with depression, regret and even self-hatred over who he became once he achieved cool-kid status in high school: "Headphones in the Uber, I ain't tryin' to talk / Last year was a lot, I'm tryin' to walk it off / Don't need intervention, please don't get involved / Pray that my decisions send me back to God," Phillips rhymes to kick off the track "Twenty Eighteen."*
SOLAR is unapologetically Christian rap. Its themes of faith are more forward than those on, say, Chance the Rapper's Coloring Book, but it doesn't proselytize, and its subject matter is three-dimensional. Phillips has bigger fish to fry than converting you. He's busy making sure he stays grounded himself. 
Phillips' own brush with popularity left a bad taste in his mouth. After seeing the ways celebrity can distort the perception of public figures like Kanye West (one of Phillips' heroes), it's understandable that Phillips sounds as wary of fame as he does on much of SOLAR. In conversation, though, he comes across as clear-headed and pragmatic about what he wants out of his career growth, and his techniques seem to be effective. Last year, Phillips' debut album Canopy, which he and his wife released and promoted themselves, had a successful run on iTunes, and labels took notice immediately.
"Within, like, two days," he recalls, "I had like five labels calling. I was like, 'How did they even get my number?' "
Surprised though he may have been, Phillips was not blindsided, and he put his business skills (including those developed in a course on contracts at MTSU) to work. With that much knowledge of how things work, can a label offer him anything that he can't do for himself?
"The answer to that question," says Phillips, "is different than it was maybe 18 months ago. For a while, streaming was like the Wild West — really favorable to indies. Playlists were there, and it was just about music. It was a great time, and I think my first album really benefited from that. Now the labels are all-in on streaming. And labels are good at getting people to hear your music. Arguing that is silly. My listenership has almost tripled, and my album isn't even out yet."
* Editor's note: An earlier version of this story incorrectly attributed a lyrical example on the album to Phillips. Featured artist WHATUPRG actually raps the line "might be the reason why my friends don't turn to Jesus."