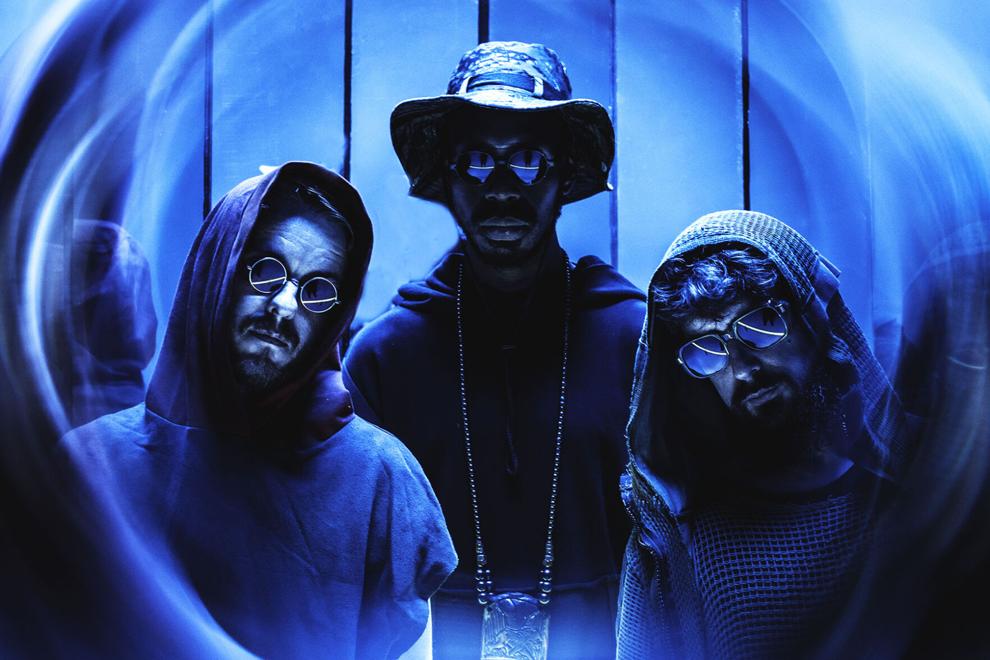 If you went to the 2019 installment of Knoxville's Big Ears Festival, you might have arrived unfamiliar with The Comet Is Coming. But once the East London trio got to showcase its irrepressibly energetic fusion of punk, jazz, EDM and beyond, there was no forgetting it.
The group is a meeting of the minds between best buds Dan "Danalogue" Leavers on synths and Max "Betamax" Hallett behind the kit. They were performing as a duo called Soccer96, which intrigued sax savant Shabaka Hutchings, co-founder of avant-jazz leading lights Sons of Kemet and bandleader in the rich and dynamic Shabaka and the Ancestors. When the trio joined forces as The Comet Is Coming — named for a piece produced at the BBC Radiophonic Workshop — boundless energy became the unifying force behind their wildly eclectic sound.
The aforementioned Big Ears show (and a follow-up appearance at Bonnaroo a couple months later) was part of the trio's tour supporting its then-new second full-length Trust in the Lifeforce of the Deep Mystery. Their follow-up LP Hyper-Dimensional Expansion Beam is set to hit stores and streaming services on Friday. By design, it goes further, harder and even more boldly. The group stops in at The Basement East on Sunday, and Leavers hopped on the phone to help the Scene fill in the blanks about the new record and share some insight into the artistic drive that motivates the trio.
---
What do you remember most about playing Big Ears in 2019?
The late-night show at The Pilot Light. It'd been a while since we'd rocked a packed-tight, sweaty bar. We didn't sound check — we just blazed through our favorite tracks, with people dancing right in front.
Tell me about making the new record. Was there anything new about your approach to Hyper-Dimensional Expansion Beam?
For this session, I really wanted to bring the sound of our studio performances closer to that of our live performances. As lockdowns eased, we managed to leave London and get out to the countryside, to Peter Gabriel's Real World Studios [near Bath]. We went in there with a blank slate — no prewritten material — and explored altered states of consciousness as a means to capture spontaneous compositional energy. Shabaka's playing is so intuitive and melodic it gave us plenty to work with. Although we only recorded for four days, Max and I spent four months editing, rearranging, overdubbing and mixing.
What was your first-ever band called, and what did it sound like?
Max and I had a post-rock group called A Scandal in Bohemia, named for the first Sherlock Holmes novel. [Laughs] It was a lumbering beast with six members and many instruments, making long, progressive tracks that often surpassed 20 minutes. Our first-ever show was supporting Godspeed You! Black Emperor.
The aliases "Danalogue" and "Betamax" speak to an appreciation of dated technology once considered cutting-edge. In what ways does analog media influence your work in The Comet Is Coming?
I just love the simplicity and directness of analog synthesizers. We record almost exclusively to tape — and on the new album, 24-track two-inch tape for the first time.
The Comet Is Coming is a spectacle onstage, and you mentioned trying to approach that in the studio this time. Was that difficult?
The studio is a different place, and [we] don't necessarily seek to replicate the live show [on record]. That said, we like to get very heavy [while recording], and tracks like "Code," "Pyramids" and "Atomic Wave Dance" off the new record are testament to that.
What does The Comet Is Coming stand for, as a band?
Cooperation. Courage in the face of adversity. Facing demons. Celebrating life.