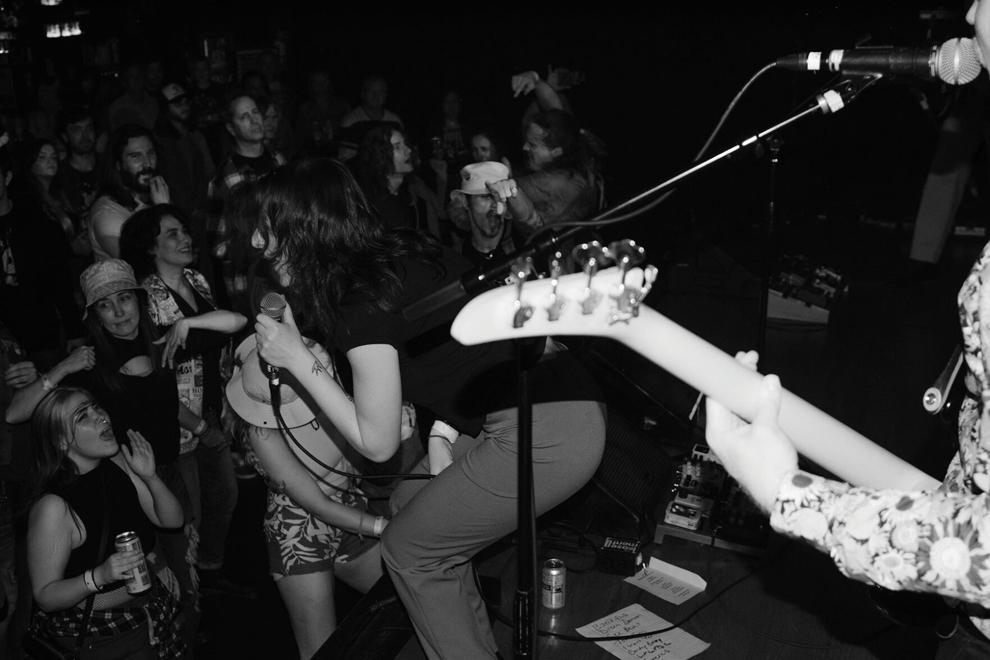 "We love it here," says Gloom Girl MFG's Paige MacKinnon, welcoming me to the foursome's basement rehearsal space. "Big yard, practice room, 15 minutes to most places — it's perfect." 
The house is home to MacKinnon, guitarist Ethan Waggoner and a third roommate, plus Charlie the rabbit and Cedar, Waggoner's 5-foot-6-inch red-tailed boa. It sits in a peaceful, rural-feeling corner of East Nashville, not far from where Prince's Hot Chicken Shack stood for years before damage caused by a car crash took it out in 2018.
Three-fourths of Gloom Girl MFG — the three-letter suffix, shorthand for "manufacturing," avoids potential legal conflicts with any similarly named bands and makes a comment on the state of the world — got here too late to take a crack at the outrageously spicy hometown specialty before Prince's operations moved elsewhere. Bassist Stephen Sobolewski has lived in Nashville the longest, having moved from his native Charlotte, N.C., in 2015, while over the past two years, MacKinnon and drummer Connor McCourt arrived from the Northeast and Waggoner from the Pacific Northwest. Perhaps because of this, the foursome delivers its sometimes-caustic, always-catchy punk-pop with refreshing optimism about Music City itself and music in general. Witness it live at The Basement on Saturday, when Flight Attendant and Shedonist support.
In the wood-paneled jam-room-adjacent band lounge, T-Rex and The Jesus and Mary Chain records sit in a recently played pile, the imposing yet docile Cedar chills in his vivarium, and McCourt calls up Sobolewski — headed home after running sound at the Daytona Beach Bike Rally for the past 10 days — to patch him in via phone. Involving everyone each step of the way is key in Gloom Girl. It's been that way since a practice session in late 2020 when nascent songwriting partners MacKinnon and Waggoner drafted McCourt, who'd previously drummed for Nashville-via-Jersey punks TV Saints, and Sobolewski — alias Dirty Ginger, which is occasionally a band, but mostly a recording project. Within moments of plugging in, the chemistry was undeniable. 
"It was fucking sick," Sobolewski remembers. "Immediate, and uplifting."
"We'd all played in bands before that had been dysfunctional," adds McCourt, "so we wanted to set a precedent to be committed right out of the gate." 
For Gloom Girl, that meant nearly 30 local gigs in 2022 alone, plus three three-hour practices a week — a regimen the quartet continues to maintain. All four members were eager to pitch in songs and song ideas. 
"We talked about how to share credits right away, which were nice discussions to get out of the way early," says Waggoner.
A pivotal performance at The Basement in November proved they were smart to have the foresight. Watching them perform their playfully malevolent debut single "Boujie Girl" at the Eighth Avenue South club's long-running New Faces Night made an instant convert of Mike "Grimey" Grimes, co-owner of The Basement, The Basement East and beloved record shop Grimey's. "I love New Faces Nite and have hosted almost every Tuesday for 20 years," Grimes wrote in a post after the show. "[Talent buyer Gil Costello] booked a local band who are my new favorite. Gloom Girl. Nashville needs this band so much." 
"I didn't honestly know who Grimey was at the time," remembers MacKinnon with a laugh, "but he was speaking over the P.A. like the voice of God, saying all these nice things about us, to us." To Waggoner, "It felt like beating level two of Guitar Hero — advancing to the next phase." 
Grimey Effect or no, Gloom Girl's draw at the city's stalwart rock 'n' roll haunts — The End, The East Room, The 5 Spot — is growing exponentially. "We're learning how to pack rooms," Waggoner adds, "and make each show count."
Soon they'll have more on the merch table to go along with their first shirt design, splashed across with the image of — who else — Cedar the snake. On the inaugural Gloom Girl EP Factory, set for release in late April, avowed John Bonham and Dave Grohl admirer McCourt's song-serving drumming frees his bandmates to branch out sonically. 
For Waggoner, that's meant leaning into '70s glam influences — the T-Rex records by the turntable are his — while Sobolewski has gone deep on the outrageous discography of modern garage-punk titans King Gizzard and the Lizard Wizard. Sleater-Kinney's "social commentary and jagged, jigsaw-puzzle riffs," meanwhile, were such game-changers for MacKinnon that she shouts out their '97 breakthrough Dig Me Out in one Gloom Girl tune. From Factory's ferocious kickoff track "Litterbug" up through its dreamy denouement "Side Stitch," the four-song set clocks in at just under 15 minutes, making for a formidable first release with significant replay value. It isn't at all hard to grasp Grimes' enthusiasm for what he saw and heard at New Faces Night. 
Looking ahead, Gloom Girl already has designs on Factory's follow-up EP, along with a pair of stand-alone singles slated to come out by the end of the year. They're also planning to tour the Midwest and South with greater regularity; they'll be hitting Birmingham, Chattanooga and Memphis in coming months. As far as long-term goals? 
"Just to focus on writing good music, that we all have a hand in," says McCourt. "We believe in this project, and each other." 
One glance at the practice-room whiteboard — with a list of songs for the next live performance, a list of more than a dozen others in the pipeline with notes on their progress and the form of the song they're currently working on — and it's clear that momentum is on their side.