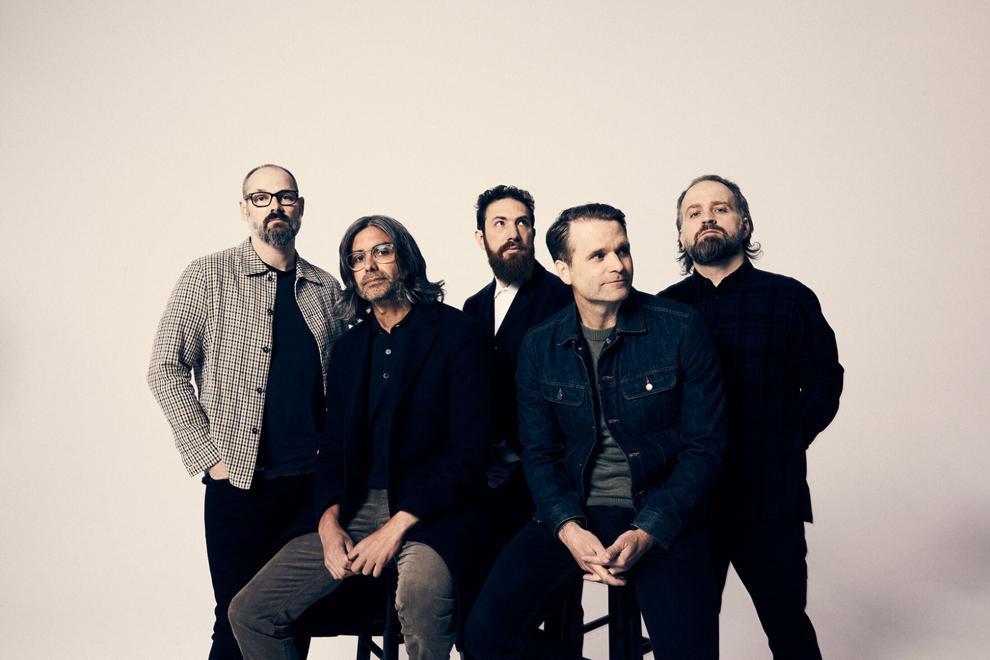 Death Cab for Cutie's 10th studio album Asphalt Meadows opens with a song whose title will feel relatable to many. "I Don't Know How I Survive" expresses a sentiment that's in line with the influential indie band's aesthetic. On the group's 1998 studio debut and throughout their early-Aughts ascent, Death Cab's melancholy and intellectual brand of introspection captured the hearts and ears of brooding young fans who have since grown older — and wearier — alongside the music. It also captures a prevailing mood in the post-lockdown world, as we reckon with asking, "Now what?"
Asphalt Meadows poses more questions than it answers, eschewing the warmer optimism of 2015's Kintsugi and 2018's Thank You for Today in favor of honest snapshots of self-doubt, anxiety and cautious growth. Accordingly, Asphalt Meadows is one of the band's most expansive and immersive works in years. It's their best-received project in nearly a decade, crackling with an immediacy reminiscent of 2008's Narrow Stairs and 2003's landmark Transatlanticism. 
Death Cab will celebrate that longevity and evolution at the Ryman on Tuesday, a Valentine's Day show certain to boast plenty to love. Chatting while setting up for a show in Louisville, Ky., bassist Nick Harmer tells the Scene he feels energized by where Asphalt Meadows has taken the band, particularly as the second leg of their tour kicks off in earnest.
"There is always a process of discovery [on the road]," says Harmer. "Especially as people digest the record and spend time with it and form deeper connections to it. That kind of feedback changes over the course of a tour cycle, as well. The first fall tour we did behind Asphalt Meadows last year was just sort of the excitement of new material. This year ahead — now is the time to play and really see people's reactions after they've been sitting with it for a while."
Death Cab wrote the bulk of Asphalt Meadows during the early months of lockdown, sending demos and parts to one another virtually. Harmer says that was a major departure for the group, as they typically rely on the "chemical level" instinct that can come with writing and performing live in one room. Once they finally were able to get together to record — alongside celebrated producer John Congleton — that pent-up energy, charged with a palpable undercurrent of anxiety, found its way into the music itself.
"There was a big catharsis for us in making the record," Harmer says. "There were some dark times there, for a moment, when [the pandemic] first started. … There was a lot of concern and trepidation and anxiety about whether or not we were ever going to be able to do this in the way that we had known it in the past. It was a weird thing to think about, something that you'd put 20-some-odd years into being completely taken away from you."
That catharsis is best represented in the album's centerpiece, the sprawling and ambitious "Foxglove Through the Clearcut." Like some of Death Cab's best-loved songs — think 2008's Narrow Stairs opener "Bixby Canyon Bridge" or 2003's epic Transatlanticism title track — "Foxglove" starts slow and grows to a crescendo. Notably, it's the first time the band has incorporated spoken-word into a song. While "Death Cab" and "spoken-word" might sound like fodder for your next game of Indie-Rock Mad Libs, "Foxglove" is easily one of the finest songs in the band's vast catalog. It's also been an early live favorite.
"We really love the mood of it, and how it created this atmosphere on the album," Harmer says. "But in a live set, you just never know how that's actually going to work. We always knew the ending was going to feel pretty cathartic, and it does on the album. But live, it's really become a new set-closer, a bigger moment in the set, as far as catharsis goes."
As heard on "Foxglove," Asphalt Meadows boasts some of Gibbard's best lyric writing, as he observes: "No one seems interested in fixing what they've broken / They just sweep the pieces into the bushes and slip away." The next song "Pepper" is a little more subtle in its cutting, as Gibbard describes himself as "a city you were only passing through." ("Pepper" is also the first single from an acoustic version of the album, set to be released in March.) "Rand McNally" is a rumination on how distant the band's early years of DIY touring seem now, with vivid descriptions of how "we lived on whiskey and Twizzlers and youth's discontent." 
Another standout is "I Miss Strangers," with jagged guitars and an icy-slick rhythm section adding an uneasy urgency as Gibbard sings, "These days I miss strangers more than I miss my friends." Sonically, the band finds intersection points between the pensive, emo-adjacent sound of its early years and the elastic pop-rock of recent LPs. That's especially evident on closer "I'll Never Give Up on You," which builds to a trance-like wall of sound before fading out.
With pandemic restrictions in the rearview, Death Cab's biggest touring problem is crafting set lists that best represent their 25-year career. Harmer sees it as a good problem to have, and one they don't take for granted. He notes that Gibbard maintains a spreadsheet of every set the band has ever played, making sure to curate a mix of new material with fan favorites. Some of this year's sets will pay homage to Transatlanticism, which first put the band on the map 20 years ago. Harmer looks back on that LP with a mix of fondness and wonder.
"I'm really happy to be out on the road this year, celebrating that moment. It was something that took all of us by surprise when it happened. We were all looking around like, 'Wow, this is fun. Maybe we can do this for real.' "