Soul singer Alanna Royale spent the bulk of the past 20 months thinking about everything but music. In the early days of the pandemic, her mom, dad and brother in New York tested positive for COVID. They all recovered, but soon after that, her mom was diagnosed with cancer. Royale couldn't travel to be with her, so she stayed in her Nashville home and tried to jump out her frustrations on a mini trampoline. She also tried to connect with her community, volunteering with voting advocacy group BriteHeart and a PrEP clinic and taking food, water and resources to protesters occupying Legislative Plaza downtown. "I did everything I could to give back and try and strengthen the community," she says.
This summer Royale did finally get to return to the stage. In July she played a single-release party at Exit/In to celebrate her new song "Fall in Love Again," and in October she and her band toured with Monophonics. But hitting the stage again was bittersweet. On a break from preparing for her upcoming Christmas concert — read more in our Critics' Picks — Royale opened up about some of the more difficult aspects of returning to life as a professional musician.
How did it feel to return to the stage? 
That show in particular [at Exit/In] was really tough for me. I don't want to say it was a struggle-bus show, but it was definitely like, "Cool, we are gonna play all these new songs, but we're not gonna actually get into the flow of playing them night after night?" It was just a lot all at once.
Like so many artists, I went super inward at the start of the pandemic and for a lot of the time after that, and I really did put down a lot of my responsibilities. I was like, "You know what? There's nothing I can do in this situation. I am such a small artist, and there are only so many resources out there for me, I need to take the best care of myself as I can right now, rather than trying to keep my business afloat." I really honestly didn't care about myself as an artist. I was like, "I just need to survive. I really can't even think about playing a show right now. … If I don't take care of myself and preserve my brain and my physical being then it won't even matter when shows come back. I'd be like a total fucking nutcase."
Now that you're starting to get back into the swing of things, do you feel like that perspective and approach helped you? 
When I went back to playing, there were so many difficult conversations that [had] nothing to do with the music. I had a really good time on the road. One of my favorite bands [Monophonics] took me on a West Coast tour, and it was just an amazing experience. … But the conversations that preceded touring were really hard because I had to tell my players, like, "Hey, we have to be so fucking on lock, because if anyone gets a positive result at any time, not only can you not come in a venue and you can't work, but you have to quarantine for 10 days. I can't afford to put you up for 10 days. … I'm not just gonna leave you somewhere, but you're financially going to have to be responsible for yourself. I can't carry that." Saying that to people was really uncomfortable, even though everyone was on the same page. … On tour, so much of the hard work is sort of balanced out by all these new experiences and these new places, and having that taken away really sucked.
Were you able to feel safe while touring, knowing that you were vaccinated and shows required negative COVID tests or vaccinations? 
Absolutely. So many people were like, "This is the first show [since the pandemic started]! I had tickets to this show a year-and-a-half ago!" And people were like, "I didn't go anywhere leading up to this show, so I could make sure I didn't miss this show." There's no word to describe people holding out on a social life, like with public engagement to be like, "I just wanted to make sure I was here for this, and now you're here and I'm grateful and I'm so glad you made it." There was a lot of trauma bonding with strangers.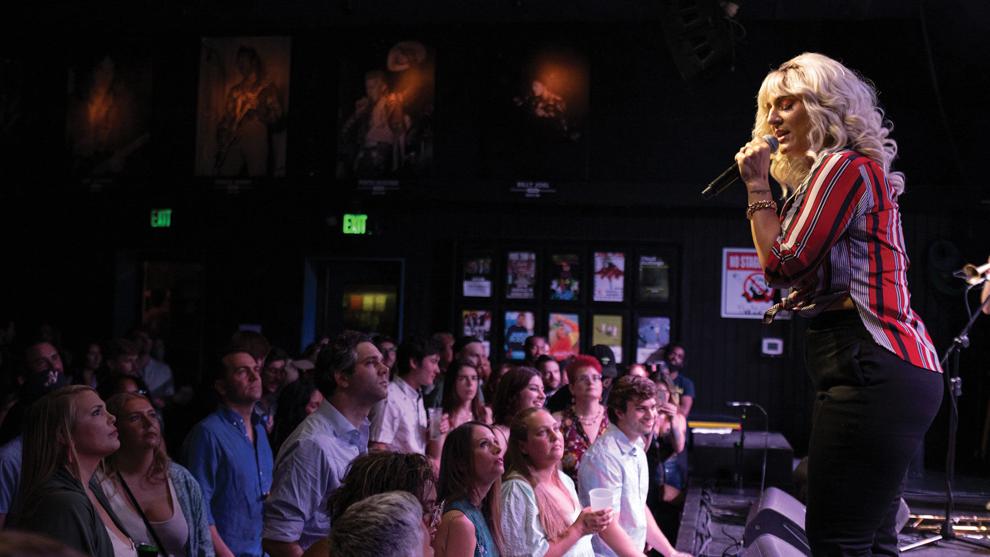 Did everybody in your band stay healthy on tour? 
Yes, everybody in my band came home 100 percent healthy. We took at-home tests when we got home. It was like a 7,000-mile tour — we were so locked down, we didn't fuck around at all. Honestly, after a while, the saddest part of touring outside of Tennessee and going to New York and Los Angeles and Seattle and Portland was, we feel less safe at home. I think that was the hardest part, coming home. Once we got on the road, it was like, "OK, the vaccine policies are working in the venues, we're wearing the masks." We didn't even stay at hotels, we stayed in Airbnbs so we didn't have to walk through hallways. We kept our engagement to a minimum. And then you get home and you're like, "Whoa, yeah, back in the wild, wild Middle Tennessee." Who's vaccinated? We don't know! Everyone's just been going out and partying and eating and doing whatever. 
Did losing access to live music and then getting it back change your relationship with that experience? 
I think it made me realize that I need better balance. I don't need to constantly be touring. I don't need to constantly be playing. Like, I won't just disappear into the fucking ether. It's OK to not have to push, push, push constantly. And you're better for it. You're more clear-minded. You are showing up with a full cup rather than being constantly drained. 
I just typed "You won't disappear into the fucking ether" into a Google Doc to remind myself. Hustle culture can be such a toxic way to live! 
It kills artists, it kills creatives! Because instead of being moved to create something you feel like you have to create something.
If there was anything that I could say to another artist, it's: "We took the audience away, we took the ticket sales away, we took all of this stuff away in the pandemic. And if you found through the loss of all of that, that you were still making music, and you were still singing to yourself in your kitchen and you were still picking up your instrument, and you were still fucking feeling something in you, then that's something you have to get right with." You have to give attention to that, you have to feed that because it really doesn't matter at the end of the day if you think there's an audience. Because I'm your audience. I really look forward to seeing your thing even if it only has 400 streams — I really look forward to it. So continue to make art for yourself, as hard as that can really be to put into practice. Make it for yourself, because we could go through this again tomorrow. So decide for yourself, who do you make art for? And do you live for that art? And then, like, really honor that.