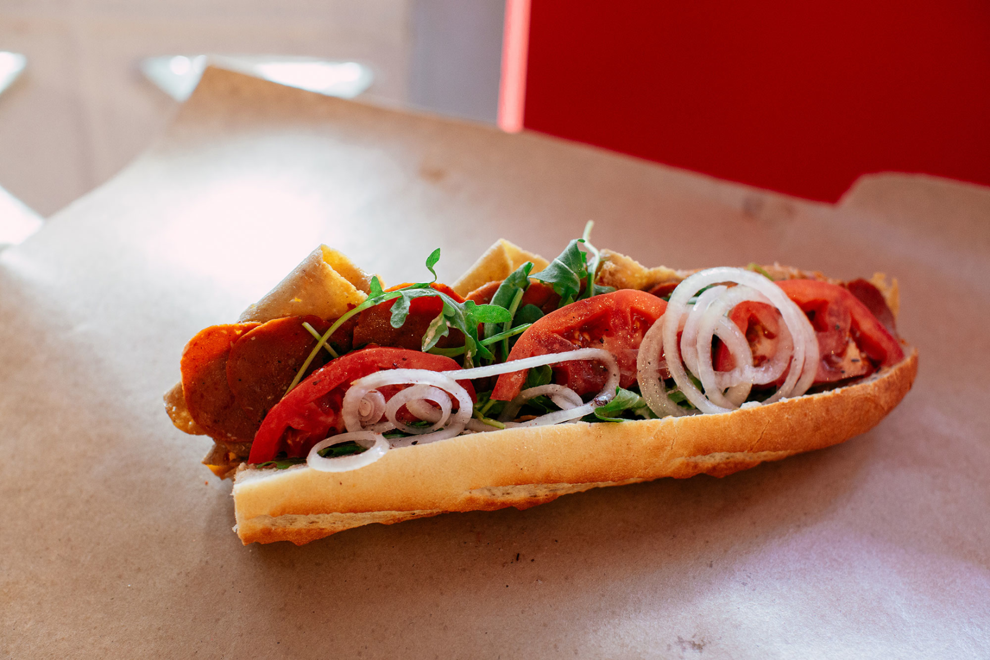 Sorry, good ol' boys, but it's time to stop laughing at vegans. A plant-based diet is no longer the tree-hugging, granola-crunching butt of the joke. Veganism is a lifestyle embraced by millions — lifestyle website WTVOX estimates that there are roughly 78 million vegans worldwide — and numbers are on the rise.
According to The Vegan Society, "retail sales of plant-based meat grew 31 percent, while total U.S. retail meat sales grew just 5 percent" between 2017 and 2019, and in recent years the "consumption of plant milk increased by 61 percent while consumption of cow's milk decreased by 22 percent."
Veg World Magazine predicts the "market for vegan meat alternatives will reach $7.5 billion globally by 2025." Perhaps even more telling, the COVID-19 pandemic hasn't slowed things down. Plant Based Foods Association reports that plant-based food sales were up 90 percent during "peak panic buying" in March, outpacing other food sales. Online vegan restaurant guide HappyCow reports more vegan eateries have opened during the pandemic than closed.
The meat-free, egg-free, dairy-free action is booming in Nashville too. The Sunflower Cafe, a vegan staple since 2012, opened a second location, Sunflower Bakeshop, in September of last year. Months later The Wild Cow, which has been serving vegetarian and vegan food in East Nashville since 2010, moved into a larger space on Fatherland Street to accommodate their growing customer base.
Want to get in on this plant-based action? Here are three more vegan eateries making meat-free waves in Music City.
The BE-Hive Deli & Market
"We have definitely been seeing a steady rise in our local customer base," says Diana Lee Zadlo, co-owner of Nashville's vegan deli and plant-based meat retailer The BE-Hive. "I think what's so great about more veg options in town is that it's starting to normalize it. People are thinking more about where their food comes from, what impact it makes on our world, our environment, our health."
The BE-Hive first started serving its house-made seitan in 2011 by way of plant-based pop-up buffets at The Wild Cow. Demand for the product has steadily grown over the years, and the owners recently moved their production into a 7,500-square-foot warehouse in Donelson. The BE-Hive is also representing Nashville's vegan scene nationwide. Their packs of marinated and sliced seitan, breakfast sausage patties and chipotle chorizo can be found in more than 45 Whole Foods locations. What's more, this year they also started to distribute their vegan cheeses and faux pepperoni (which is perfectly spiced with fennel, mustard seed and red pepper flakes, by the way) to pizzerias around the country by way of Vedge.co, an online vegan food retailer. The pepperoni is topping pizzas from Los Angeles to New York.
The BE-Hive has grown its local options too. The BE-Hive Deli — the small, bright-red to-go window tucked between Hail Dark Aesthetics and The East Room on Gallatin Avenue in East Nashville — is now open Wednesday through Sunday from 11 a.m. to 10 p.m. The deli serves up the kind of food you want to cram in your mouth after a stressful day, the kind of food that feels more indulgent than healthy. You know, the kind of food that makes for a fitting reward once you've made it through yet another day in modern history's most awful year.
The BE-Hive's Crunchwrap is an homage to the Taco Bell favorite — a folded-up flour tortilla is stuffed with taco "beef," queso, pico de gallo, lettuce and sour cream. Their "soy chxn" Philly sandwiches, served with peppers, onions and "chz sauce," are as saucy and gut-bomby as you'd expect the classic Philadelphia sammies to be.
I'm partial to the fried chxn sandwiches, which come in three flavors: Nashville Hot, Buffalo and Plain Gain. The Plain Gain is spicy enough for anyone who maxes out at two stars at any given Thai restaurant (me, the wuss), and all that peppery seasoning is expertly balanced with the softest, most tender bun you've ever tasted, a slightly sweet cloud from Croissant Bakery in Georgia.
"Our whole thing, personally, is making plant-based eating more accessible to anyone, not just those who are already deep in the veg world," says Zadlo. "Helping people reduce their consumption of animal products by making it easy. And with the deli, we get to show people how indulgent, fun and crazy vegan food can be."
Speaking of fun, don't forget to order a side of breakfast tots, a mountain of golden fried potato nuggets topped with queso, tofu scramble, pico de gallo, veggie bacon bits and sour cream.
Succulent Vegan Tacos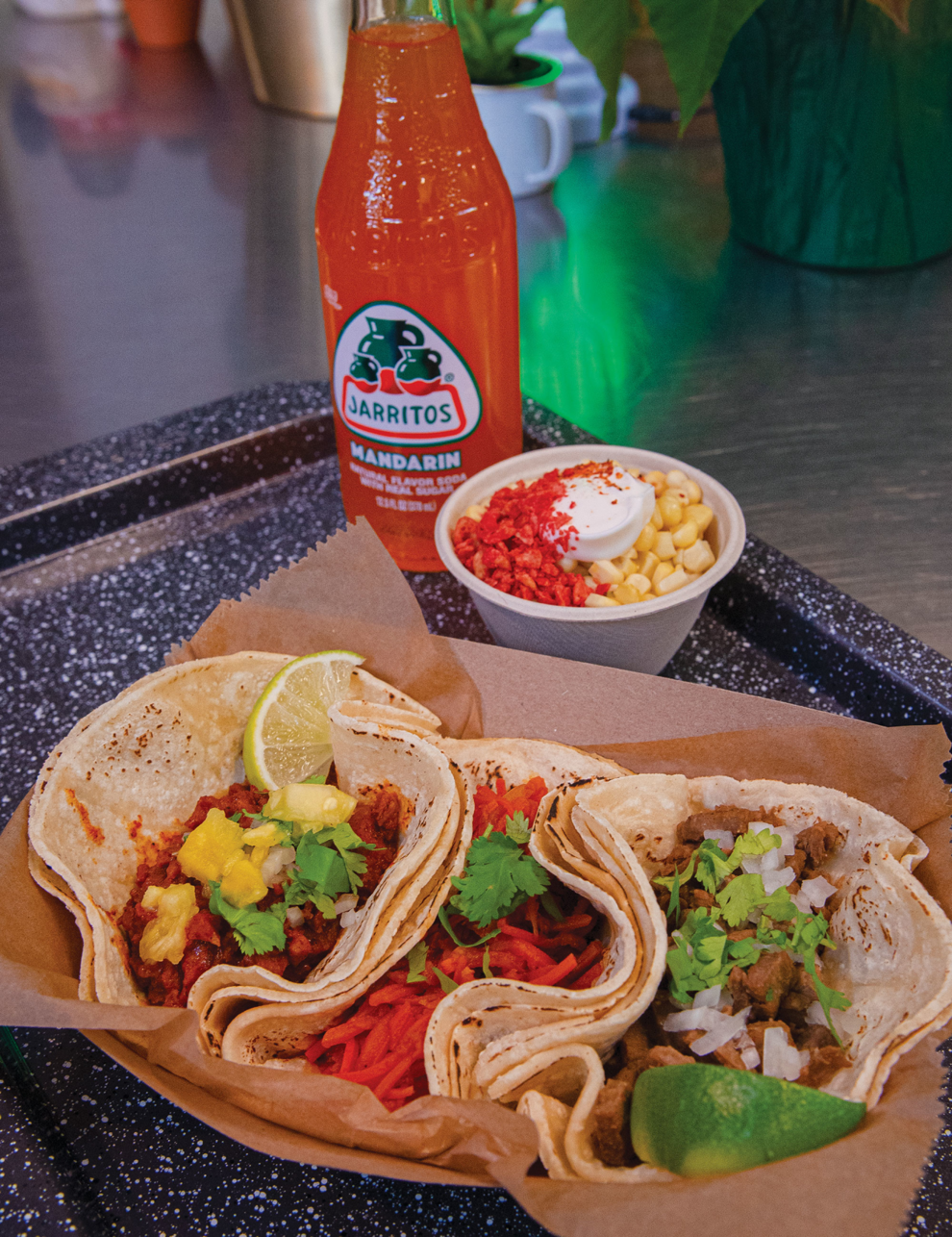 The BE-Hive's meat-free proteins also take a starring role in the street tacos served at Nashville's newest vegan eatery, Succulent Vegan Tacos in the Nashville Farmers' Market.
Owners Adriana Ortega and Ronald Cerdas have been slinging their plant-based traditional Mexican street food via the market's Grow Local Kitchen for two years, but in October they made it permanent by moving into a space across from Bella Nashville Pizzeria.
Succulent's day-to-day menu is small, but it has everything you need for a quick, tasty lunch. There are four different kinds of tacos — al pastor, tinga, papas and asada — as well as refried black beans, seasoned rice and esquites (Mexican corn with mayo, lime and Tajín).
The papas is my current favorite. Though it doesn't look like much — a pile of white potatoes in a white corn tortilla topped with roasted tomatillo salsa — the filling is bursting with just-right spicy flavor. The al pastor is delicious too — chopped seitan is marinated in smoky, tangy sauce and topped with fresh pineapple, onion and cilantro.
Succulent Vegan Tacos also rotates in specials, including tamales, mushroom pozole, chile relleno stuffed with seasoned soy crumbles and, surprisingly, huevos rancheros, topped with JUST Egg's vegan egg substitute. I know the phrase "vegan egg substitute" can be cringy to ovo-lovers, but try it before you judge it, OK?
Radical Rabbit
Mariah Ragland's Radical Rabbit has been, ahem, hopping around town too. Ragland started the business as a side hustle in 2018, selling plates of plant-based soul food from her apartment and the trunk of her car. But these days she's cooking full-time in a commercial kitchen to keep up with demand.
Ragland's rotating menu includes plates of seitan ribs, fried-oyster-mushroom burgers, macaroni-and-cheese, greens, black-eyed peas and banana pudding, all of which you can find every Tuesday at East Nashville Farmers Market (which just closed for winter, but will reopen in spring), every Saturday at Richland Park Farmer's Market and every day in the grab-and-go section of Citizen Market in Hunters Station. And as of this fall, you can have Radical Rabbit delivered via Hot Poppy, the local grocery delivery service that started up during the pandemic.
It's Ragland's fried jackfruit smothered in savory sauces like cranberry chipotle, sweet teriyaki, garlic parmesan and Carolina gold barbecue sauce that got me hooked. The hunks of jackfruit have a tender, meaty texture similar to an artichoke heart, and when fried and tossed with the sauce, their texture is much like that of a boneless chicken wing. Even non-vegans love them, Ragland says, as about half of her customer base is not full-time vegan. She's noticed a positive shift in the city's relationship with meat-free options too.
"It's so great that the word 'vegan' isn't a foreign word to people anymore," Ragland tells the Scene. "A lot of attitudes toward the word are good feelings with new associations that include thoughts of good food that's good for you and the world. We are at a place in time that everyone has at least one person in their family who is vegan. Let's hope that by this time next year, everyone has at least five people in their family who are vegan, including them!"
Don't laugh. With more and more tasty vegan options hitting the mainstream food market, it could totally happen.