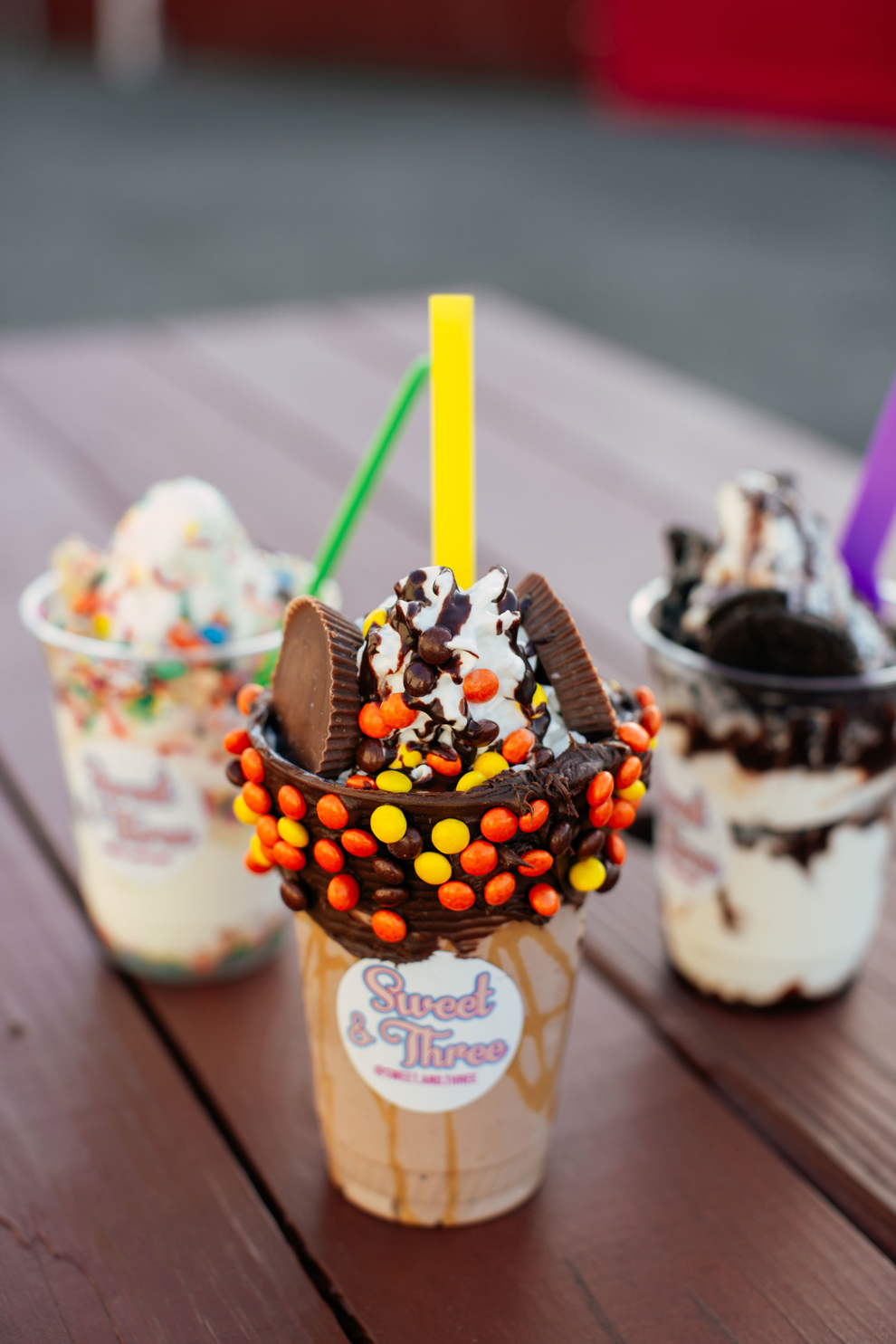 Wesley Keegan, the owner of Tailgate Brewery, laughs when I ask him why he'd launch a new business venture in the midst of an unpredictable pandemic. Keegan opened Sweet and Three, the cleverly named new soft-serve ice cream counter inside Tailgate Brewery's Charlotte Pike location, in October, serving up dipped cones, waffle-cone sundaes, "monster" shakes (with and without booze) and Stackers, parfait-style soft-serve sundaes.
"I want to clarify — we opened up an ice cream shop in the pandemic and the start of winter," Keegan says. "From a business sense standpoint, like, there's none.
"The answer though — this was actually planned," he adds, still chuckling a bit. "May 1 was the target I was shooting for, and then the tornado and COVID paused everything. This was always something I was interested in. I had felt that there was a premium soft-serve void in Nashville. I mean, really, kind of everywhere.
Indeed, soft serve is in short supply around here. Ever since Frisson Soft Serve closed in September 2019, Nashville institution Bobbie's Dairy Dip has been the only local, non-fast-food-chain option for fans of swirling towers of creamy and cold cones and sundaes. The self-serve, toppings-focused froyo trend burned out like a dying star.
"When I was going through college, there was cheap froyo everywhere, and it wasn't good ice cream at all," Keegan says. "The toppings were fun, so my thought was, 'This worked and people loved it, but the quality wasn't there.' As a fan of ice cream, I thought there was an opportunity that we could still hit that premium topping segment, but offer it in a simple platform."
Sweet and Three currently only offers two ice cream flavors — vanilla and chocolate, duh — and Keegan put in the work to find a premade ice cream base that he says is better than most out there. (Though he does hope to make ice cream in house in the future, he also admits he likes the reliability gained by using an experienced outsider.)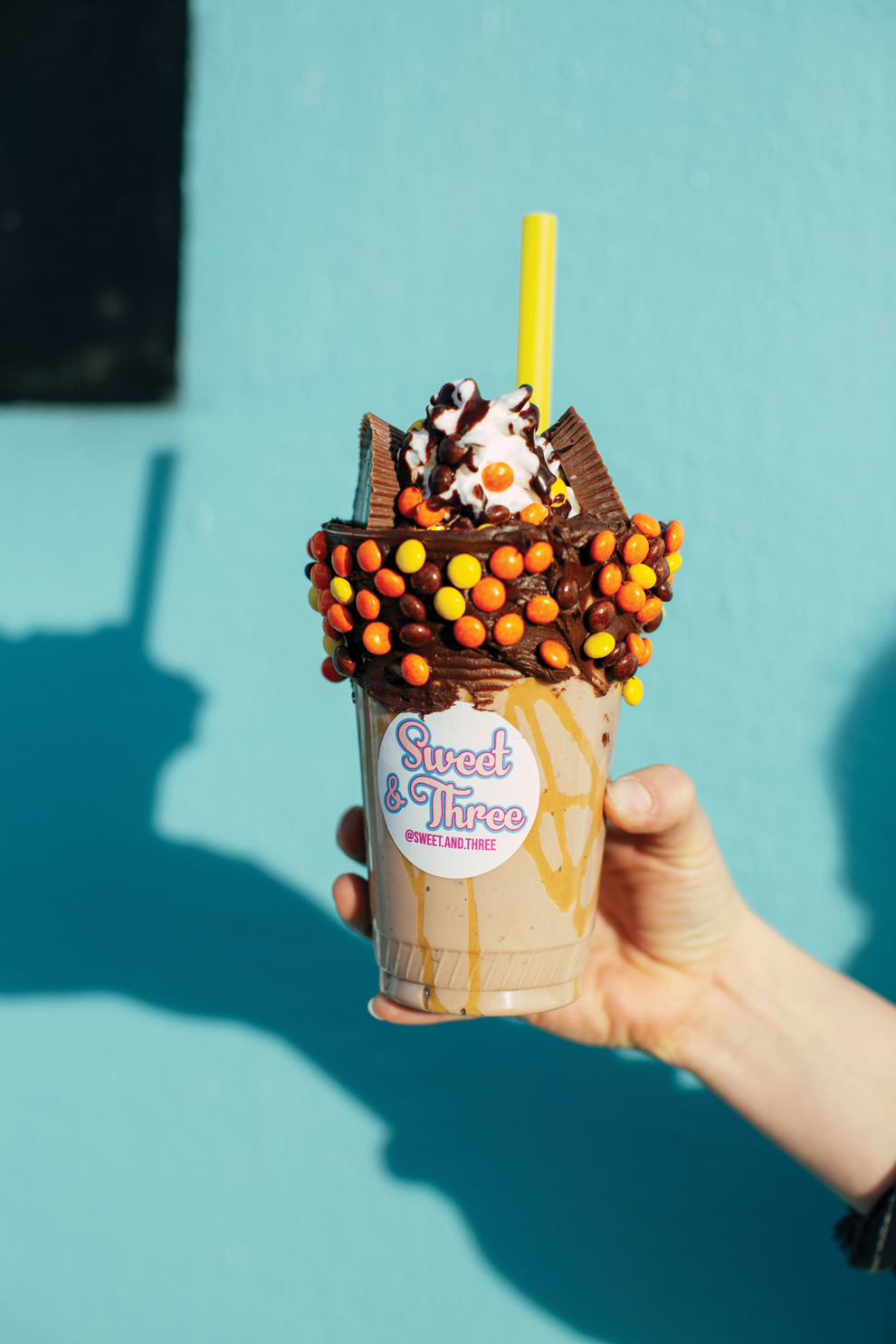 "The cool thing about soft serve is it's a measurement of butterfat," says Keegan. "Froyo is the low end, and the highest-end you can go and still be a premium soft serve is 12 percent. We have a 12 percent butterfat soft serve. We did a ton of taste testing and checked every single product that was in the market and found one that nobody here is carrying."
Need some context? Dairy Queen's soft serve has only a 5 percent butterfat content, while Forbes reports that traditional scoop-style ice cream from Ben & Jerry's and Häagen-Dazs contains around 16 percent.
Keegan also aimed to improve upon the long-practiced but historically flawed sundae format.
"The problem when you get soft serve or ice cream with toppings, most of the time they just kind of dump it on the top," Keegan says. "After the first couple of bites, it's over. That kind of defeats the purpose of having those toppings in the first place." *
Enter the Stacker, which is exactly what it sounds like — a cup or waffle cone "stacked" with layers of soft serve and your choice of toppings. Stackers aren't Keegan's invention — they can also be found in ice cream shops like Cow Tipping Creamery in Texas and Modern Cone in Michigan — but until now the burgeoning trend hadn't made its way to Nashville. It's the perfect (if not blatantly obvious) solution to the sundae's long-standing ice-cream-to-topping ratio issues.
In Sweet and Three's Glow Up Stacker is a menagerie of M&Ms, cookie-dough chunks and rainbow sprinkles. The PB Cup, meanwhile, is a peanut butter lover's dream, with three (yes, three) different variations of the stuff — peanut butter cups, Reese's Pieces and peanut butter sauce. Should you choose to build your own, you could make one of nearly 7,000 flavor combinations using the 19 different candies and sauces.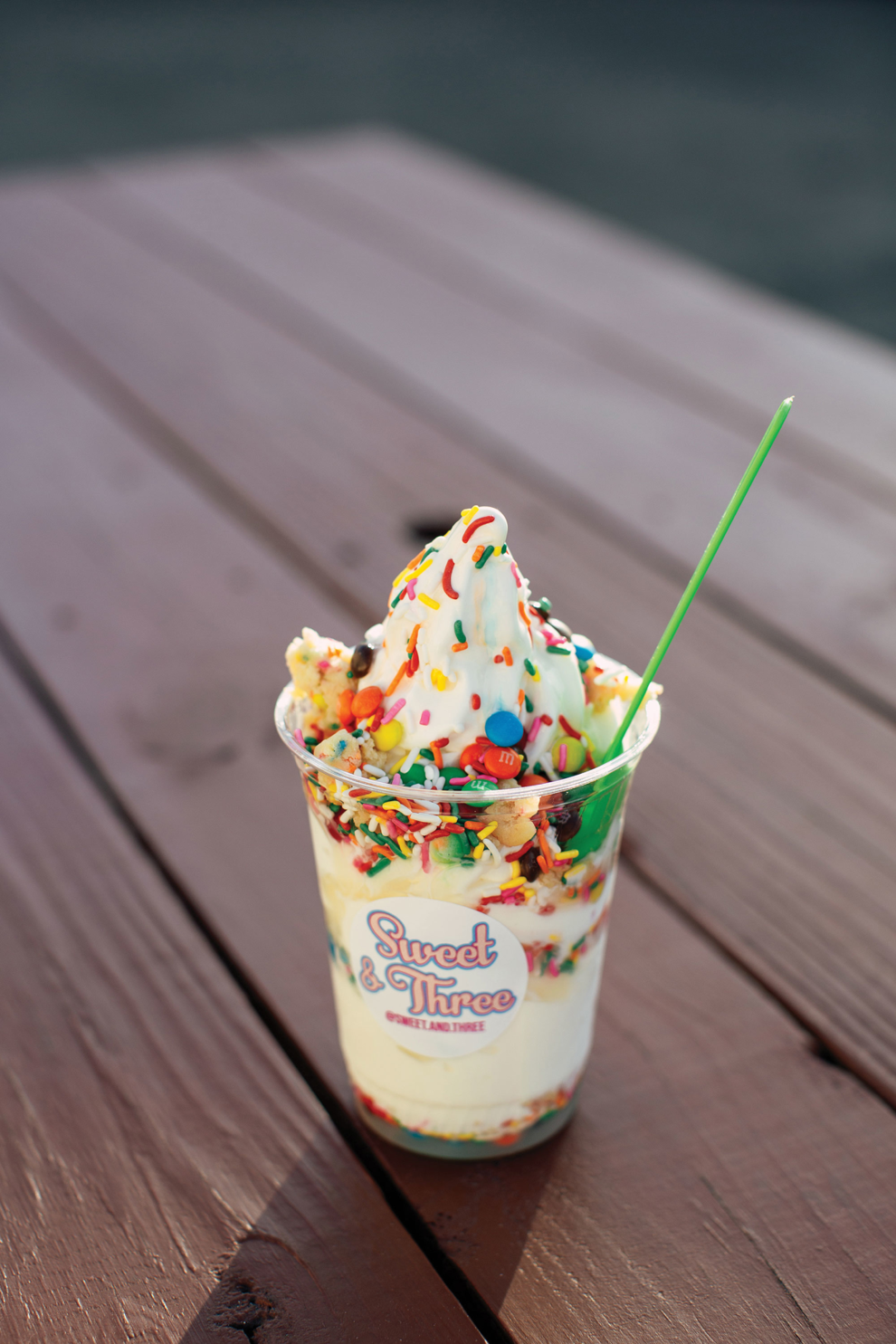 It sounds like a lot, and it is! In fact, early versions of the Stacker were originally served in what Keegan describes as a "really awesome '40 percent in the cup and 60 percent outside of the cup' " ratio. They were enticing, yes, but messy.
"Within about 10 seconds it's already melting and you can't eat it fast enough," says Keegan. "They photoed really, really well, but if you tried taking one to go you would hate us. Now it's just in a big 20-ounce cup, and it looks pretty egregious, but it's plenty easy to eat."
And therein lies the rub with #modern #desserts. Not only do food makers have to deliver something that tastes good, but they also have to present the creation in innovative ways in order to catch customers' eyes. Sweet and Three hit similar bumps in the road when creating their monster shakes, aka $12.99 milkshakes crowned with whole strawberry Pop-Tarts, toasted marshmallows kebabs, Oreo cookies and more. While similar concoctions can be found at Legendairy Milkshake Bar downtown and Gracie's Milkshake Bar on Charlotte Avenue — the latter of which stuck a whole goddamn carrot into their "Frosty" shake last month — Sweet and Three pulls back on the toppings just a bit and fits everything into a portable plastic cup.
"I think there are two ways to succeed in the food industry," says Keegan. "You either need to be really healthy or the other end of the spectrum. You can come to our place now and get beer, liquor, loaded fries, which are like nachos but with waffle fries, pizza and now ice cream. I am that opposite end of the spectrum in every sense of the word.
"People can make regular at home," he adds. "It falls on us to actually create something special."
* Seriously, how people have accepted this nonsense for literal generations is beyond me. EVOLVE, PEOPLE.