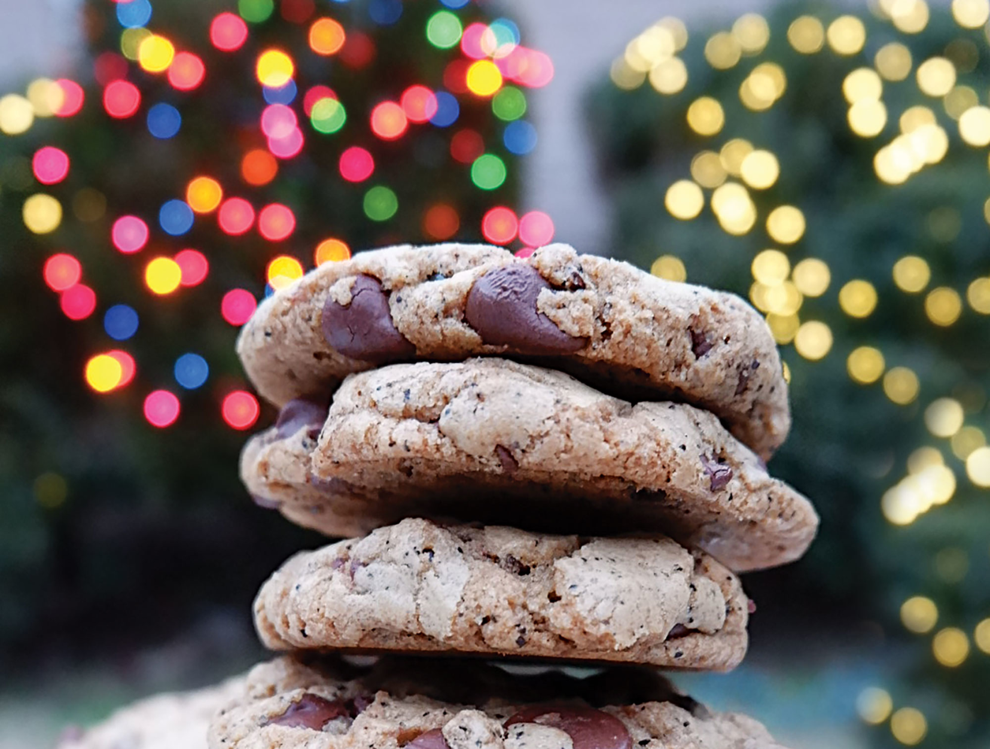 I wasn't sure what to expect when I asked four of my favorite local bakers and food bloggers to help me close out another year of my sweets column Sugar Shock by sharing their prized seasonal cookie recipes. But holy all-purpose flour, Santa — they came through with some winners.
Vivi Peatman of Sylvan Park's beloved gluten-free bakery Vegan Vee shared her super-simple recipe for a vegan version of zimtsterne (aka cinnamon stars). The traditional German cookie is usually made with egg whites, but Peatman's are instead laced with lemon juice and rum. Sean Newsome of HiFi Cookies shared his secret to HiFi's Old School Chocolate Chip Cookie. HiFi's innovative creations are always as big as your hand and covered with anything from candy bits to cereal. So how does he improve a classic? He loads them with three! different! kinds! of! chocolate!
Two of my favorite Nashville-based food bloggers, Charles Hunter III at The Salted Table and Phillip Fryman at Southern FATTY — both of whom you should be following on Instagram at @thesaltedtable and @southernfatty, respectively — also sent along recipes. Their combined special-ingredient list doubles as a list of my favorite things: cherries, espresso, chocolate, pecans and cornflakes.
Preheat your ovens. Your search for the perfect holiday cookie plate starts and ends here. 
---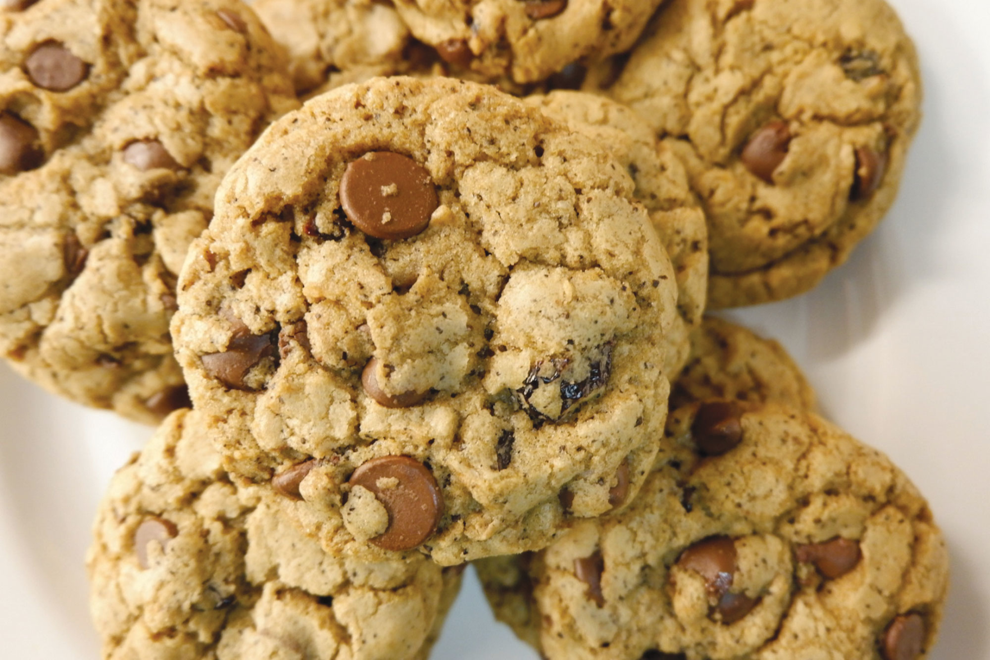 Charles Hunter III, The Salted Table
Hunter says: "This is, in my opinion, a perfect end-of-the-year holiday cookie. The rich coffee notes, the tang and sweetness of the dried cherries, the bittersweet combination of chocolate chips. And let us not forget that perfect chew in the center. You can make these your own by adding your favorite kind of dried fruit, ground coffee or chocolate chips. The cookie dough base is rather flexible and could chameleon into many variations."
Dried Cherry & Espresso Chocolate Chip Cookies
Ingredients:
2 cups all-purpose flour
1/2 teaspoon baking soda
1/2 teaspoon kosher salt
12 tablespoons (1½ sticks) unsalted butter, melted
1 cup firmly packed light brown sugar
1/2 cup granulated sugar
2 tablespoons finely ground espresso (dark roast)
1 tablespoon vanilla extract
1 egg plus 1 egg yolk
3/4 pound semisweet/dark-chocolate chip blend (50/50) 
2 ounces chopped dried cherries (or cranberries) 
Directions:
Preheat your oven to 325 degrees F. Spray two baking sheets with nonstick cooking spray or line with parchment paper.
In a medium bowl, whisk together the flour, baking soda and salt; set aside.
In the bowl of an electric mixer fitted with the flat beater, beat together the melted butter, brown sugar, granulated sugar and ground espresso on medium speed until well blended, about two minutes. Add the vanilla, whole egg and egg yolk and beat until light and creamy, about three minutes. Reduce the mixer speed to slow, add the flour mixture and beat until just blended, about one minute. Using a wooden spoon, fold in the chocolate chips and dried cherries.
Scoop the dough onto the prepared baking sheets, spacing the cookies about an inch-and-a-half apart. A 3/4-fluid-ounce ice cream scoop makes the perfect cookie, but feel free to make them the size you prefer.
Bake until the edges of the cookies are lightly toasted, 10 to 12 minutes for smaller cookies and 15 to 17 minutes for larger cookies. (Baking times will vary depending on the size, so check early.) Transfer the baking sheets to wire racks and allow them to cool for a few minutes, then transfer the cookies to the racks and let them cool completely. Makes about 48 cookies.
---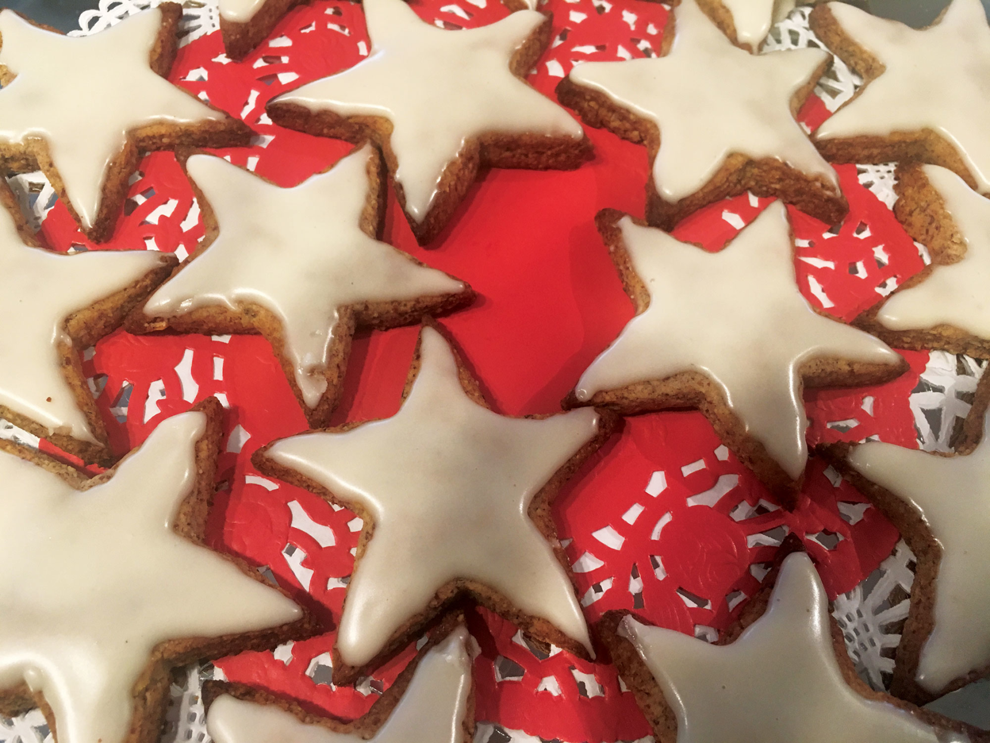 Vivi Peatman, Vegan Vee Gluten-Free Bakery
306 46th Ave., 615-456-7390, veganvee.com
Peatman says: "Most of my recipes contain too many ingredients, including seven or eight different flours, which most people don't keep in their pantry. This one has very limited ingredients and is super easy to make, and even healthy!"
Cinnamon Stars (Zimtsterne)
Dry ingredients:
1¼ cups finely ground hazelnuts (hazelnut flour)
1¼ cups finely ground almonds (almond flour)
1 cup sifted organic powdered sugar (we use the Wholesome Sweetener brand)
1 tablespoon ground cinnamon
Wet ingredients:
3 teaspoons freshly squeezed or organic pure lemon juice
1½ teaspoons rum
2 tablespoons filtered water 
Lemon Icing: 
Whisk 4 tablespoons of organic powdered sugar with 1 teaspoon of organic lemon juice in a small bowl until smooth.
Directions:
Preheat your oven to 350 degrees F.
Whisk dry ingredients together. In a separate bowl, mix together the wet ingredients. Then mix wet into dry. The dough should be crumbly but stick together when pinched. If the dough is too dry and won't stick together, add more water 1 teaspoon at a time.
With clean hands, squeeze the dough into a ball and spread it out on a clean, smooth countertop or a silicone mat. With a rolling pin, roll out the dough evenly into desired thickness (thin for crunchy cookies, thick for chewy cookies). Cut out stars with a cookie cutter, and with the help of a flat metal spatula, place the cookies on a baking sheet.
Bake for 5 to 10 minutes, or until the edges start to brown. 
While the cookies cool, prepare the lemon icing. When they're completely cool, use a small pastry brush to paint on the lemon icing. Allow the cookies to sit for at least 1 hour at room temperature, or until the icing is completely set, before storing. Makes 12 to 24 cookies, depending on thickness.
---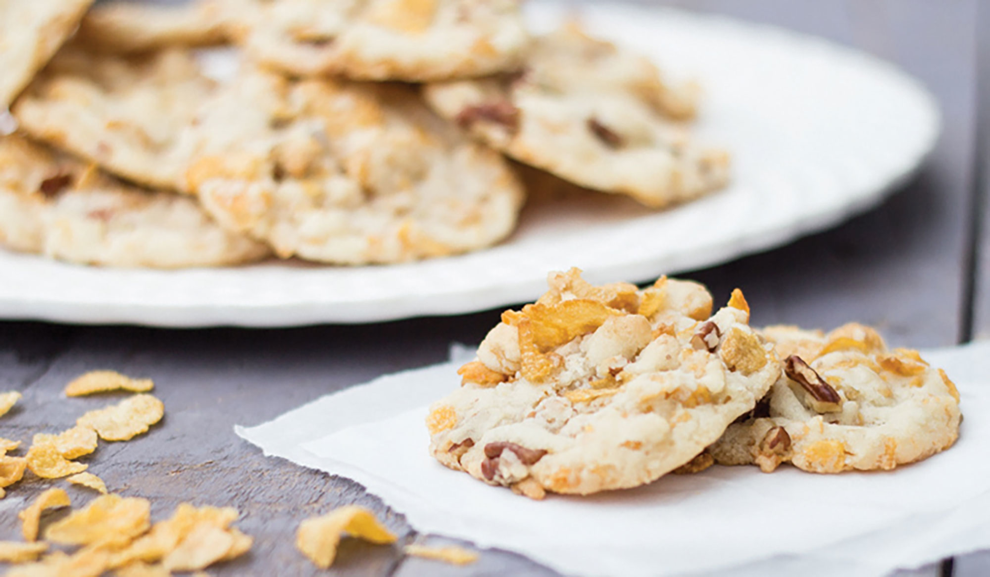 Phillip Fryman, Southern FATTY
Fryman says: "This cookie recipe, with the crunch of the cornflakes and the rich holiday essence of the pecans, is always a favorite on the cookie plate. It's one that hits home with so much nostalgia and memory for me. My family is from Georgia, which meant that when holiday time came, we hit the road to go visit. From Kentucky, the 10-plus-hour journey was rough as a kid, but always seemed worth it when we would pull down the pine-tree-lined driveway of my grandmother's house and immediately run to the kitchen (often past the family, if I'm honest) to grab the cornflake cookies. These things are legendary."
Southern Cornflake Cookies
Ingredients:
1 cup (2 sticks) butter
2 cups sugar
1 cups shortening
3 cups all-purpose flour
2 teaspoons baking soda
2 teaspoons cream of tartar
4 cups cornflake cereal
1 cup pecans, chopped
2 teaspoons vanilla
Directions:
Preheat oven to 350 degrees F. Line a baking sheet with parchment paper.
Cream the butter, sugar and shortening in a mixer on medium speed until well-combined. In another bowl, sift together the flour, baking soda and cream of tartar. Add the dry ingredients to the butter mixture and combine until just mixed.
By hand, stir in the cornflakes and pecans very carefully. Don't overmix or over-crush the cereal.
Drop spoonfuls of dough on the lined baking sheets and bake for about 12 minutes, until just golden around edges. Cool and enjoy! Makes 36 cookies.
---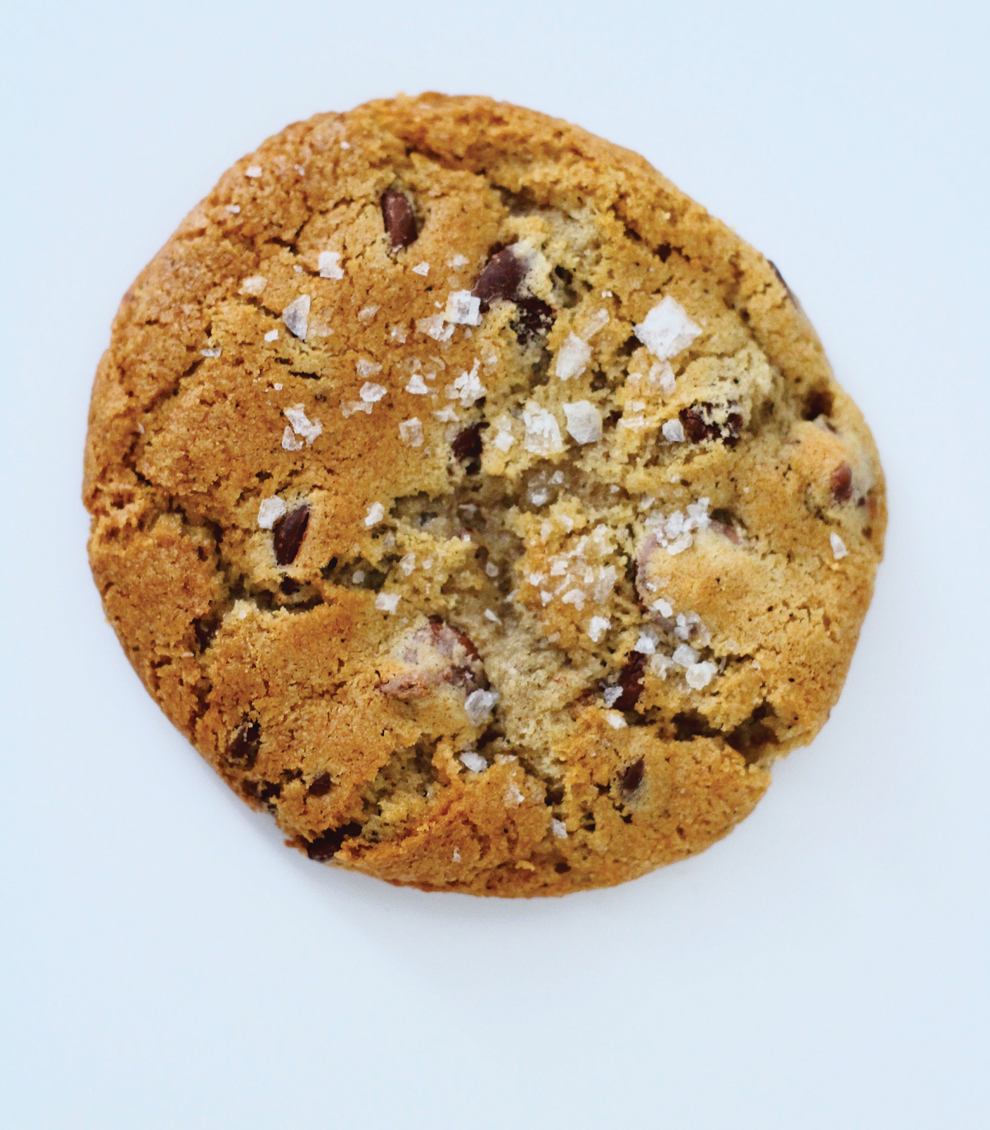 Sean Newsome, HiFi Cookies
Newsome says: "This recipe is actually our play on a classic chocolate chip cookie. We call it the Old School. The recipe looks a bit daunting at first with the use of toasted sugar, but I promise it is worth it. A client of ours really wanted a basic chocolate chip cookie — I struggle not being 'extra' with the things I bake, so I had to come up with a chocolate chip cookie that still felt very HiFi. We started with our regular cookie dough base and added three different types of chips instead of one. We also slowly roasted the white sugar to give it more of a caramel flavor. So the basic chocolate chip cookie is not very basic, I guess."
HiFi Cookies' Old School Chocolate Chip Cookie
Ingredients:
2 cups all-purpose flour
2 teaspoons cornstarch
1 teaspoon baking soda
2 tablespoons milk powder
½ teaspoon salt
¾ cup light brown sugar
¼ cup toasted sugar*
12 tablespoons (1½ sticks) unsalted butter, room temperature
1 large egg, room temperature
2 teaspoons dark vanilla extract
1½ teaspoons fresh-ground espresso
½ cup mini semisweet chocolate chips (or regular size is fine)
½ cup milk chocolate chips
½ cup dark chocolate chips
sea salt to taste
Directions:
Make the toasted sugar. (Directions below*)
In a large bowl, combine the flour, cornstarch, baking soda, milk powder and salt. In another bowl, mix the brown and toasted sugar together, then add butter.
Using a stand mixer with a paddle attachment, beat the butter and sugars together on medium speed until completely smooth, fluffy and light in color. Mix in the egg and vanilla. Scrape down the sides and bottom of the bowl as needed.
On low speed, slowly mix in the dry ingredients until combined. The cookie dough will be quite thick. Add the espresso and chocolate chips and mix for about 5 seconds until evenly dispersed. 
Cover and chill for at least 12 hours and up to 2 days. Chilling is mandatory for this cookie dough.
Preheat the oven to 350 degrees F. Once chilled, the dough will be slightly crumbly, but it will come together if you work the dough with your hands. Portion out the dough into 2-ounce balls, about the size of 2 tablespoons. Bake for 12 to 14 minutes, until barely golden brown around the edges. They will look extremely soft when you remove them from the oven. Allow them to cool for 10 minutes on the cookie sheet. Cookies will deflate as you let them cool. Transfer to cooling rack to cool completely. Makes 14 to 16 cookies. 
*Toasted Sugar:
9 cups granulated white sugar
Preheat the oven to 325 degrees F. Put the sugar in a 9-by-13-inch glass or ceramic baking dish and roast for 4 hours. It is very important that you use a glass baking dish. Glass is a poor conductor of heat and will be better at keeping your sugar safe from burning.
Every 30 minutes or so check in on the sugar and stir carefully. This is to ensure even toasting and to keep the sugar from becoming too hot in certain spots and melting. The sugar will darken as it bakes. By the third hour, it should look similar to turbinado sugar.
Once finished, let the sugar cool completely. Once cooled, use a food processor to grind the sugar. This will break up any large clumps that occurred during the process.