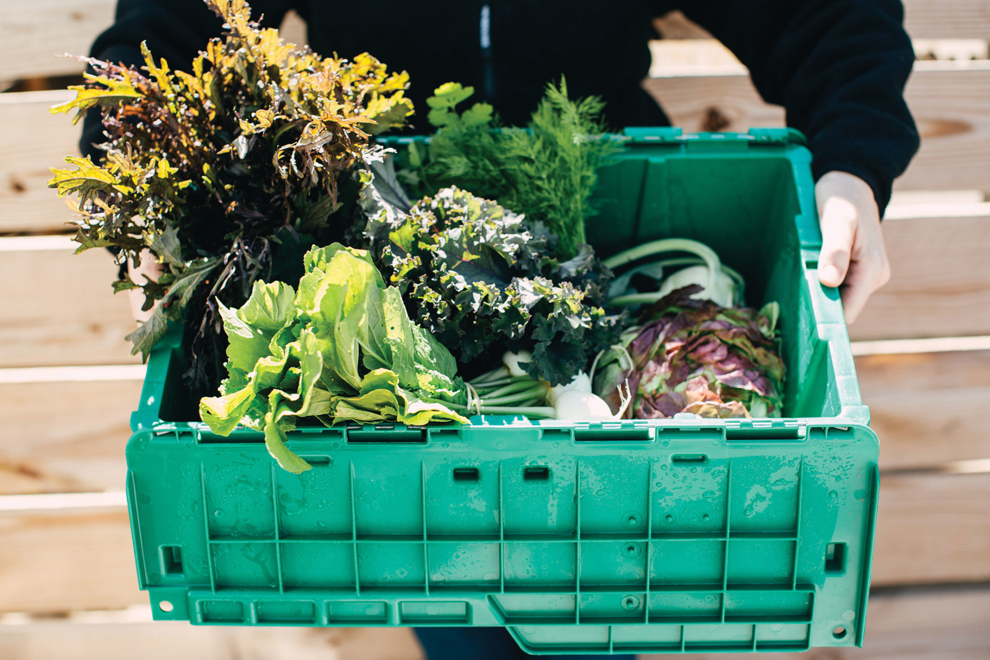 No doubt the COVID-19 crisis has exposed vulnerabilities in our food system — treatment of workers in meat plants, as well as illnesses among farm and plant workers leading to cracks in the food supply chain.
While these issues expose an ecosystem that was already fragile even before COVID-19, they also highlight the benefits of cultivating a strong local food system. Worries over food supply and shopping safely have led to more gardening and a resurgence in community-supported agriculture, which puts the customer closer to her local farmer.
Restaurants, which depend on different supply chains than big-box grocery stores, have helped shorten the chain by acting as markets to sell local produce and pantry items, giving us access that some larger supermarkets lack. By selling market goods alongside prepared to-go meals, restaurants support the local food system and their favorite farmers and producers while also pulling in much-needed additional revenue. 
While the following list isn't comprehensive, and offerings change often, we're highlighting some alternative ways to shop — from traditional CSA shares still available to online farm marketplaces and creative restaurants offerings. 
Here's hoping the blurring of bright lines that previously existed in our food system can lead to better roads along a more direct path. 
Order from restaurants offering local produce along with to-go meals
Going beyond its popular biscuit sandwiches and bananas Foster oatmeal, Biscuit Love also sells Bear Creek Farm sausage and ground beef on its site. Also available are Tennessee Real dairy products, Willow Farm eggs and pantry items like flour, yeast and Biscuit Love jams, bloody mary mix and Love Dust seasonings. 
Remember when The New York Times wrote about all the bodegas in East Nashville, and we were like, what? Well, Cafe Roze chef-owner Julia Jaksic has given us something resembling a really nice one, offering Bloomsbury Farms produce like Swiss chard, strawberries and herbs, along with dry goods like Mr. Aaron's Goods pastas and meats from Porter Road Butcher. Of course, you can also pick up prepared to-go foods in the form of daily family dinner specials (like giant meatballs, cheesy garlic bread and Italian chopped salad) and cafe favorites off the regular menu.
East Nashville's Folk and its sister restaurant Rolf and Daughters in Germantown always give us something fresh — like a collaboration with Third Man Records adding vinyl to your food orders, or mystery wines in various price ranges. When picking up a mushroom pizza from Folk, why not add a couple Bear Creek Farm steaks to throw on the grill later, along with Rocky Glade Farm greens, Southland Farms strawberries when available and eggs from Jolly Barnyard. 
The Party Line / Henrietta Red
Chef Julia Sullivan of Henrietta Red and The Party Line brings it every time with her creativity and smart professionalism. The Party Line menu, post-shelter-in-place, includes family meals for the week — which might mean chicken tetrazzini, green salad with coconut milk green goddess, and tahini chocolate rice crispy treats. Shoppers can also add pantry items and CSA boxes — five to seven local seasonal produce items, and local sourdough bread from Ornette. There's a Breakfast Box with Gifford's Bacon, pancake mix, eggs, Crema coffee and fresh fruit. There's also a link for a cooking lesson via Sullivan's series "Henrietta at Home." The Party Line even has you covered with cake mix boxes for scratch baking, not to mention extras like fresh-cut flowers and specially baked dog treats. Keep an eye on Henrietta Red as well, as Sullivan & Co. say they plan to start offering to-go and pantry items.
Buy from farms that sell mostly produce
This farm has a sold-out CSA, but they've launched an online market due to COVID-19. Customers can sign up to receive a weekly list of vegetables to be harvested for making selections. Pickups happen at the farm on Mondays, Tuesdays and Saturdays, as well as at Richland Park Farmer's Market on Saturdays. 
S.E. Daugherty & Sons' CSA shares remain available — full shares (May to October), summer shares (June to August) and fall shares (August to October), with a variety of pickup locations around town. (The spring shares recently sold out.) The farm also offers online ordering and delivery in a 30-mile radius around Nashville. Products vary, from farm produce to pantry items like Loveless Cafe biscuit mix and KLD Farm and Smokin' Oats meats as well as Virgin Bay fish. 
This collective of farmers — new Americans from Bhutan and Burma — has sold out of its spring CSA, but customers will have the option to sign up for fall shares later this summer. In the meantime, Growing Together has launched an online marketplace allowing shoppers the option to order what they want for the week (like Nepali mustard greens, bok choy, daikon radish and kohlrabi) and pick it up on Saturdays at The Nashville Food Project headquarters in West Nashville. 
While their CSA is sold out (they're adding fall and winter CSAs with sign-ups in July), the folks at Rocky Glade have added an on-farm pickup option. Customers can place an order online (strawberries when available!) and pick up on Saturdays between 9 and 11 a.m. As the owners write about the drive to their property in Eagleville: "You might even get to see a cow or two!" 
Buy directly from local farms that specialize in raising animals
Bear Creek Farm relied heavily on restaurant sales for its high-quality meats until COVID-19. In the absence of that revenue, Bear Creek launched a weekly pop-up store at its Thompson's Station farm. Watch the farm's Instagram account (@bearcreekfarm) for updates on offerings — such as a "Grill Box" including 2 pounds of ground beef, two dry-aged ribeyes, two dry-aged New York strips and two dry-aged French steaks, all for $100. Customers can email to reserve an order or shop à la carte when they arrive. Also look for them at the Franklin Farmers Market.  
Karen Overton's Wedge Oak Farm has been in her family since 1904, when her great-grandparents purchased the land. She raises chickens and ducks for eggs and poultry, pork, beef and lamb for meat, all of which is available through a CSA in three- and six-month increments as well as an online marketplace and at Richland Park and East Nashville farmers markets. Peruse for treasures and you'll find stock, sausages, duck-liver mousse and much more.
Check out farm-store hybrids and hubs
Bells Bend nonprofit The Old School grows produce and provides employment to individuals of all abilities. Now, in lieu of the farm's restaurant, an online farm market sells Old School eggs, KLD meats, farm produce and farm-made products like hot cross buns, chess pie and sourdough pizza dough. Order online anytime, with pickups at the farm — just a short drive west on Ashland City Highway — on Wednesdays (1-4 p.m.) and Saturdays (1-6 p.m.). 
This nonprofit food hub has connected many farmers to restaurants with wholesale orders over the years. But thanks to COVID-19, Nashville Grown has opened business to retail customers by offering $45 farm bags of assorted local produce and goods such as locally grown kale, lettuces, mushrooms, Amish white cheddar, bacon, eggs and Village Bakery breads.