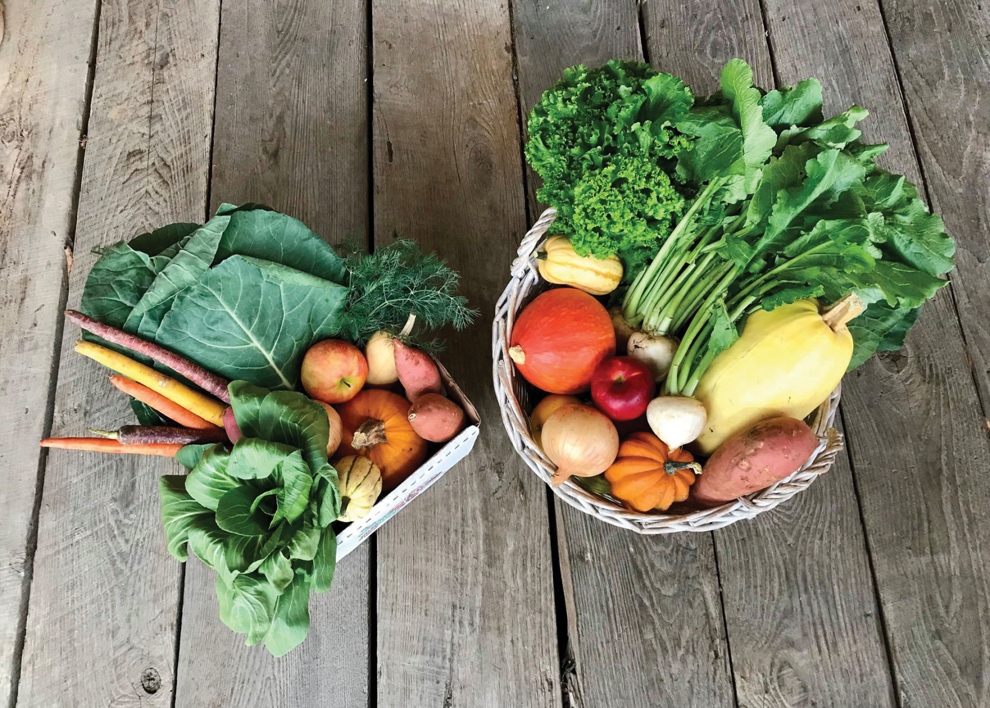 Before Nancy Goodrich joined the community supported agriculture program at Green Door Gourmet, she wouldn't dare eat a turnip or collard green.
"Same with Brussels sprouts," Goodrich says. "It smelled so bad. Who could possibly put them past their nose?"
But as Goodrich got to know the farm, the produce and the land, her repertoire expanded. She picked up tips from the farm's website and cooking classes — even standing in line at the farm store.
"Try braising them with vinegar — not too much — with hot pepper," someone told her about preparing Brussels sprouts. These bits of advice were game changers in the kitchen.
Goodrich says that over the past pandemic-besieged year, she hasn't visited a grocery store. She opts for some delivery, but mostly commits to spending 90 percent of her food budget at Green Door. She recognizes that this choice isn't available to everyone, but as she noticed disruptions in our food system during the pandemic (such as an understandable loss of restaurant revenue for farmers), she wanted to do her part to support.
"We did everything we could to get here," Goodrich says of the farm. "I didn't want to lose that option."
CSA programs like the one Goodrich participates in have no doubt increased in popularity over the past decade. CSAs allow customers to support local farmers and the local economy by committing to a fee up front in exchange for a regular "share" of what grows on the farm for that season. They also have the benefit of forming a closer relationship with the people growing their food. Another benefit? CSAs help make participants better cooks through exposure to a variety of seasonal offerings and education. Or as Goodrich puts it, "Mandatory produce that I would never buy in the store."
The same can be said for community gardens — plots of land where gardeners learn to grow food for personal consumption in proximity to one another, and where knowledge and resources can be exchanged. Both community gardens and CSA programs have experienced an increase in popularity in recent years, plus renewed interest during the pandemic as customers looked for alternative ways to eat and shop.
Tasha Kennard, executive director of the Nashville Farmers' Market, says farmers offering CSA options were "able to pivot quickly and maintain communication and service when markets across the country were closed due to COVID." Farmers could leverage their relationships and focus more on meeting the changing needs through delivery or farm pickups. "They stood ready with contact lists, emails, texts and websites that helped them reach customers faster and effectively," Kennard says. "And the trust factor was already there. The pandemic has brought about an increase in customers wanting to know where their food comes from, how it is grown and processed, et cetera, and therefore farmers in a position to grow more and have loyal customers referring them to others likely contributed to growth exceeding previous years."
As for Goodrich, she has long been a home cook who thinks of recipes more as "pattern than method." When her three children were younger, she took advantage of bargains and learned to make use of what she had rather than follow cookbooks to the letter. But growing up in a city environment, she also says the connection she made to Green Door — initially through a class on preserving 10 years ago — rooted her in more significant ways to the agriculture of a place.
"She taught us about soil and minerals," Goodrich says of farmer and owner Sylvia Ganier. "I wasn't in tune to that."
Goodrich recently made a turnip-and-parsnip gratin with a bit of cream. She's learned to work with several varieties of pumpkins and gourds as she received them through the farm, and she now makes pumpkin pie from scratch that she gives to friends at Thanksgiving. "Who knew how to do that?" she says.
These days Goodrich says she's apt to have a freezer full of vegetables and pantry with canned tomatoes or peaches, which she's learned to can through Green Door education. One of her favorite tricks at the moment is shredding and roasting cabbage to use in place of noodles. It's a technique that came out of necessity with the CSA. "We would regularly get a head of cabbage the size of a soccer ball," she says. "Roasting it offers a way to use it as a noodle base for dishes like stroganoff."
Cindy Wall is the founder of the Facebook group "Cooking through COVID-19" and a board member with The Nashville Food Project. (Full disclosure: I work for The Nashville Food Project.) Wall says her current CSA through the Food Project opened doors to new types of ingredients grown by local farmers who came to the United States as refugees from Bhutan and Burma. That might include Nepali mustard greens and bitter gourd alongside tomatoes, kale and radishes.
"That experience has really made me a more versatile and curious cook — or at least I hope so!" Wall says. "Because I've encountered ingredients I knew little (or sometimes nothing) about, it's always been a delightful weekly 'rabbit hole' of food research."
In terms of education, a Nashville Food Project program called Growing Together includes videos of farmers explaining the produce with each weekly CSA share. (All of the proceeds from the CSA go toward Bhutanese and Burmese farmers.) CSA programs across the board have stepped up their education in recent years.
"I've had lots of CSAs over the years, from a variety of farms," Wall says. "And all of them helped make me a better, smarter and more disciplined cook. With a CSA, I can't help but truly cook seasonally. And my cooking pivots from recipe-driven to ingredient-driven. That box every week centers what and when I'm cooking."
As CSAs have grown in popularity, so has participation in community gardens. Trap Garden, for example, has garnered a larger following in recent years and offers excellent education through videos and recipes that help connect folks to the land through food. The community garden program at The Nashville Food Project also expanded from about 70 families last year to 115 families growing their own food this year. Jawharrah Bahar has been part of the program at the garden behind McGruder Family Resource Center for the past four years, and she says participants often exchange recipes. "I've been able to create new dishes for my family," Bahar says.
The Brooklyn Heights Community Garden has been around for even longer. Nella Pearl Frierson, known as Ms. Pearl, started the garden 13 years ago as a way to keep her five daughters engaged with the outdoors, and these days it's thriving like never before. Thanks to recent crowdfunding and grants, a team from Nashville Foodscapes has donated labor to help scale the garden up and offer a space for more learning. Still, after all these years, Ms. Pearl says the garden continues to help her learn and open her eyes to new ways of cooking. She has a new love for the versatility of butternut squash, which she includes in stir fries, savory soups with onion and garlic, or with cinnamon, butter and sugar for something sweet.
"You come as you are," Ms. Pearl says of the garden. "You can't help but transform yourself. Just show up. Love the land."