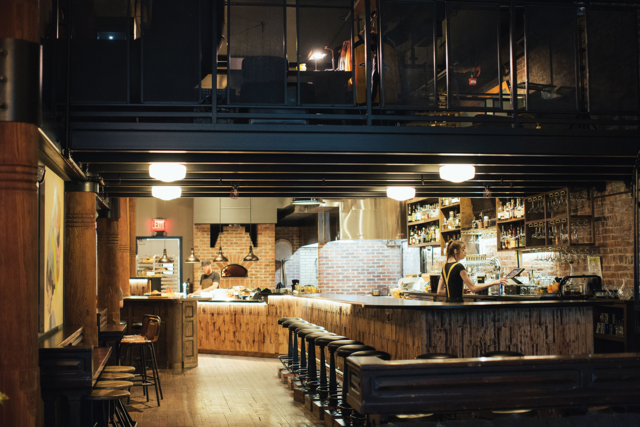 Black RabbitPhoto: Daniel Meigs
The Black Rabbit's Building Was Once Mobbed-Up as Hell
While the origins of the tunnels stretching under downtown Nashville remain shrouded in mystery, there's no doubt they exist. When Trey Cioccia was excavating the basement of the 1892 building that would become his restaurant Black Rabbit, construction was delayed while he dealt with all sorts of weird channels running through the foundation. His landlord, who happens to live right across the street, pointed out that the building at 218 Third Ave. N. lies on a straight line between a cave on the banks of the Cumberland River and Printers Alley.
Legend has it that Al Capone's operation used that cave and that tunnel to smuggle booze from the river to the bars along Printers Alley during Prohibition. Nashville is close to the midpoint between Capone's two primary operational headquarters — Chicago and Miami — and the noted bootlegger supposedly spent a lot of time here managing a distribution point based out of Music City.
Another mobster connection to the property? It was once the office of an attorney named Z.T. "Tommy" Osborn, whose most famous client was Jimmy Hoffa. In 1962, the former Teamsters chief was tried in Nashville on charges of connections to organized crime, and Osborn alleged that the FBI broke into his office to steal documents connected to the Hoffa case, leaving a bug in the fireplace in an attempt to record incriminating conversations between the attorney and his client.
Now you know why Black Rabbit's logo is a meat cleaver crossed with a Tommy gun.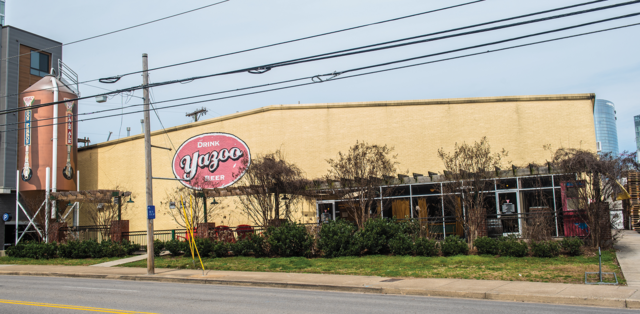 YazooPhoto: Eric England
Yazoo's Taproom in the Gulch Used to Be an Infamous Swingers' Club
Yazoo founder Linus Hall has a talent for rehabilitating old buildings in neighborhoods that are on the cusp of becoming popular dining and drinking destinations. This is in no small part because his Yazoo Brewing Company draws plenty of crowds on its own to contribute to the commercial success of any neighborhood where he opens. Many Nashvillians visited Marathon Village for the first time just to enjoy a tasting of Yazoo's beers in the early Aughts, and the Gulch was not yet a big destination when Hall moved there in 2010.
The building at 910 Division St. was a bargain when Linus purchased it, so it's little surprise he sold it for a huge profit prior to an upcoming move to a new campus in Madison later this year. Part of the reason Hall got such a good deal was the fact that the building was once the clubhouse of the infamous Tennessee Social Club (a swingers' bar that relocated twice before re-entering the news in 2015 for allegedly masquerading as church to thwart zoning regulations).
If you're going to move a business into a building where God-knows-what used to go on, it might as well be a brewery that has to pretty much disinfect itself on a daily basis to maintain conditions for creating good beer.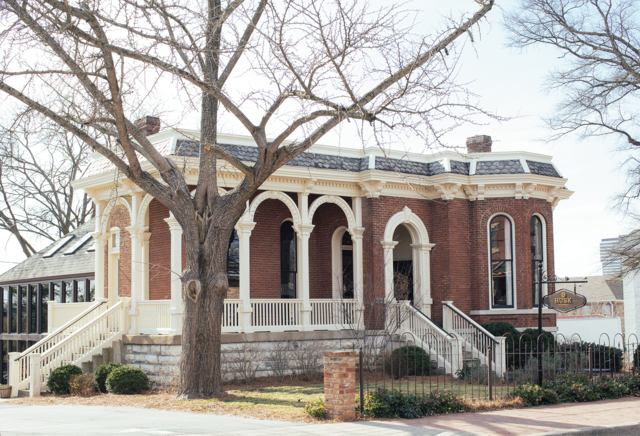 HuskPhoto: Daniel Meigs
Husk's Location at 37 Rutledge Was Home to Nashville's 51st Mayor
The Italianate mansion on top of Rutledge Hill went through many incarnations before it became Husk, a renowned shrine to Southern food. It has been a boarding house, an advertising agency, a private residence and briefly the home to one of Nashville's first forays into molecular gastronomy, Andrew Chadwick's (which covered many of the dishes on the menu with edible foams, perhaps a few years before local diners were quite ready for that particular conceit).
But not many Nashvillians know the building was once home to the city's 51st mayor, Richard Houston Dudley, a former major in the Confederate army who commanded the 21st Tennessee Cavalry. Dudley built his house in 1882, 15 years before he was elected mayor, and his inauguration was celebrated there with an evening of music and dancing — and of course, speeches.
Dudley lived in the mansion until 1908, prior to passing away in 1914. His initials "RHD" can still be seen carved into the keystone of the arch above the entrance to the building's carriage house. Husk currently uses that space to stage private events in what they call The Stables at Husk. In another interesting bit of kismet, after his term as mayor, Dudley was one of the primary investors in the construction of the elegant Hermitage Hotel downtown, where decades later a wunderkind chef named Sean Brock first earned acclaim running the kitchen. Brock would eventually move on to Charleston, S.C., where he became the chef at McCrady's, and later the original Husk, before returning to open Husk's Nashville outpost in 2013.
There's a Reason Why the Meatloaf at Arnold's Is So Damn Good
Tuesday is a pretty good day, because that's when meatloaf is on the daily special board at Arnold's Country Kitchen. The texture and flavors of that particular dish make it a sublime example of what is traditionally considered an extremely humble plate-lunch offering, or for the home cook, a way to use up leftover hamburger meat and stale bread. While most meat-and-threes in town make their meatloaf with  some pretty cheap ground beef that rolls off the back of a Sysco truck, Kahlil Arnold goes much further than that. 
Arnold actually sources the beef that he uses in his Tuesday meatloaf from Bear Creek Farm, Bill and LeeAnn Cherry's ranch outside Leiper's Fork, which provides protein to some of the most upscale restaurants in town. In fact, the Cherrys divvy up their whole animals among their chosen clients and deliver to each venue in person. For example, Matt Bolus at The 404 Kitchen gets the tri-tip, and other restaurants that can request particular cuts of meat for their special dishes include The Catbird Seat, Flyte World Dining and Wine, Bastion, Rolf and Daughters, Le Sel and Husk.
That's right — the same sustainable grass-fed, grain-finished all-natural Angus beef cattle that provide the ribeyes Husk sells for an astounding $3.50 per ounce are also the source of the ground beef in that Arnold's meatloaf that will run you $10.74 including three side dishes. Of course, it does take an outstanding slice of beef to stand up to those amazing turnip greens ...
The Old Spaghetti Factory Is Still Open
If it's been a generation since you took a left turn at the foot of Broadway and went all the way up Second Avenue, you may well have completely forgotten that The Old Spaghetti Factory was ever tucked away into the bottom level of a building full of upscale loft apartments between Commerce and Church. But sure enough, there it is, and if you walk through the front door today it's just like going back in time to dinner on Junior Prom night in 1982.
The throwback Victorian decor is still there, and it isn't nearly as threadbare as you would imagine. That's probably because the restaurant is part of a chain that is still going strong with more than 40 locations in 13 states, and they're still investing in their properties. Remember the trolley that was such a treat to eat in back when Reagan was president? Yep, it's still there.
As soon as you walk through the front door, your sense memories are aroused by the aroma of cloyingly sweet tomato sauce that covers plate after plate of spaghetti and meatballs. Out they come, streaming from the kitchen on heaving trays handled by scrambling servers heading toward anxious diners, many of whom you must assume come from Kentucky. You can still finish up your three-course meal deal of ice-cold iceberg salad, pasta and dessert with a scoop of spumoni ice cream, which was the original rainbow dessert long before Starbucks offered up an abomination called the Unicorn Frappuccino.
The Old Spaghetti Factory has diversified its offerings by staging special murder-mystery dinner shows a few times a month, and you know what? They're damn entertaining if you just give in and have a good time. In fact, the entire Old Spaghetti Factory experience is still worth revisiting, if for no other reason than to remember a time before celebrity chefs and trendy cuisine dominated the culinary world. Y'know, back when eating in a trolley car was the highlight of your year, and struggling to keep from spilling spaghetti sauce on your rented tuxedo shirt was the biggest thing you had to worry about.