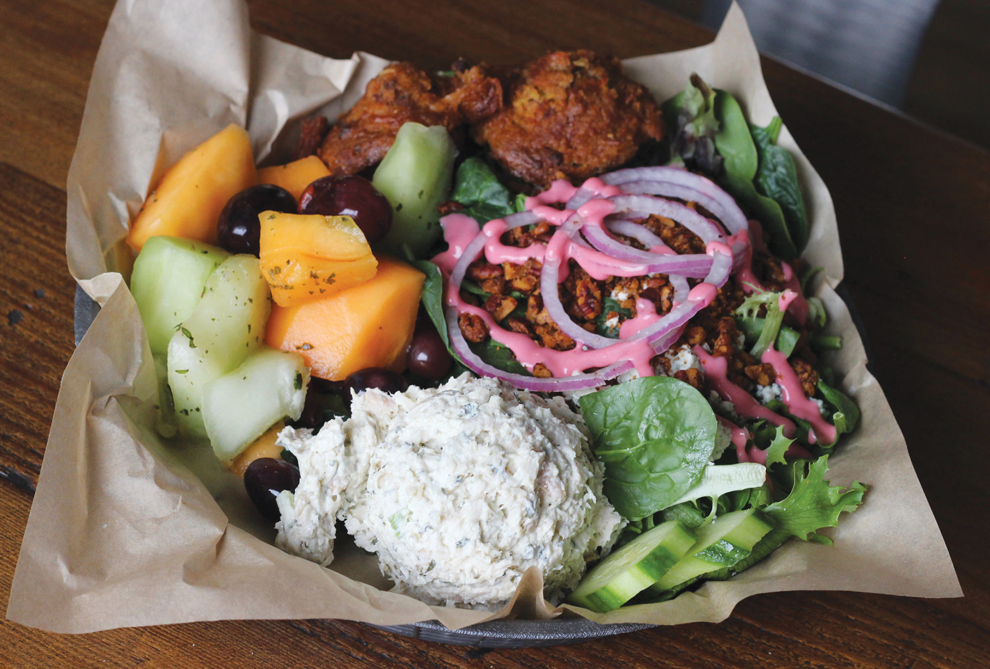 The Food Company in Green Hills serves a light lunch menu made up mainly of soups, salads, sandwiches and delectable desserts. The cafe also makes a BLT so good that one of the cooks, who sticks to a primarily vegan diet, says even she enjoys them on her cheat days.
I always like a place where I can try a little bit of everything, and that's exactly what I got with The Food Company's Tea Room Salad. For $10, you get a heaping scoop of chicken salad, a side portion of the cafe's signature spinach salad, mixed fruit and two delicious morning glory muffins. The chicken salad has a great flavor, with well-seasoned breast meat, and thankfully, it's not overpowered by the taste of mayonnaise. The crisp side salad features a bed of fresh spinach, roasted pecans, blue cheese, red onion and cucumber with a delightfully bright raspberry vinaigrette. Morning glory muffins are a brunch classic; The Food Company team makes their version with carrot, coconut, raisins, pecans and apples. They're sweet, with a nice crunchy texture.
In addition to the made-to-order selections, The Food Company offers a variety of pre-cooked dishes, from chicken enchiladas to ratatouille, that even the most inept chef can take home, pop in the oven and enjoy.