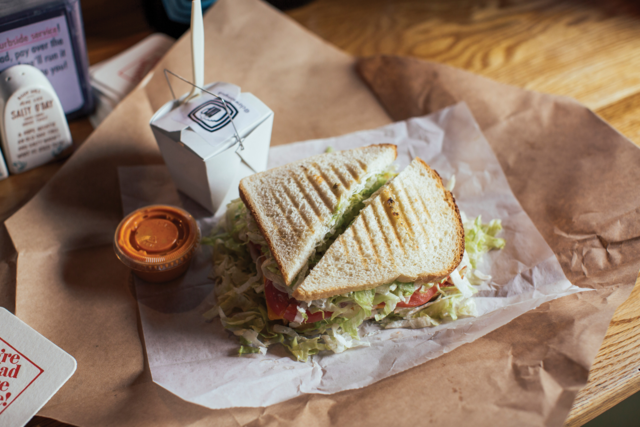 Clawson's Pub & Deli —Turkey Bacon Sandwich With Potato Salad — $9.98Photo: Daniel Meigs
The smell of toasted bread when you open the door at Clawson's Pub & Deli can mean only one thing: The sandwiches must be good. Or at least they better be.
The No. 1, a turkey-and-bacon sandwich, has the perfect balance of crunch and softness thanks to toasted sourdough loaded with turkey and tomatoes — and it's impressively stacked. Most sandwiches at Clawson's are huge, so you might not even need a side to fill you up. But I chose to order the potato salad on a recent visit, and it was creamy and chewy with a satisfying combination of flavors and textures — the red onion gave it the right crunch, and the dash of cayenne pepper added a nice kick. And it was served in a cute Chinese-carryout-style carton.
The turkey-and-bacon sandwich comes with a schmear of ranch dressing, but I swapped that out for the Sriracha-buffalo sauce. If you like things spicy, I'd advise you to do the same. Clawson's also has some interesting add-ons, like crushed Doritos, curry mayo or pickled eggs. Whatever you decide to add, you can't go wrong with this satisfying sandwich and homemade potato salad.