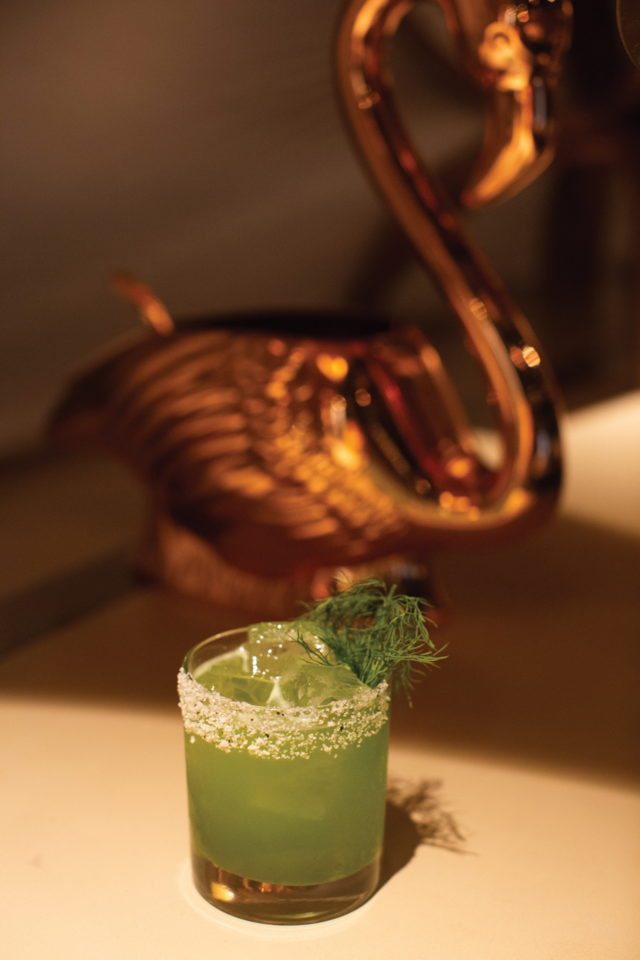 As fans of the paloma and the ever-more-popular margarita know, tequila may not be celebrated as a cocktail spirit to the degree its old pals whiskey, gin and vodka are, but the agave-derived liquor is a versatile one. When done right, a tequila cocktail can be a delightful thing — and the What's the Dill at Flamingo Cocktail Club is delightful indeed.
Open since spring 2018 in the rapidly morphing Wedgewood-Houston neighborhood, the Flamingo is the latest venture from cocktail-and-hot-spot gurus (and sisters) Alexis and Britt Soler. Located in a former church, the Flamingo shares space with the Solers' other venture, Falcon Coffee — Falcon is the business-in-the-front, Flamingo is the party-in-the-back. On a recent Thursday night at the Flamingo, with a DJ spinning by the light of a massive disco ball overhead, a companion remarked that the space reminded him of Whit Stillman's ode to early-'80s nightlife The Last Days of Disco. "This bar is fun," he told me.
Every drink on the Flamingo's cocktail menu costs $12, and everything I sampled was creative and tasty — the gin drink Strawberry Estates was bright but not too sweet, and the mezcal-mixed Fleet Fox was smoky and delicious. But the most inventive item I saw and ultimately ordered was a tequila concoction called What's the Dill (also known as the Beetle Juice). Tart and refreshing, the What's the Dill (which got its alternate name around Halloween) features a unique combination of flavors, including dill, cucumber, lime and salt. The bright-green drink was just a hint savory, and it was mixed with pressed cucumber rather than the more common cucumber slices.
My only complaint? Poured into a tumbler brimming with ice cubes, the What's the Dill isn't a great bang-for-your-buck option. But it is colorful and extremely satisfying, and it'll give you just the little boost you need to either get out on the dance floor or saunter down the block to Bastion for some weekend bar-hopping. Just don't order three Beetle Juices, or you-know-who might show up.