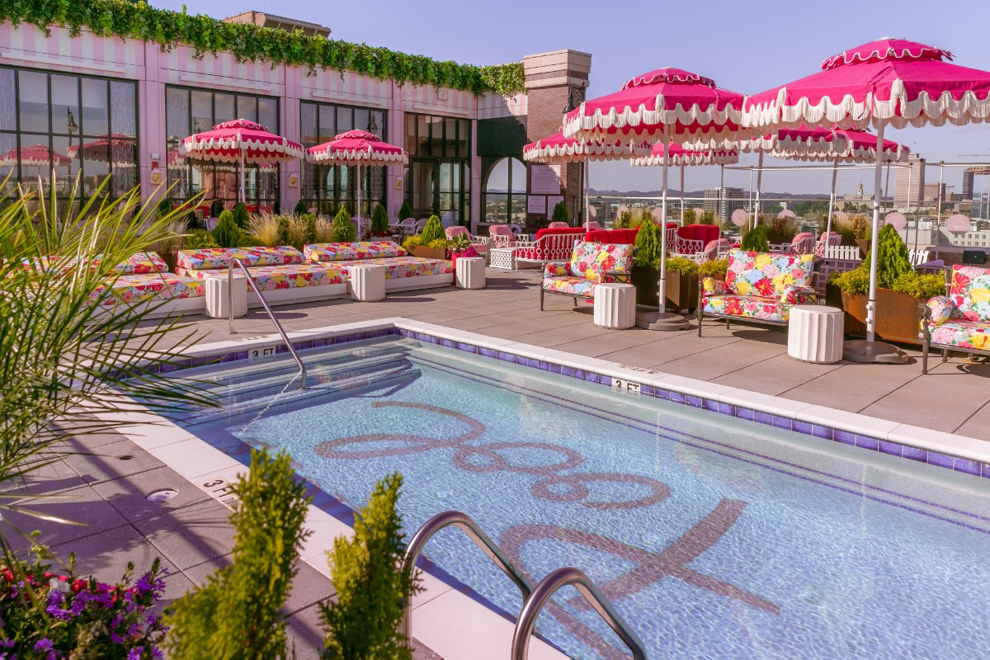 Nashvillians may soon have a fun new spot to enjoy a little socially distanced fun when the Graduate Nashville hotel opens their new rooftop pool restaurant named White Limozeen after a popular Dolly Parton song and album title. Tentatively planned to welcome guests sometime in July, White Limozeen will be the third project at the property courtesy of restaurateurs Marc Rose and Med Abrous, joining their Poindexter lobby coffee shop and Cross-Eyed Critters Watering Hole karaoke bar.
I spoke with Rose, who has been weathering the pandemic here in Nashville, and he's glad to be here. "I moved here with my family and committed to be here for a year because I feel like I need to commit to the city if I expect them to commit to us," Rose explains. "I feel super lucky that I've been able to learn about the community, and I've done the hard work of meeting people and hiring great folks without poaching anyone."
Among the people Rose has attracted to work at White Limozeen are Chris Lewallen as chef de cuisine and Demi Natoli leading the beverage program. Lewallen has worked in some quite notable Nashville kitchens, including Bastion, Silo, Nicky's Coal Fired and Henley, and Natoli joins the new restaurant from The Patterson House.
Situated on the 12th floor of the Graduate, with a sweeping view of Midtown, White Limozeen will be an indoor/outdoor space around a wading pool surrounded by gaily upholstered magenta outdoor furniture perfect for lounging. This will be the first time the pool area will be open to the public at the Graduate, since the hotel opened during the chill of January and was delayed two times for the tornado and pandemic. Rose thinks now is the time: "It's such a large al fresco space, we hope that people will feel comfortable to get out and see us. It really screams 'fun,' and I feel like the world could use a lot of fun right now."
While the pool area will certainly be a highlight that can be a nice asset to locals — Rose intends to offer some sort of "swim club" membership in the future — there will be ample indoor dining space to make White Limozeen a year-round drinking and dining destination. He will also offer a discounted valet price for local visitors and expects that people will want to use ride-sharing as another option to get to the crowded Midtown property. ("I'm thinking people might do a little drinking here, so that will be a good thing," he jokes.)
The indoor dining area will not be dominated by traditional seating arrangements, instead looking more like a living room or lounge. This fits the theme of the restaurant, which is meant to celebrate the art of the dinner party. The team has intentionally designed the menu to be easy to eat in a chaise by the pool or on a sofa or at a table. Rose explains, "I expect people to start to want to go out in close-knit groups, so we're designing everything to encourage that. It may destroy my turn time if people spend 2½ hours enjoying each other's company over a lingering meal, but that's what we're here for."
Rose isn't one for labels, refusing to call it a restaurant or a bar, even though it will serve a full menu and feature an extensive, fun bar program of poolside-friendly cocktails, French and American natural wines, and a sparkling-wine list designed to be whimsical yet approachable. Guests can even expect to see al fresco riffs on classic cocktails such as a frozen Aperol spritz and champagne Jello shots.
He describes the food as "Homestyle French-ish," inspired by the traditional home dinner party where the host might have learned to cook from watching Julia Child on television. "Julia knew all those French techniques, but she messed up every now and then," Rose explains. "We want to feature French dishes, but served on melamine china like your grandmother's, since we can't have glass near the pool." An example dish he mentions is a caviar service with biscuits instead of the traditional toast points. Other promised items include some sort of Jello mold, but made with fresh fruit juices; Trout Fritters With Almondine Dip; Chicken Liver Pie with Pumpernickel Crust; Mussels Steamed in Nashville Hot Butter; Smoked Chicken With Sauce Diane; and a White Bread Burger.
Rose already had the gestalt of the menu in mind when he hired Lewallen, but says the young chef quickly jumped on board with the concept. "He immediately got on the phone with his mom and started looking up recipes from an old Alabama cookbook," recalls Rose. He hopes the venue and the menu attract locals looking for a whimsical respite from the world. Unlike at some hotel restaurants, Rose and Abrous are independent owner/operators of White Limozeen. "I'm so happy to be at this hotel," shares Rose. "I think there's always a reason to celebrate something, so that's what we hope to be able to encourage." At least until the dining environment returns to some sense of normalcy, visitors will check in at a host stand in the hotel lobby if there's a wait and can enjoy a drink at Poindexter before taking the dedicated elevator to the rooftop. Reservations are not required, but if you do make them using the Resy platform, that will ensure there's a spot for you and help the staff manage any crowding.
When I asked him about the name of the restaurant and the proliferation of Dolly-related imagery and color schemes throughout the hotel, Rose noted that the owner of the Graduate chain is from East Tennessee and, "He always had a little Dolly thing." Rose continues, "After moving here, I discovered the reverence that Nashville and the whole state has for Dolly, even when I'm eating a burger at Dino's and see her on the wall. I can see that she's the patron saint of Tennessee, and now she's reading books to my daughter on YouTube. Our obsession is inspired by Nashville's reverence."
Dolly once said, "It costs a lot of money to look this cheap," and Rose says that's a good way to describe the vibe at White Limozeen. "We're embracing the high/low concept of the space and of the menu," he explains. "We want this to be affordable and fun, like the champagne Jello shot. Sort of an attainable glam. Above all, we want to make sure that the staff and guests feel safe, but more than that, we want them to feel comfortable. I'm both inspired and nervous at the same time!"
As long as Nashville's reopening conditions don't change between now and the end of July, we'll soon see what has got Rose so excited.