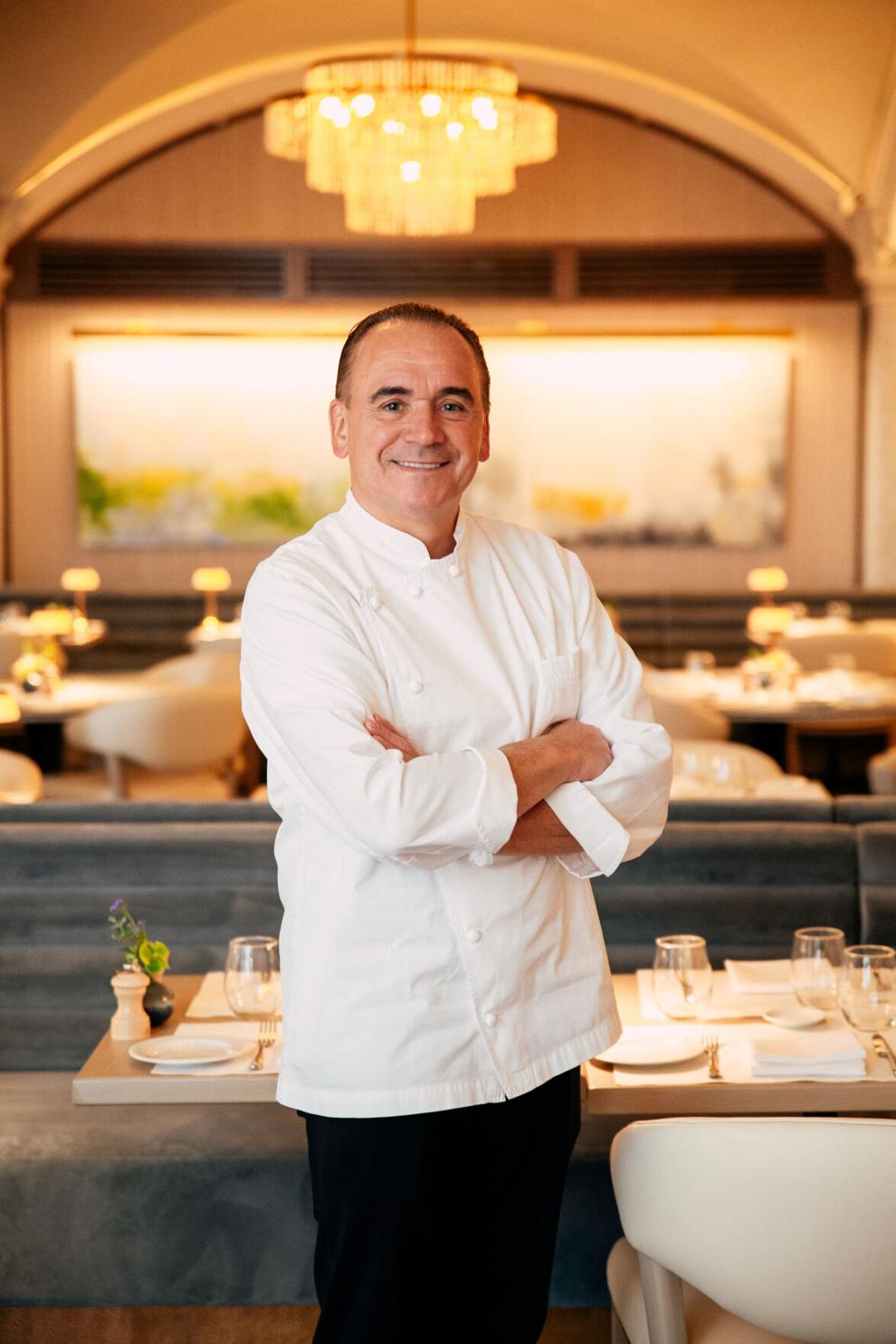 Nashville has been on a bit of a roll lately when it comes to notable chefs opening new restaurants in town. Following Sean Brock's Audrey and The Dutch, and Carne Mare courtesy of Andrew Carmellini, globally known chef Jean-Georges Vongerichten has opened his first restaurant in the South, with Drusie & Darr at the Hermitage Hotel. After an extensive overhaul of the basement rathskeller restaurant, Jean-Georges officially welcomed guests into the space last week, and the raves are already coming in.
The chef took a little time out of his busy opening week schedule to answer a few questions via email about his latest project. (And maybe I was a little scared to try to pronounce his last name "Von-ger-ICK-ten," so I chickened out and conducted the interview via the internet.) See our conversation below
---
How did this opportunity arise, and why did you choose Nashville as the site for your next restaurant?
We didn't choose Nashville, Nashville chose me. After our first project with Molly and Robert [Hardie, the owners of the Hermitage Hotel] went so well we decided to do another. Independent hotel operators like Molly and Robert are a pleasure to deal with. We have the same goals and dreams. [Note: Jean-Georges opened Marigold in March at Keswick Hall, another luxury property owned by the Hardies in Virginia.]
What do you hope Drusie & Darr will bring to the Nashville culinary community?
Nashville is such a bustling city with an established and prominent food scene. With Drusie & Darr, I wanted to contribute my style of cuisine, while keeping in mind the tastes and flavor preferences of Nashville residents. Ingredients and seasonal produce are very important to me, which is why we're making an effort to source as locally as possible, which includes the garden on site at the hotel. I know that Nashville skews more toward spice, which is what I love to add to each of my dishes. I wanted to bring a taste of Jean-Georges, with influences from the community and city.
How does the historic nature of the Hermitage Hotel inform the design, vibe and menu of the restaurant?
Location and history have always inspired me — the Hermitage Hotel has such an acclaimed history and following in such a great location, so when I discussed this project and concept, my team and I wanted to honor that. I have worked with designer Thomas Juul-Hansen for many years. (He has designed Jean-Georges, Perry St, The Inn at Pound Ridge and so many more.) We are completely aligned in our thinking but also offer each other different perspectives. It's always great to work with him and in a completely new city to us. With interior design, location is one of the biggest factors that I am inspired by. As previously mentioned, with the concept and menu, we wanted to preserve details of the hotel (we have kept 1902 Beaux-Arts details such as vaulted ceilings, original oak walls) but also add our touch. Tapping into this mindset, I wanted to honor the history of the hotel and its owners, hence why we're calling the restaurant Drusie & Darr (Hall), who were actually the children of Dick Hall, a former general manager of the hotel, and lived a kind of storybook existence growing up on the property.
Could you share a few standout dishes from the new menu you'd like to draw attention to?
Definitely the Celeriac Katsu, Warm Shrimp Salad, Crispy Sushi, Fried Organic Chicken, Maine Lobster Noodles and one of my signature dishes, Tuna Tartare. Of course, I love meat and serving it, but I truly believe we have been and are continuing to move toward a direction where vegetables are in place of meat. For example, take the Roasted Cauliflower or "Cauliflower Steak." When people think of "katsu," they think of chicken katsu, but our version is with celeriac, a hearty root vegetable.
What's unique about operating a restaurant in a hotel, and what will you be doing to try to attract from three different constituencies of hotel guests, tourists and locals?
I have quite a few restaurants in hotels in the United States and around the world. There are definitely many components to consider and a variety of guests you want to attract. Of course, you want to attract the local residents who will become loyal and returning guests. Because the Hermitage Hotel is such an iconic landmark in Nashville, the tourist attraction is already there for those who are staying in the hotel and in neighboring hotels. It's important to create a free-standing restaurant with its own identity and guests in a hotel environment. I have been successful in doing this around the United States and the world, and I aim to do the same for Drusie & Darr. This is truly an amazing opportunity for the Hermitage Hotel to be "reborn" in Nashville and myself to be "born" into Nashville as it's my first restaurant there. With our collaboration, we're excited to offer something fresh, new and exciting.