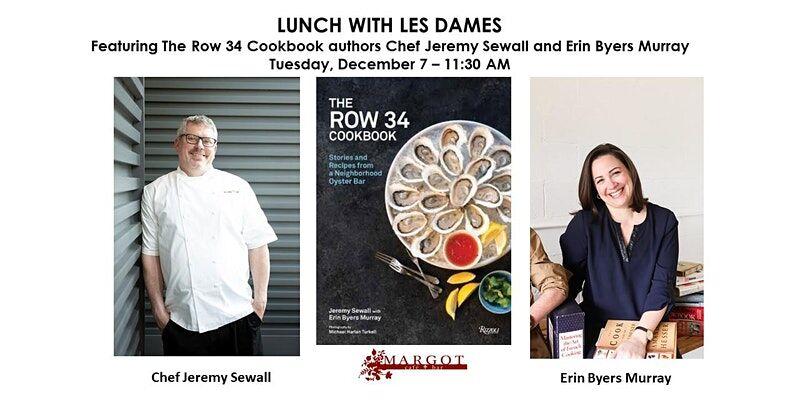 Erin Murray stays plenty busy in her job as the editor-in-chief of The Local Palate magazine, but she's also maintained a side hustle during the pandemic. Working with her long-time collaborator chef Jeremy Sewall of Boston's Row 34, she has created The Row 34 Cookbook, a celebration of the oyster bar culture that has made the restaurant a favorite destination for seafood lovers.
Murray and Sewall previously worked together on The New England Kitchen, and she first dipped her toes deeply into oyster culture with her book Shucked: Life on a New England Oyster Farm, so clearly this new book is right in her wheelhouse.
Sewall is coming to town next week for two events with Murray to promote their magnum opus, a work that was conceived, written and photographed over the course of the pandemic. Now, they're ready to celebrate!
The first opportunity to meet the authors will be at the annual Lunch with Les Dames event at Margot Cafe on Tuesday, Dec. 7, from 11:30 a.m. until 1:30 p.m. Murray is an active member and past president of the local chapter of Les Dames d'Escoffier, so it's very special that they are featuring her at the luncheon. Some proceeds of the $95 ticket will go to Les Dames to continue their efforts to support women in the food, drink and hospitality industries. The ticket includes a three-course lunch inspired by the cookbook, wine pairings and a signed copy of The Row 34 Cookbook. Murray and Sewall will also talk about the book and their writing process during the luncheon. A few tickets are still available at the event website.
The following evening, Wednesday, Dec. 8, the duo will appear at a special happy hour event at Henrietta Red from 5 until 8 p.m. (Three hours? That's my kind of happy hour!) Myers and Sewall will take over the bar area at Henrietta Red where attendees will feast on a dozen Row 34 oysters, two glasses of bubbles and two recipes from the cookbook, salt cod croquettes with tomato aioli and a smoked mackerel salad.
Tickets for the event are $105 for two people and include a single copy of the book, so hopefully you'll share. Extra copies will be available for purchase, or you can pick up extras at Parnassus. You can buy your ticket for a couple at Henrietta Red's Resy page.