Katya Karagadayeva knows what it is like to be a refugee. In 1990, she and her family left Baku, Azerbaijan, for Moscow, Russia. In 1997 they left Moscow for Nashville.
Watching the news with refugees fleeing Ukraine today feels personal to her. "I remember what it felt like to be a refugee even though I was 14 at the time," she says. "A lot of our friends and family members are affected by the war in Ukraine and we wanted a way we could help."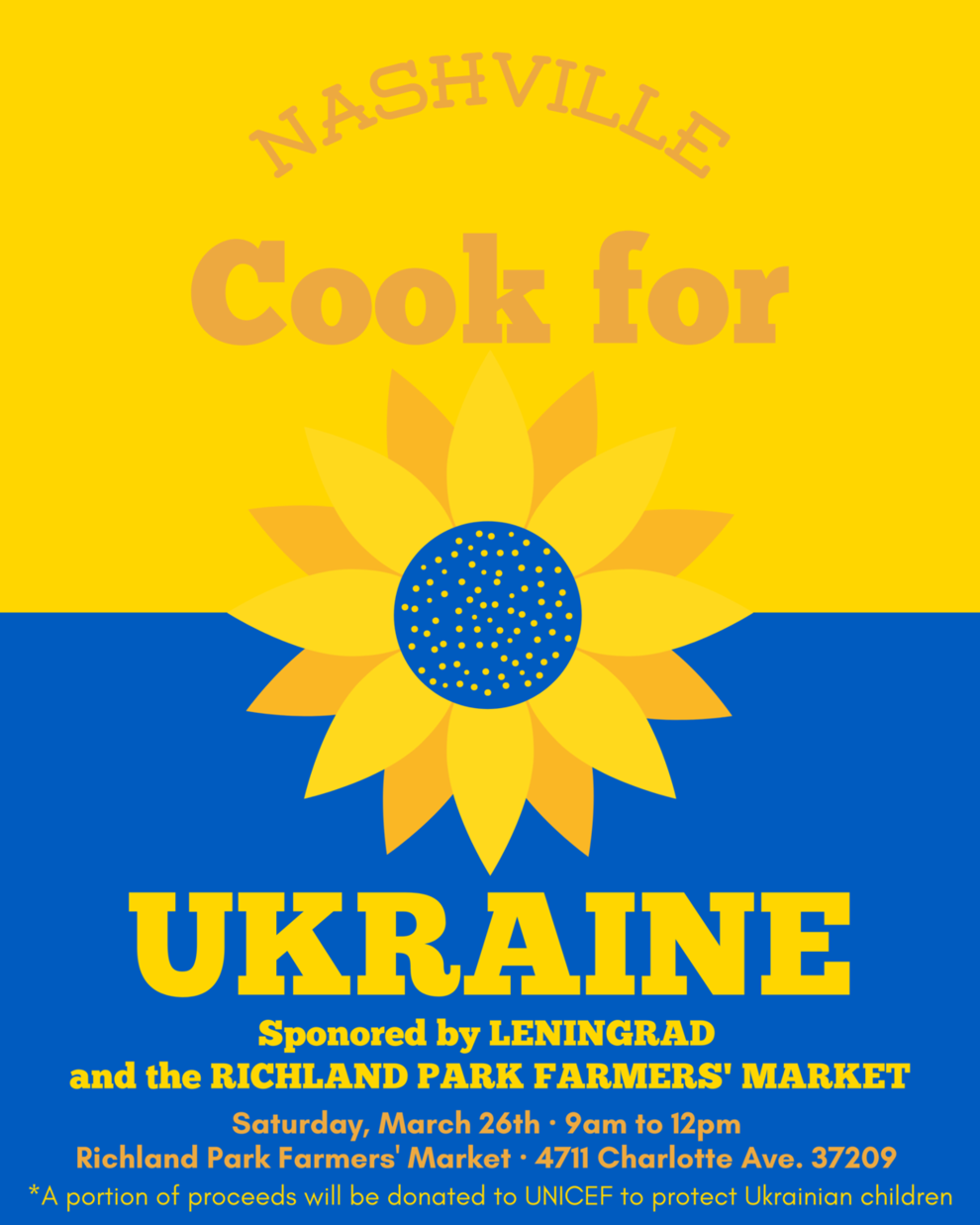 So, this Saturday, March 26, Karagadayeva is organizing a Cook for Ukraine fundraiser at the Richland Park Farmers' Market. The day happens to be the first anniversary of her business, Leningrad Nashville, which she runs with help from husband, Antonio Minuta.
The menu for Cook for Ukraine includes: chicken and pork shashliki (shish kabobs); beet pkhali (a Georgian walnut spread); a zakuski platter (cold appetizers); borsch; rye bread loaves by Jennifer Coins; beef or potato piroshki (hand pies); golubtsi (cabbage rolls with mushrooms); mutaki (Azerbaijani walnut cookies); Leningrad's famous honey cake (made with Tennessee Artisan Honey); Ukrainian flag sugar cookies by Karri Suh; almond rosemary shortbread cookies; pakhlava (baklava); and Poppy & Peep Chocolates.
The idea behind Leningrad Nashville was born of tradition. "My mom is an amazing cook. She would make these huge feasts. People were always surprised by this so-called Russian food. People would say, 'I thought I didn't like beets, but I love this," Karagadayeva says. 
The Belmont University graduate worked in the wine and restaurant business before opening the Eastern European pop-up. She wants Leningrad to "showcase the culinary abundance of the region once called the Soviet Union." Over the last year, she has cooked Moldavian, Georgian, Russian, Ukrainian and Armenian foods at pop-ups at Hathorne as well as at the Richland Park Farmers' Market. "It is not about politics, it is about food," she says.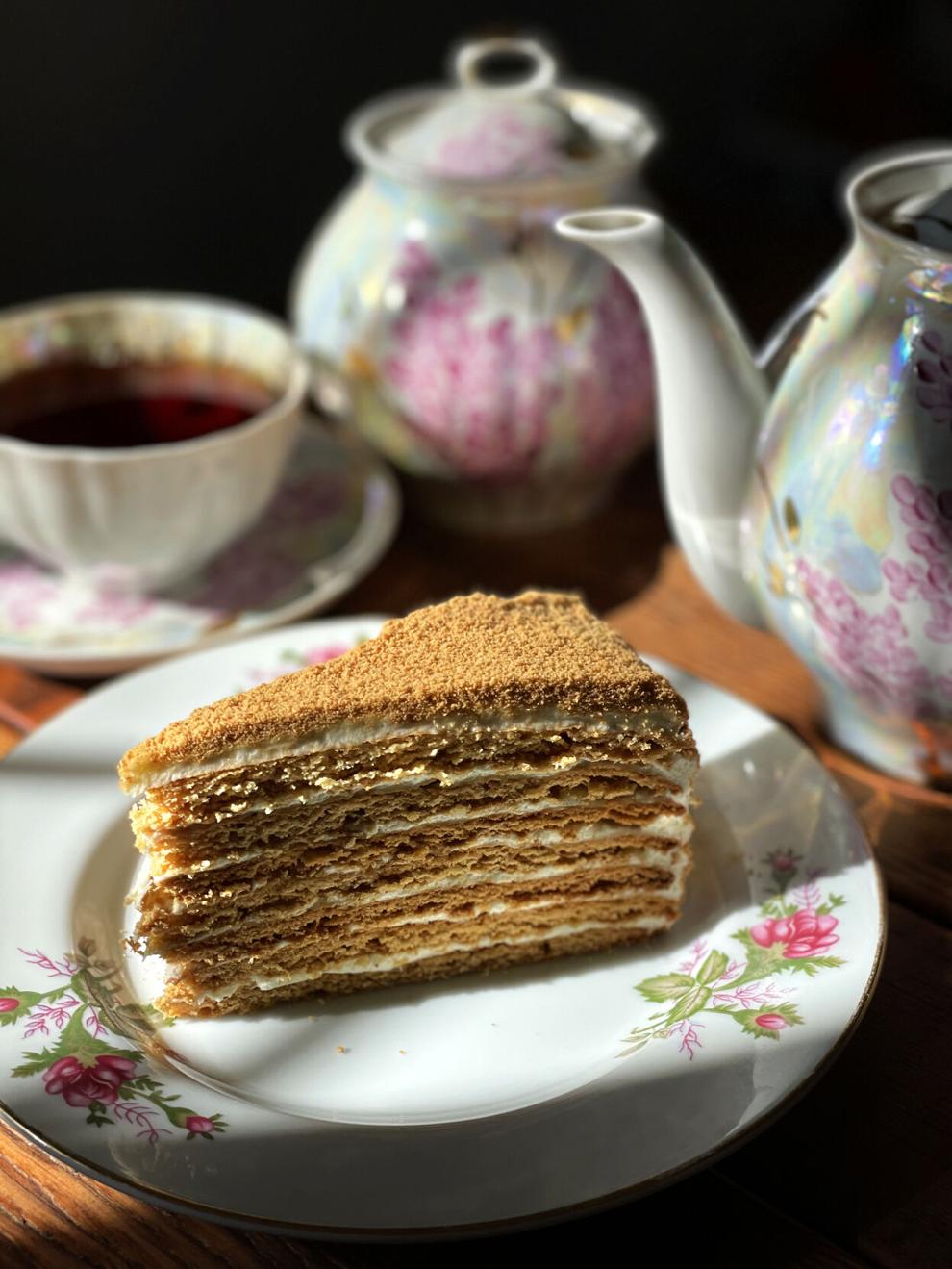 A number of other chefs and purveyors are donating food and ingredients for Saturday's fundraiser, including Bear Creek Farms, which provided beef for the hand pies, and Aleksey's Market, which is supplying the zakuski platter. Yev Mikhailov of Kawai Poké Co. who hosted his own fundraiser last week, will be grilling meats on-site. In addition, Laura Wilson of Citizen Incubator Kitchens is offering space in East Nashville for Karagadayeva and team to prep. "Times like this, when you start to lose faith in humanity, to have this kind of support is what keeps you going," Karagadayeva says.
Cook for Ukraine takes place from 9 a.m. to noon at Richland Park Farmers' Market; 100 percent of all proceeds will go to UNICEF, a charity chosen because it works directly with refugees. In addition, other Richland Park Farmers' Market vendors will be donating some of their proceeds from their day's sales to the charities as well. They will be identified with a Ukrainian flag on their tents. The Richland Park Farmers' Market is held at 4711 Charlotte Ave. Show up and stock up. Just don't ask Karagadayev's mom Antonina for the recipe for her famous honey cakes. That's a secret.