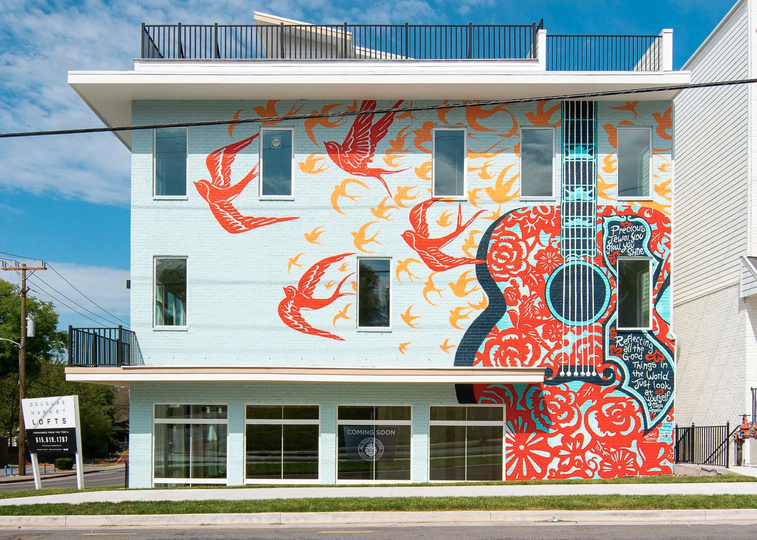 East Nashville's Cleveland Park neighborhood is slated for a cafe, with an early 2022 opening eyed.
To be called All People Coffee, the business will be located in the Douglas Market Lofts building located at 347 Douglas Ave.
Corey Alexander and Bradley Bruce will own and operate what will be a Black-owned business. Alexander, originally from Gallatin, is a former University of Tennessee football player and local entrepreneur. Bruce, who is from Missouri, has lived in Nashville since 2015.
St. Louis-based Aesh Design is handling architectural duties, while Franklin-based Sterling Construction Inc. is the general contractor. A permit valued at about $65,500 has been issued to allow for the build-out of the space.
In addition to cafe beverages, Bruce says the All People Coffee menu is expected to offer small bites and craft beer via a self-serve tap wall. The business will source its beans from Nashville-based Osa Roasters.
Bruce tells the Scene All People Coffee is expected to be home to up to seven full- and part-time employees. Hours of operation have not yet been finalized, but he says the business is expected to be open seven days per week.
Of note, the business now is offering All People Coffee mugs for sale on its website. All profits from the merchandise sales will be used to fund build-out costs.
Alexander and Bruce landed some seed capital after placing second in a pitch-funding event earlier this year at Lipscomb University.
"We wanted to create a space where everyone feels welcome, can come to grab a beverage, a small bite to eat, do some work, or meet friends as we felt it was a missing piece to our neighborhood," Bruce says in an email to the Scene. "We've had this idea in the works for quite some time and are thrilled that we are ready to break ground.
"Nashville is such an important city to both Corey and me, and we feel that we can make a difference by opening a shop that anyone can enjoy — regardless of their race, ethnicity, gender or sexual orientation," Bruce adds. "This is exactly why All People Coffee was founded and how it got its name."