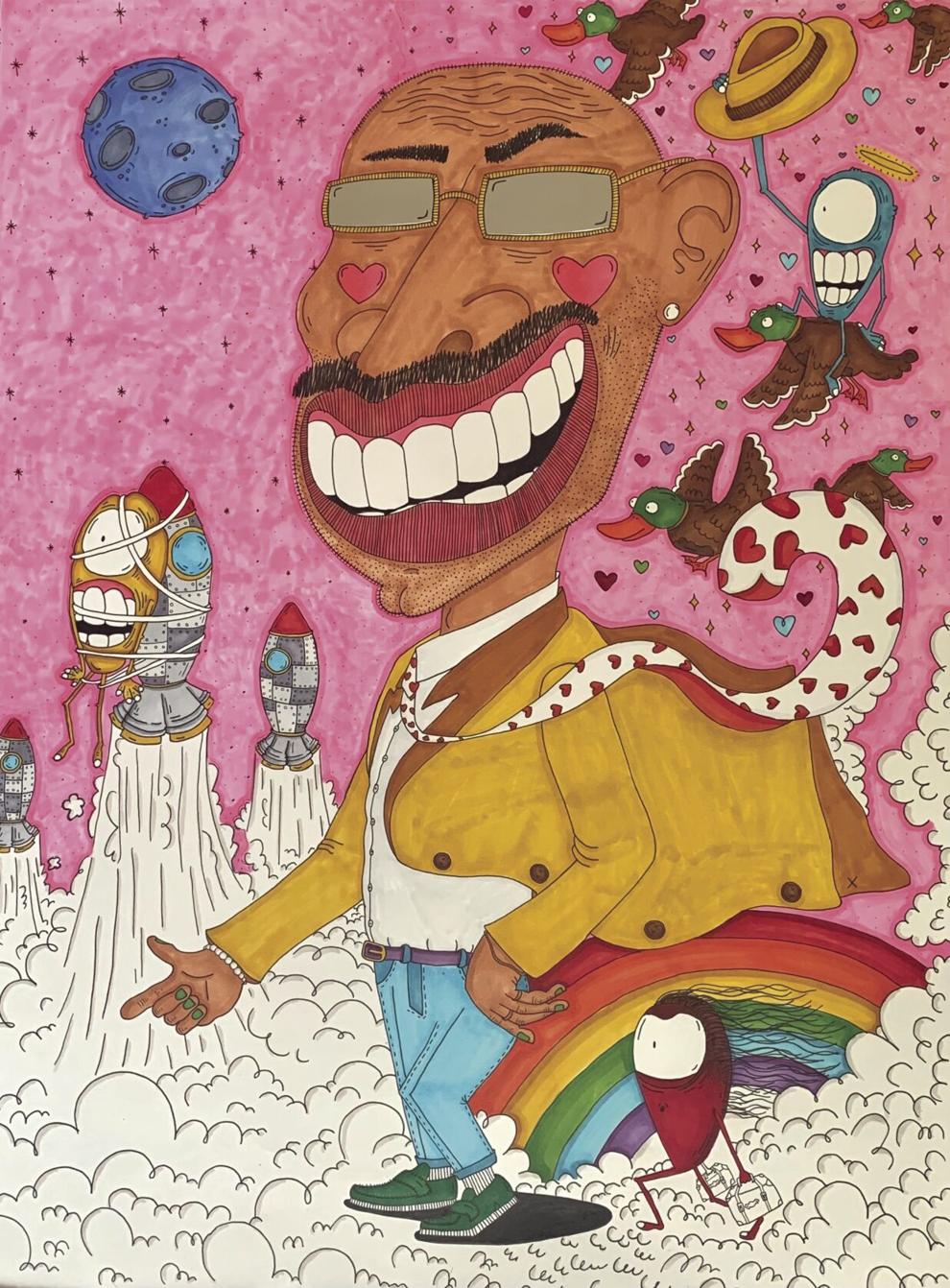 Wedgewood-Houston 
Keep Dreaming, one of the most anticipated art shows of the summer, opens at Zeitgeist on Saturday. Levi Morales, Abraham Lara and Sebastian Lara are Watkins alums who've been creating an art renaissance in South Antioch with their art, music and fashion house-party pop-ups. If you wonder where Nashville's artists go when they're pushed out of the real estate they made valuable in the city's core, you probably don't realize how weird things are getting in the suburbs. Keep Dreaming brings South Antioch to Wedgewood-Houston with a display of upcycled T-shirts, paintings, posters, animation and sculptures. Come for one of Morales' gritty T-shirt designs, stay for the sensory overload of Abraham Lara's glitched-out multimedia paintings. Gallery hours are noon through 6 p.m. 
Every year, Coop sets aside a month to show off the work of its new members, and it feels like an annual marker — a holiday or the passing of a constellation. Coop used the occasion — and the added wall space — of moving into a bigger gallery at The Packing Plant to spotlight some of its new members back in February. But that was before the creative co-op added 25 members, literally tripling their ranks in July. Many hands make light work, and this growth in membership makes Coop's recent expansion look more than sustainable. All this news has Coop's second new-members exhibition of the year feeling like a summer celebration as much as an art show. The obliquely titled Further Hues: New Members Show will feature work by seven of Coop's new members — Ashleigh York, Austin Reavis, Louis Holstein, Rachel McKee, Sarah Spillers, Tree Lily Butcher and Emily Doty.Doty's colorful abstracts are a highlight — her painterly panels and canvases read like gooey garden spaces dripping with textured tones, hues and light. The show opens on Saturday, with expanded gallery hours from 1 until 9 p.m.  
Bridget Bailey is a Nashville-based emerging artist who's already created a recognizable style with her colorful sculptural installations of molding clay, push pins and even ceramics. These chromatic and cacophonous works are all about space, texture and bold pops of color, spreading over walls and spilling from ceiling to floor. Bailey's latest works find her returning to a more painterly practice, but incorporating lots of multimedia materials in her canvases. The Moon Can Be a Diva Sometimes is an exhibition of sculptural paintings made of air-dry clay, wax, caulk, spackle, paint, paper, collage, foam, found objects and images, felt, acrylic mediums and glues. Bailey also incorporates text from poems and songs into these works, making it a great fit for Open Gallery and The Packing Plant community of creative spaces, which also includes Free Nashville Poetry Library, Risology Club print shop, and WXNA community radio. Opens on Saturday night from 6 until 9 p.m.   
Andy King's Inheritors of Chance opens Saturday at the Modfellows outpost at The Packing Plant. King's oil paintings combine symbolic images in narrative compositions that speak to universal themes. Inheritors is King's first solo exhibition, and the ambitious installation doubles down on its storytelling themes with a sequential layout in which each piece speaks directly to the next. Opening reception from 6 until 9 p.m.
Downtown  
The downtown art scene has taken a few big blows lately with the closing of The Rymer Gallery, and The Arcade being shut down for renovations and an uncertain future as a visual art destination. With that in mind, the reopening of The Browsing Room Gallery at the Downtown Presbyterian Church offers a note of welcome good news. The former library space on the ground floor has expanded the church's storied artists-in-residence program into a curatorial project. Browsing Room exhibitions have received attention in the Scene's Best of Nashville issues and been written up in ArtForum, and Michael Dickins' Wailing Wall installation was the only local Trump-era resistance project that transcended partisan propaganda to deliver a deeply moving work of art. The Browsing Room closed down shortly after the pandemic came to town back in March 2020. The gallery teased a comeback in December with AIRing It All Out — an exhibition of new work by the artists-in-residence. And the Browsing Room came back online for real with its June/July showing of photographs by Gabriel McCurdy. For August, the Browsing Room hosts an exhibition of collaborative work by Downtown Presbyterian artist-in-residence Sarah Hart Landolt and the church's pastor, Larissa Romero. The Enneagram Heart: An Artistic Exploration of Human Fears, Desires, and Pathways to Growth and Service is a big title for a show full of big questions. Landolt's interpretive fluid ink painting practice has produced colorful, amorphous takes on everything from emotional states to the signs of the Zodiac. Here, she and Romero create an immersive, interactive installation of paintings based on the nine personality types described by the Enneagram model of the human psyche. As an Enneagram Personality 9, I can assure you that this show is worth a trip downtown. Opening reception is Saturday night from 6 until 8 p.m.  
East Nashville  
The Red Arrow Gallery opened Julian Rogers' Wave Upon Wave exhibition last month. The show of light-filled, candy-colored clouds will make a great backdrop for an improvisational musical performance by Julian and a few of his more tuneful artist friends Saturday afternoon from 3 until 6 p.m.