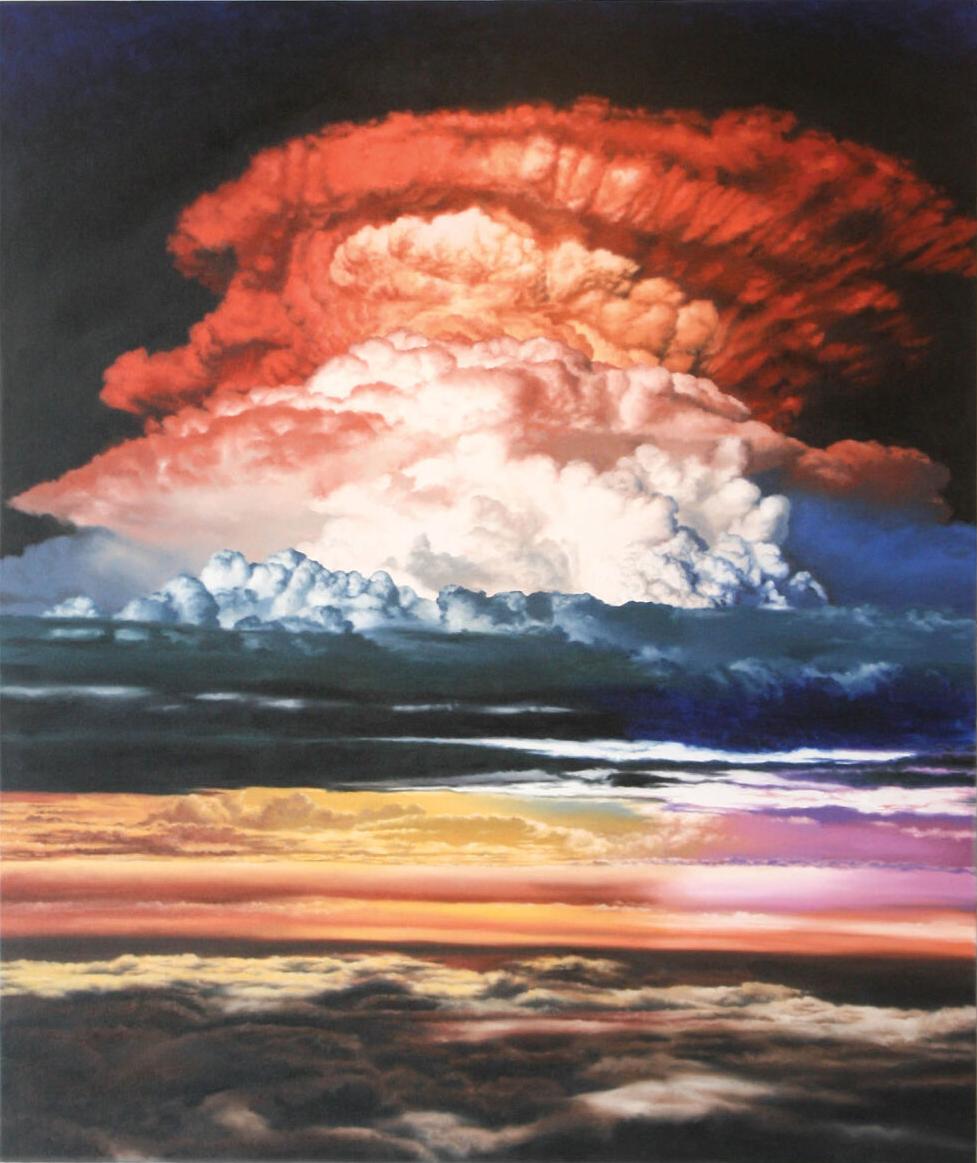 Artists Talk is an ongoing series that gives artists a platform to describe a particular artwork. 
Julian Rogers' exhibition of new paintings, Wave Upon Wave, showcases the artist's ability to make hyperrealistic works that borrow elements from air travel, the American West and the Rococo era. The artist spoke with the Scene about the work and how it developed out of a lifelong interest in clouds, which was sparked by the first time he flew in an airplane as a child.
"I remember looking out the window and just being astonished," Rogers says. "Being able to see the clouds from that altitude felt like pure magic. I mean, people will climb a mountain for weeks to get to a vista like that, and they'll be enthralled by what they see. But when you're in a plane and you get up there, people take it for granted a little bit. It's just an insane view, and if you think about it, we've only been able to experience that view for something like 70 years. So when I was on this first flight, there was a lot of magic in that view. And in a way, I've been wanting to make these paintings ever since.
"From a painter's perspective, clouds can function in the same way that still lifes do — the thing being depicted isn't really the point. 
" 'Wild Horses on Government Land' comes from an experience I had about 10 or 11 years ago, when I was working on a ranch in Washington near the Canadian border. Bordering the ranch was just thousands and thousands of acres of government land. I would keep an eye on this herd of wild horses on this land, but whenever I would approach them, they would run off. This went on for weeks. I started slowing down, and I would whistle when I approached. The horses started to associate the whistle with me. Then I started to bring them cherries, and bring them water. And they started to get used to me — they kind of accepted me and eventually befriended me. When that happened, it was a very magical moment, with these big thunderhead clouds all around. 
"With the color, obviously there's a kind of psychedelic element to that. You can dial the colors in and out, and you can also dial the associations with the colors in and out. Something sort of green and purple can look like it's from another planet, or like it's some crazy colored smoke. Trying to manage that in a way where it didn't get away from me, you don't want to associate with any one thing. I didn't want it to look like a comic book either.
"I have a Polaroid camera in my studio, and if I got stuck halfway through a painting and I started to tighten up, I would just walk outside and take a picture of whatever was in the sky right then and there, just to force myself to loosen up and introduce an element of chance into the work. 
"But then I put the photos away and let the painting swirl and change. There's a weird thing with clouds — if you paint them exactly how they really look, they look fake. You have to find a balance. And it was almost like a live photo; they were always changing. When you look at clouds, they'll kind of undulate, and they change without you even realizing it. You have to focus on one little part to notice the change. That's exactly what the paintings would do — they would just shift underneath the paintbrush. 
"It's kind of funny because in grad school, I was kind of trained to claim cultural references and mark out my territory and have the work be a complement to that cultural territory. But I was trying to do the opposite this time, getting away from words completely and making something that was self-evident. Something that doesn't need a lot of cultural armature in order to exist."