Listen, I don't know what the hell happened on the set of Don't Worry Darling to make the cast act like the cast of Real Housewives in public. That premiere at the Venice Film Festival — where most of the players tried (and failed) to put on a brave face on the red carpet — was an ass-showing frenzy, a maelstrom of high-profile passive-aggression topped with awkwardness, visible contempt and possibly saliva. I only hope Vanity Fair has a tea-spilling piece all lined up for next year's Hollywood issue.
But we're here to talk about the movie itself, which is sadly nowhere near as entertaining as the gossip surrounding it.
Florence Pugh is the personification of slowly disintegrating sunshine as Alice, a housewife who starts to question her way-too-perfect surroundings. She lives in a nicely manicured, '50s-era cul-de-sac while her dashing British husband Jack (Harry Styles) works all day on some top-secret shit. And considering how the cast is quite multicultural for a film that's supposedly set in the Eisenhower era (If Beale Street Could Talk's KiKi Layne — who's been suspiciously absent during this whole publicity madness — has a brief role as a troubled homemaker), you already know something is up with this place.
With Darling, co-star/director Olivia Wilde continues her journey as a populist/feminist filmmaker, doing popcorn films with a pro-woman message. The script was written by rom-com vet Katie Silberman (Isn't It Romantic) and two of Dick Van Dyke's grandkids. (I'm sure they binge-watched a bunch of their grandpa's iconic, eponymous sitcom, in which he was the breadwinner and a young, capri-wearing Mary Tyler Moore kept the home fires burning.) Wilde builds a semi-nightmarish vision of patriarchal oppression that's sparkling and lacquered. She also hired some exceptional ladies — including production designer Katie Byron and costume designer Arianne Phillips — to make this man-made hell look all shiny and immaculate.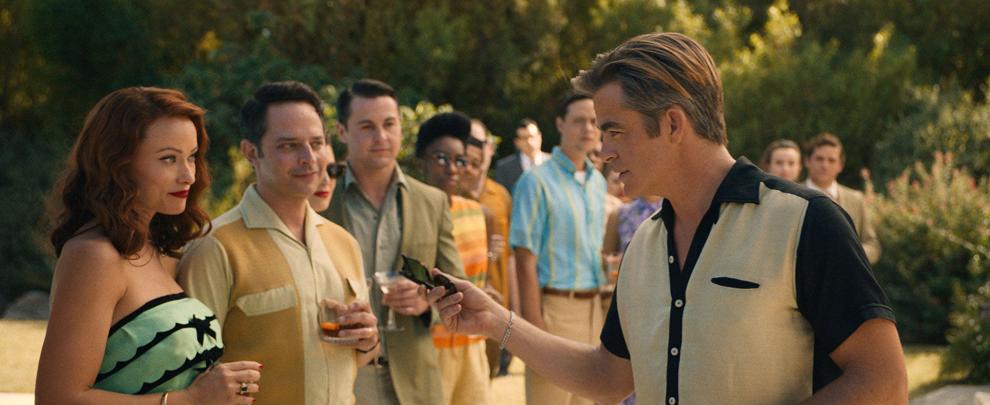 Unfortunately, it's also obvious and derivative. Like most Hollywood filmmakers, Wilde keeps giving us work that is heavily reminiscent of other films. Her 2019 feature debut Booksmart was a retread of Superbad — she even cast Jonah Hill's sister in the Jonah Hill role. But while people have already made comparisons to The Stepford Wives (both the original and that lousy comic remake with Nicole Kidman), Darling has more in common with reality-bending films like The Village, The Truman Show and even The Matrix.
I don't know if Pugh was using the backstage tension she had with Wilde as fuel for her performance, but she does effectively give off the vibe of someone who's fed up and wants to get the fuck outta Dodge ASAP. Her scenes with Styles, who somehow comes off even dreamier than Pugh, are more satisfactory than scintillating — even when ol' boy props her up on a table and devours her like a gotdamn sponge cake. Honestly, Pugh has more chemistry with Chris Pine, who does a helluva charismatic job as the debonair but sinister Svengali behind this tight-knit community.
As far as beautiful, dark, twisted fantasies go, Don't Worry Darling is one good-looking road to nowhere. It's a chilly, extreme parable that basically reminds viewers what a lot of us (women, POC, foreigners, the LGBTQ community, etc.) already know: There are a lot of white men out there who still wanna keep your ass down.
If only the movie were as fascinating as seeing the cast act a damn fool while promoting it. As a friend of mine said recently, let's hope this press tour never ends.