An early deadline means a good deal of this column gets written with some attempt at low-key precognition — of getting a clue for what's going to be happening nine days hence. This is becoming more and more impossible to do, because it seems as though Gov. Bill Lee is actually trying to spread COVID to Tennessee's children. This can't possibly be the case, right? Surely there's some reason that he (and Ron DeSantis and Greg Abbott and the others) are actively putting children at risk beyond Republican fealty? Is this still about the private-school voucher shit? I ask this because everyone I know with children is terrified on a daily basis by all this bullshit, and every day seems to get more chaotic and terrifying than the last. Know that if this keeps up, next week's column intro will be a couple of recipes.
As always, here are some recommendations for streaming titles to check out. Look back at past issues of the Scene for more. 
The "Old Dark House" archetype has been part of cinema since the very beginning, probably best known — or at least most ingrained in our cultural DNA — thanks to The Rocky Horror Picture Show. Some regular folks find their way to a sprawling space of anomalous supernatural/sexual/temporal energy, where they are trapped by the weather or the fall of night, and what they find there tests the strength of the social contract in all of them. Some of them (sometimes all of them, but not always) will find their way back into the light and confront the absolute truth of themselves. Even back in the 1930s, this was a strong spine to build a film on (see James Whale's masterful 1932 film The Old Dark House for the defining text on the subject), and 1934's Mexican film The Phantom of the Convent is a marvel of high-contrast monochrome photography and deep-seated psychosexual nightmares. Respect is due any movie this deft in its portrayal of a shitty, regrettable marriage, especially in the '30s, and director Fernando de Fuentes brings the atmosphere and emotional unease in a way that feels more modern than many films of that era. Also, Marta Ruel has iconic hair and makeup in every scene — legendary goth lewks that hold up to this day.
One of the big surprises at this summer's Chattanooga Film Festival was The Old Ways, a visceral hostage shocker involving shunned places, witchcraft, possession and some deeply disturbing moments. Cristina (Brigitte Kali Canales) is an investigative journalist, and she's prepared for all sorts of possibilities as she returns to Veracruz, Mexico, where her family hails from. But there's not really formal preparation for being abducted by folks who think you're possessed. And honestly, the less you know going into this polyglot shocker, the better. Just know that things get intense, family bonds get stretched, and ancient magicks are going to ancient magick. My friend Jen — who isn't typically a horror fan but who loves a good and inventive story — was transfixed and unsettled. And in honor of the patron saint of investigative-journalism cinema, Laura Gemser, The Old Ways will teach you good courses of action for awful situations.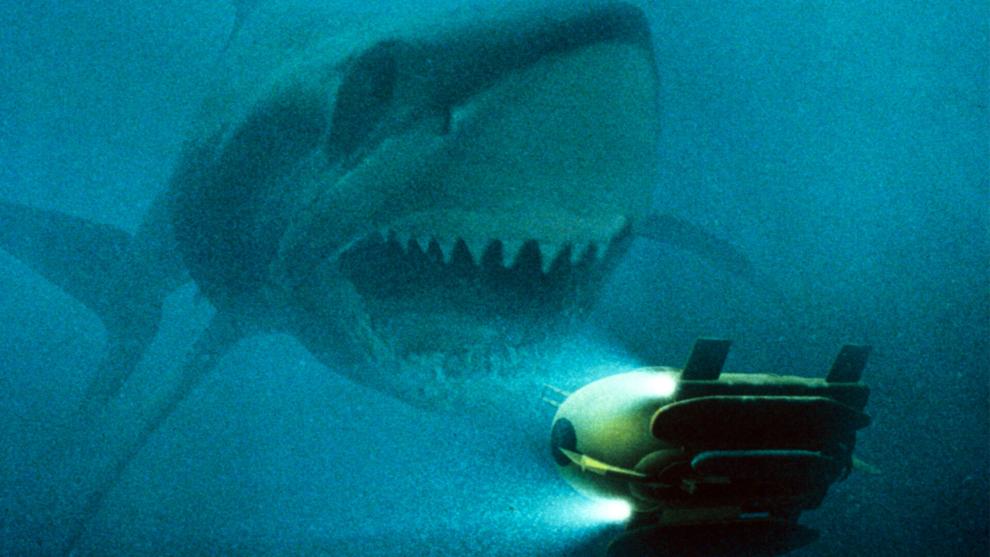 It's very rare that films become famous for one line anymore. Thanks to YouTube and the average strong meme game of the internet's most devoted, it's less and less likely that one sentence can bring enough clicks, eyes and synapses to bear on any specific film to become A Thing in enough estimation. Know, then, that Shark Attack 3: Megalodon has the exact right blend of elements for a trashy When Animals Attack scenario — a combination of moderately committed and genially indifferent cast members, with one person who knows exactly the tonal balance to strike in spite of everything insane happening around them; the Gina Gershon in Showgirls, if you will. The effects are hysterical, the sets ramshackle, and once you've seen it, you too will bear witness to the special charms of this Bulgaria-shot tax-shelter vehicle for questionable choices, elevating Shark Attack 3 to the level of other films made legendary by one line. (See also: Phat Beach, House Party 3 and Revenge of the Nerds II: Nerds in Paradise).
Whether you want to re-experience the J-horror boom of the late '90s and early Aughts, get to know the work of Japanese artist/madman Junji Ito, or are just looking for the perfect film to pair with 1985's Anguish, Uzumaki may well be the movie for you. Supposedly there's a new anime series based on the Ito manga coming to Adult Swim in October of next year, so this is a good entrance point if you want to take a dip in a surreal nightmare rooted in horrific geometry and infectious paranoia. The spiral is always turning, you know, growing outward even as it pulls you in, first by sight, then by thought, and by then far too late. Director Akihiro Higuchi finds the exact right way to take Ito's nightmare visions and bring them to life, happy to blend the hyperrealistic, the surreal, the ultra-fake and the imagery that seems so wrong that you're left questioning all your certainties. A special kind of fun.