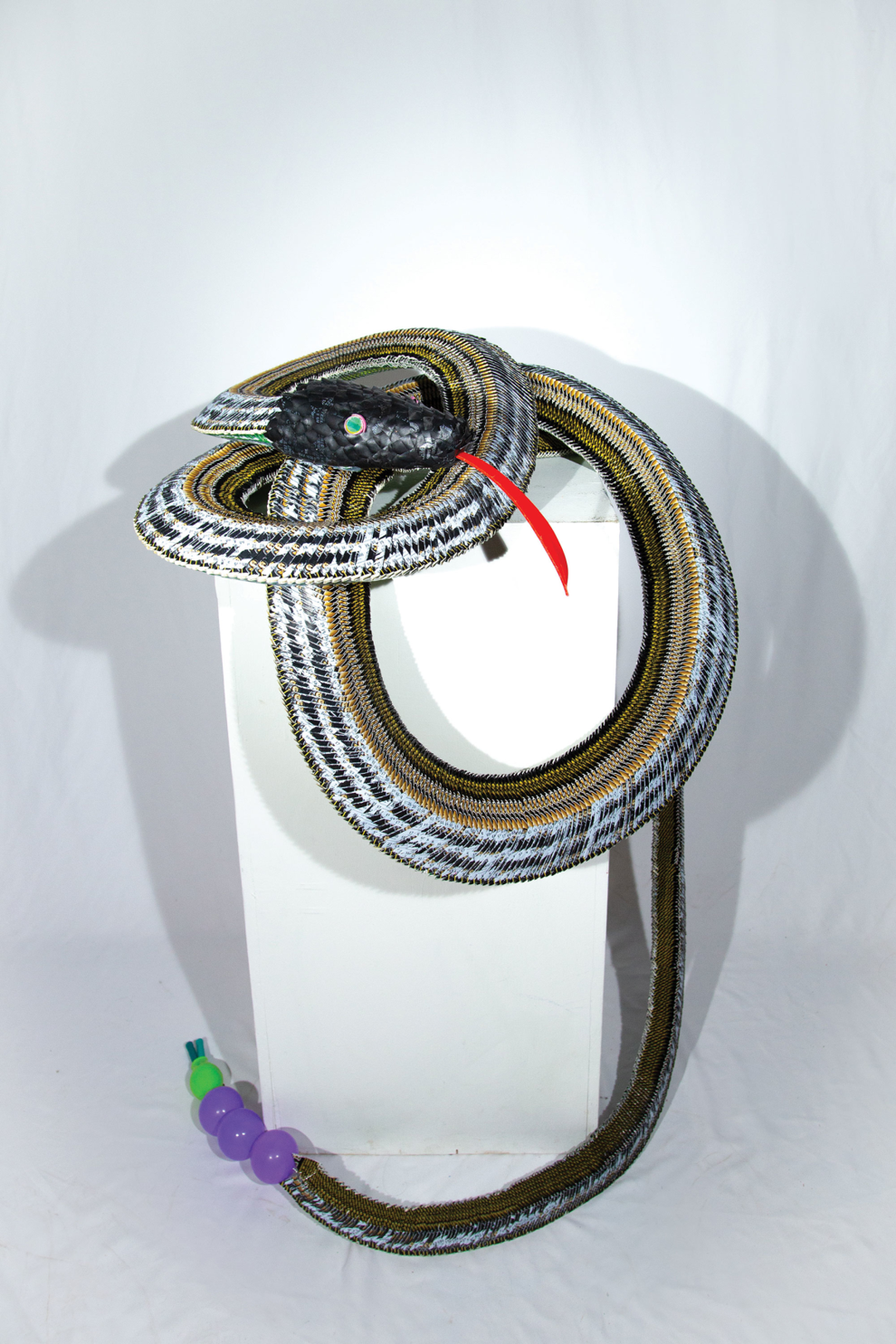 Alex Lockwood's 2015 solo exhibition at OZ Arts, Shake, introduced the artist to Nashville's wider gallery-going culture. His work had been included in groups shows at Coop and the now-defunct Cumberland Gallery, and showed what he could do with texture and color. But OZ gave him an opportunity to inhabit a massive space. Shake featured works made from recycled materials: plastic bottle caps, spent shotgun shells, colorful plastic coat hangers and the rectangular plastic tabs that cinch plastic bread bags closed. Lockwood combined his materials in repetitive patterns to create colorful tapestries, big rolling balls, wearable head-covering masks, and colorful chandelier-like forms that dangled from the ceiling. Guests were encouraged to roll the balls and swing the chandeliers using attached cables. Tapestries were touched, merry-go-rounds made from plastic coat hangers were spun, and visitors of all ages were treated to one of the most interactive — and loud — gallery gatherings one can imagine in the usually hands-off, voices-hushed environment of an art-exhibiting space.  
Lockwood's practice has expanded into curation, gallery ownership and studio landlording in the nearly six years that have passed since Shake. The artist's Elephant Gallery, which hosts its own roster of artist studios, opened in 2017 in North Nashville, and Lockwood is now one of Nashville's most recognized artists. His work — and his gallery — have brought a more casual and playful aesthetic to Nashville's contemporary art scene, and it's resonated with a larger viewership beyond the fanatics of the hardcore art audience.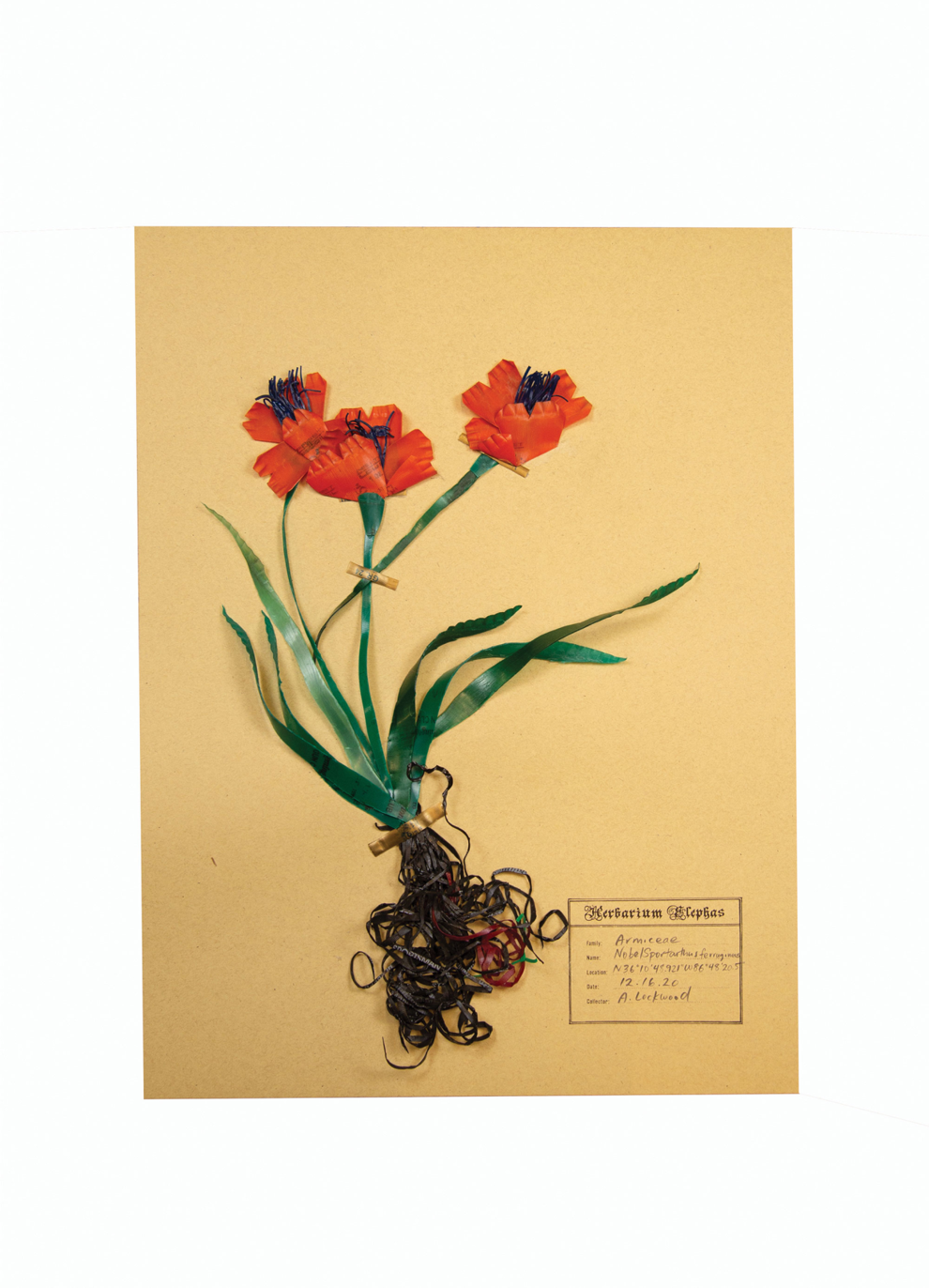 Much of what made Lockwood's big solo splash so affecting can still be found in his latest exhibition, Watch for My Signals. The show opened at David Lusk Gallery's Nashville outpost on Jan. 6. This new exhibition offers a colorful environment full of Lockwood's plant and animal sculptures, along with a selection of banners that adopt the language of maritime signal flags. The artist is still borrowing, recycling and transforming.   
Lockwood's art is often self-consciously silly and humorous. He curates other artists with similarly off-kilter and pop-culture-inspired aesthetics — even the colorful exterior of Elephant Gallery seems to announce itself as "Fun" rather than "Serious Art." Lockwood's sculptural creations continue to be informed by the detritus they're crafted from. And while his work is totally accessible to broad audiences, it's Lockwood's use of recycled materials that pushes his work into more serious art conversations. Viewers don't have to ponder the vague vastness of global warming to connect to the destructive pressure that development and consumerism have on the natural spaces and species all around them. Lockwood's art makes viewers consider natural creatures and their habitats while simultaneously confronting them with the plastic trash that stands in for the perils of petroculture as a whole. 
All artists who work with recycled materials are part of this bigger environmental conversation, but not all of them have Lockwood's eye for materials and his facility for transforming them. Lockwood's best work finds him exploiting a less-than-obvious capacity in the stuff he collects before utilizing his discoveries to build structures and create textures that are perfectly matched to the qualities of his altered, manipulated materials.  
The best works in Watch for My Signals are Lockwood's lottery-ticket snakes — perfect examples of how the artist's strongest expressions emerge from his ability to match striking combinations of material and form. In these works, Lockwood interconnects countless folded lottery tickets to create the slithering bodies of these serpents. The reiterating patterns and textures of the folded cards evoke the scales of a reptile, and the structures of these works allow them to twist, bend and hang with venomous realism. I appreciate the messaging in Lockwood's artist statement, which speaks to the insidious nature of the legal lottery games that function as a school tax paid by poor communities. But in the context of this show, I'm much more captivated by how Lockwood must've spent hours folding and connecting "Large Black Snake" before deciding to finish off its tail with a rattle made from a row of purple and green plastic balls. The cartoonish rattle reads like a punchline — and it's funny — but the joke works because the rest of the sculpture is so surprising, inventive, transformational and beautiful.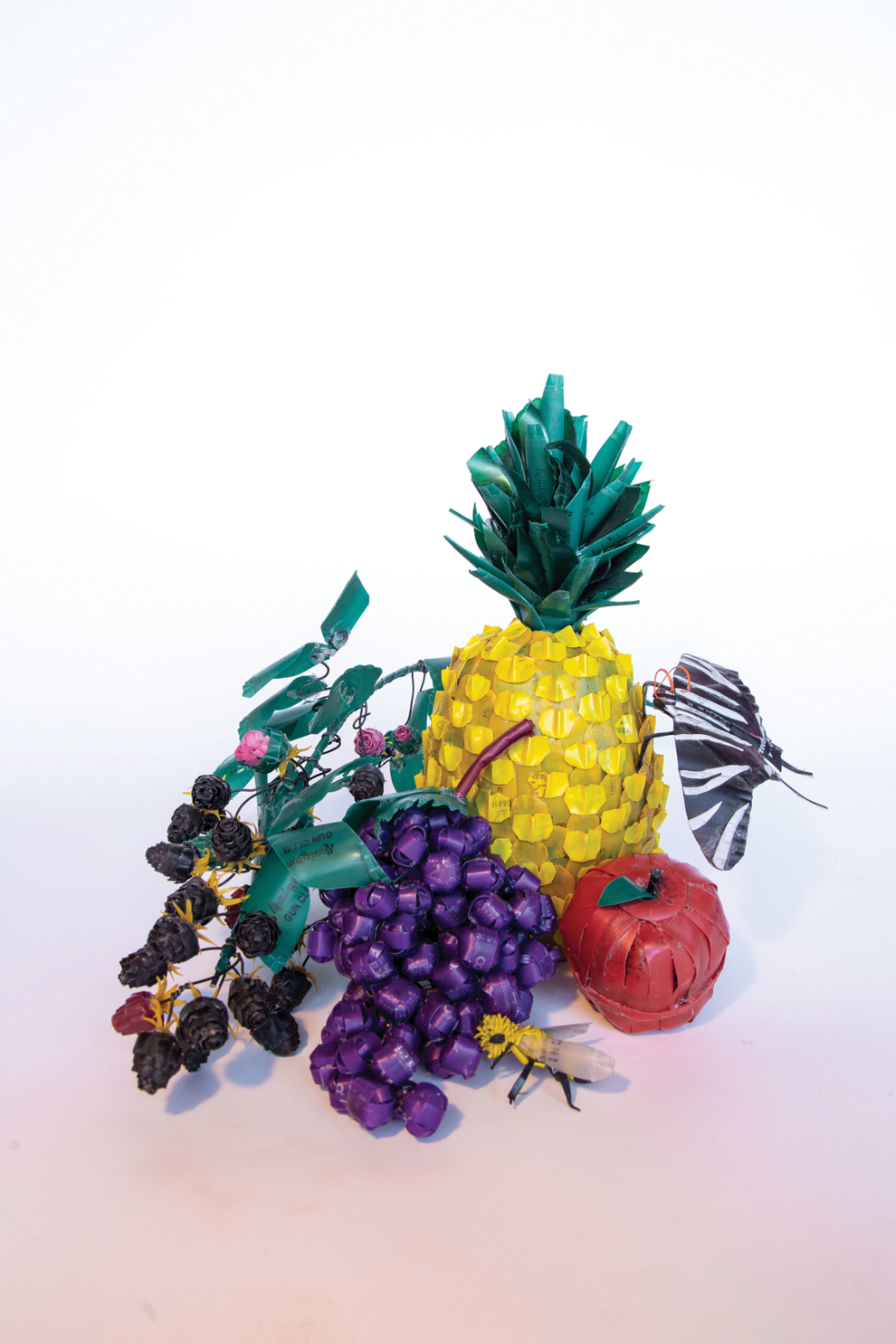 Watch for My Signals also includes a number of Lockwood's recent shotgun-shell sculptures of wildflowers, plants and fruits. Lots of these also offer strong examples of how the artist is able to shred, smash and loop his found plastic tubes into stems and stamens, leaves and blossoms that seem all the more real due to the colorful, waxy material of the shells. I particularly like a piece called "Nobelsportanthus," which brings an element of transmedia fiction into the display. The sculpture of the flower boasts beautiful blossoms made from red shotgun shells that have been cut down and squashed flat — the flower comes complete with a tangle of roots fashioned from shredded plastic. The whole plant is mounted to a board like a scientific specimen — there's even a label that equates the so-called Nobelsportanthus flower with the taxonomic family Armiceae. Lockwood's statement explains that Armiceae comes from the Latin "armis," which means weapons. More importantly, the scientific nomenclature is half-made-up and comes from the imagination of the artist, who adds a smart twist to the piece by conjuring a science-fictional context for his fake flowers to exist in.  
While lots of Lockwood's work is silly or even zany, it's often genuinely transcendent in its sensational presence, its unexpected scale and especially in its formal characteristics — its intricate designs and chromatic, shiny, toy-like surfaces. Lusk's Nashville space is intimate compared to OZ, and there won't be kids swinging from the art at Watch for My Signals. But there's still plenty of that Lockwood delight on display at the new exhibition. "Fruits" reads like a nod to classic art still lifes with its arrangement of a pineapple, grapes and a tomato. The stiffness of the shotgun-shell plastic makes the contours of the fruits amusingly square, like pixelated digital renderings. "Full Vase" is a gorgeous display of various flowers — many native to Tennessee. From a distance, this one looks like an actual flower bouquet. If Lockwood ever needs an extra gig, "Full Vase" shows he's got a knack for floral arranging — another example of the artist's knack for diverse and deftly deployed materials and techniques.