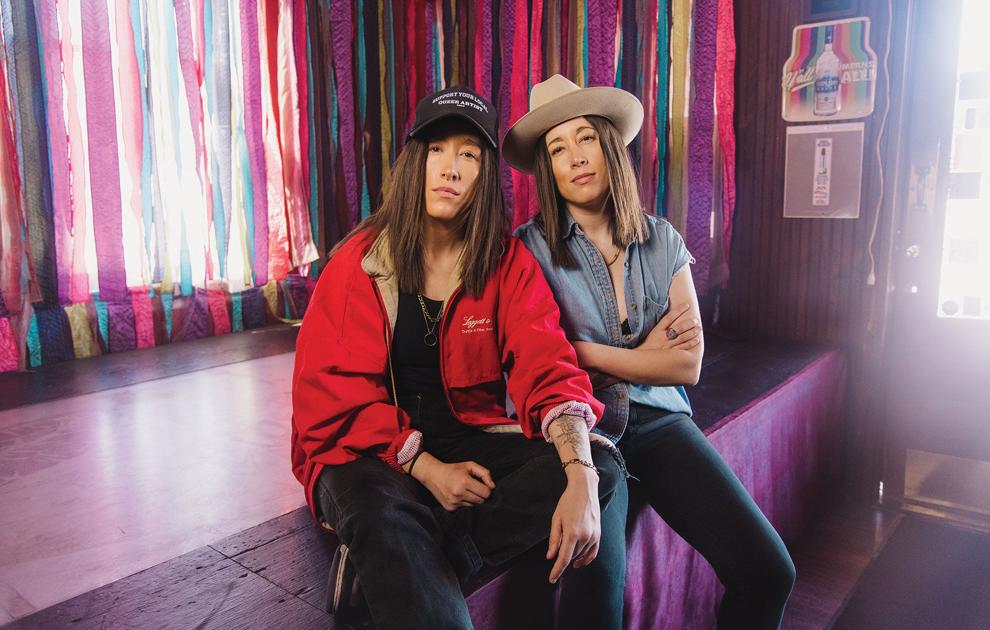 In recent years, it's been much easier to see the wealth of talented LGBTQ musicians across Nashville's ecosystem of music scenes. In large part, that's thanks to organizers who are intentional about making safe spaces for queer musicians.
"Having a tribe and being accepted is just important for being human, and your survival," says Emily Dryburgh. She's seated in a booth by her twin sister Jamie, shielded from the afternoon sun by the multicolored curtain lining the stage at beloved East Nashville lesbian bar Lipstick Lounge. "I can't tell you how many friends we have who at one point were homeless or broke, or have a lot of residual trauma."
Raised in upstate New York, Emily and Jamie — both of whom identify as queer — made their way to Belmont University's music business program in the early 2010s. When we speak, they're taking a break from planning for their organization RNBW Queer Music Collective. Among myriad other events, there are details to pin down for RNBW's fifth annual stage at Nashville Pride, an event called Country Pride that's coming to the Country Music Hall of Fame and Museum, and RNBW's second Country Pride showcase at CMA Fest. Last year's inaugural Country Pride marked the first official celebration of queer artists during the behemoth CMA Fest; as far as the Dryburghs know, it was the first one ever at a country fest. A few hours after our conversation, they went back to Lipstick for that week's installment of RNBW Queer Music Nights, the Tuesday songwriter showcase they've put on there since COVID restrictions began to ease in early 2021. 
Jamie recalls that the inspiration for the weekly show came from a queer songwriters' round put on by a friend before the pandemic. The positive atmosphere and the size of the crowd left a big impression, but the momentum stalled after just one show. The sisters put the relationships and marketing skills they developed on Music Row to work, cultivating a consistent presence on social media and at Lipstick Lounge with their version of the event, which has become a community staple. RNBW Queer Music Nights has hosted more than 600 queer songsmiths, including Jake Wesley Rogers and Joy Oladokun near the pop end of the spectrum, as well as artists like Shelly Fairchild and The Kentucky Gentlemen who hew closer to mainstream country.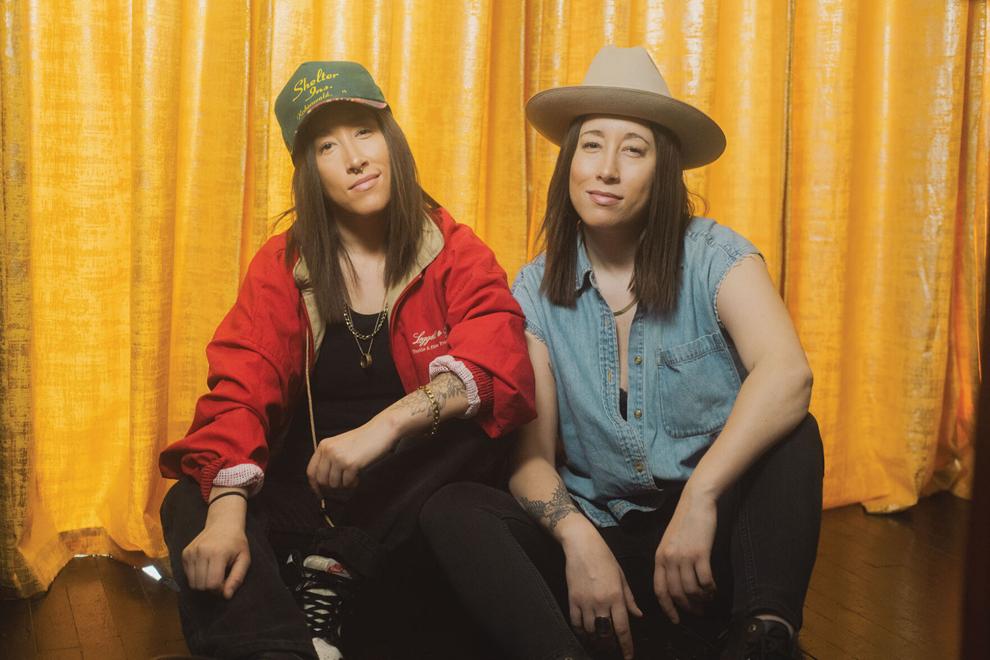 "We've had everybody from Grammy-nominated [artists], to CMA-winning [artists], to huge pop artists, to kids who have hardly picked up a guitar and played," says Emily. "And this is the only space some of them have to be. They don't feel comfortable going on Broadway — they can't sing their pronouns or tell their stories."
The Dryburghs have developed programming for other Nashville bars looking to make their spaces welcoming for the LGBTQ community. And they've been fielding offers to curate RNBW nights in places like Los Angeles, New York, Atlanta and Chattanooga.
"Initially we didn't really have big plans — we're just going, 'We're gonna create a space for needs to be served, let's do it,'" says Jamie.
Jamie and Emily highlight the importance of support from within the industry, including from partners in some of their events like CMA, CMT and country news site The Nash News — all of whom the sisters praise for their work to incorporate LGBTQ voices into the mainstream. While progress is never as fast as it could be, it's significant to have artists like Brothers Osborne — whose singer T.J. Osborne came out in 2021 — on the charts, and artists like Lily Rose opening dates on major tours for Shania Twain and Sam Hunt. In light of the anti-queer and anti-trans bills that have made their way through the state legislature this year, every ounce of energy is meaningful.
"We're here, we're queer, we're not going anywhere," says Emily. "We just have to learn from it and continue to grow and expand."
Photographed by Angelina Castillo at Lipstick Lounge
Profiling some of Nashville's most interesting people, from drag legend Tina Louise to TSU's Flutebae and more