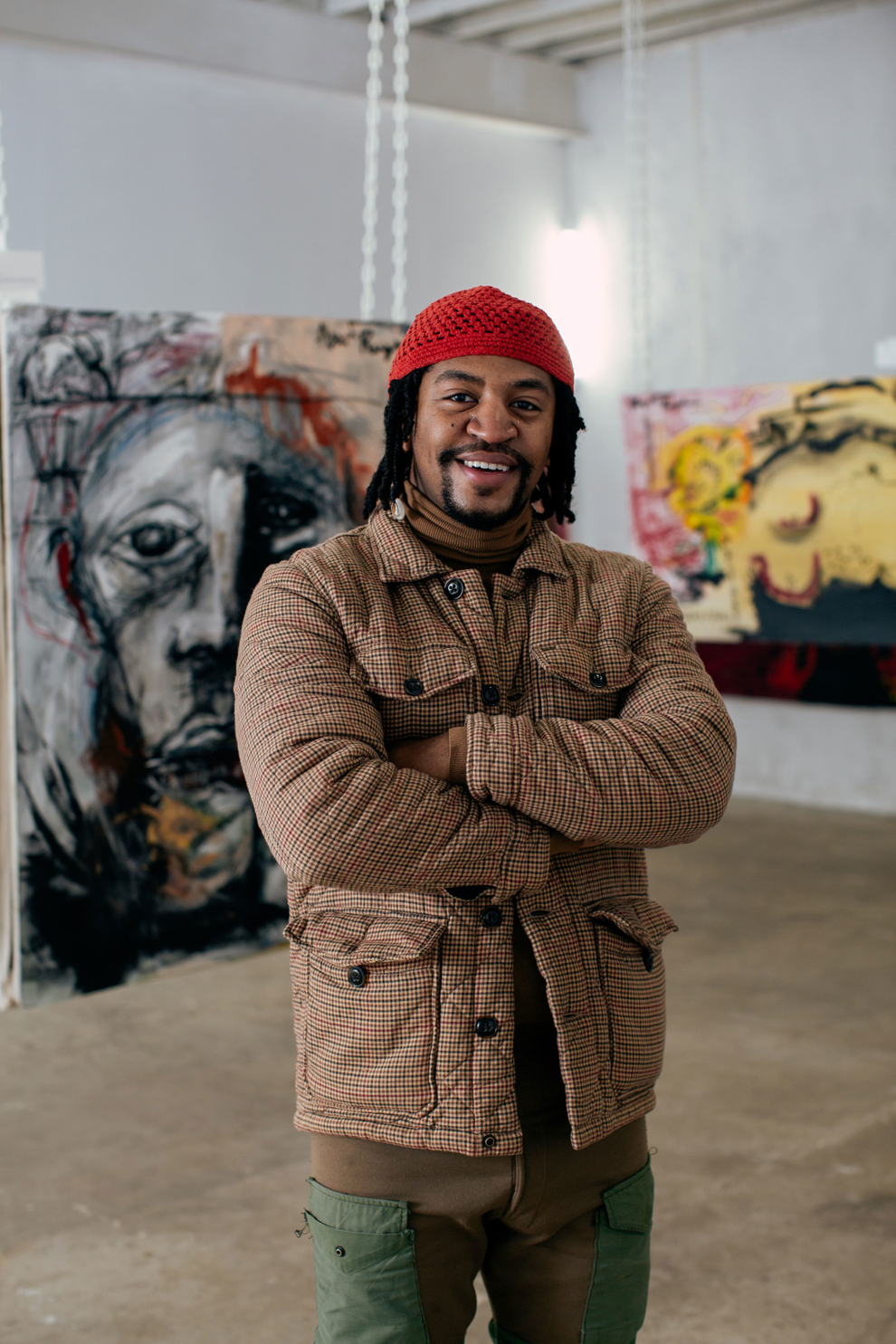 It starts as a familiar story. A local boy dreams about moving to the big city. He works hard, strives for success and plans an exodus from his hometown. His new home is his Emerald City. He accesses the things his hometown didn't offer — job opportunities galore, culture, creative people of all stripes. For six years, Clarence Edward managed artists, curated exhibitions and supported galleries in the New York spaces he'd dreamed of — Chelsea, SoHo, Brooklyn. 
Edward lived in the Queens neighborhood Long Island City, across the street from PS1, the contemporary art space that houses exhibitions, projects and performances. Established in a long-dormant Romanesque Revival-style public school building in the 1970s, PS1 was a pioneering alternative space where artists could free themselves of the institutional goals of galleries. It's cleaned up since the Museum of Modern Art brought it under its umbrella a little more than 20 years ago, but it still has that feeling of experimentation and collaboration. Edward loved it. 
But in March 2020, the story changed. New York became the epicenter of the pandemic, and for the first time in years, Edward was forced to slow down. He had begun to dream bigger — not to support galleries, but to have one of his own. He missed his family. Over Thanksgiving weekend, he decided to move home to Nashville. 
One day late last year, Edward was helping an Atlanta fashion company find a retail space. He walked into the side door of a salmon-colored brick building on Gallatin Pike in Madison, the storefront of which is rented by check-cashing business Easy Money. As soon as Edward saw the exposed beams and concrete floor inside, he knew he'd found it — not the retail space for a fashion company, but the future home of his gallery. 
At 3,000 square feet, Ce Gallery gives Edward plenty of space to play. He soon got to work cleaning it up, painting, hanging curtains and installing lights. In the expansive mezzanine, Edward has created an intimate atmosphere, with large couches, dim lighting, a stereo system and small bar. Having a comfy place for conversation, artist talks and even corporate meetings — the gallery has already hosted one — only adds to the experience. He's invited musical guests to play at Ce too, and he and collaborators recently put together a pop-up market for local artists and entrepreneurs to sell their goods. 
He soon found his first artist, Alex J. Reyes, to display paintings in the ground-floor gallery. They planned a one-day pop-up show, but word spread quickly, and Edward found there was enough interest from the public to keep Reyes' work up a bit longer. Fittingly, the show was a send-off for Reyes, who made his way to New York shortly after. Edward has been able to shepherd him through the move, connecting him with New York art-world folks to get started. 
Edward is driven by supporting artists like Reyes. "That's what makes me excited," he says, "being that middle person, helping people transition to those higher levels of artistry, however they think it is."
When at the University of Memphis, Edward would rent out vacant buildings for art shows. "This was all an accident," he says. "I had to come up with an internship in college. All my friends were artists, and I was the one with the job who was organized. I thought, 'Let me rent this building out and create space for their work,' and I've just been doing it since. I didn't know it was a thing until right after I graduated and I went to Art Basel —  like, 'Oh, this is really a thing thing. I could really make this a career for life.' " 
Even as a youth, Edward found solace in the arts. As a member of his school's band, he found a sense of family and security away from home. "It saved so many of us," says Edward. "With all of the issues in the world, we had each other. We also had a focus. Art is a focus." 
This feeds into his desire to make Ce a place where people feel they belong, especially LBGTQ people. In New York, he found his community at places like Bushwick's performance-fueled nightclub House of Yes, and an art collective and party engine that celebrates the lives of queer and trans people of color called Papi Juice. 
"I remember living in Nashville and being a kid and having nowhere to be fully satisfied," says Edward, "and then going to New York and having so many options. I want to be a person who offers that to others." 
Photographed by Daniel Meigs at Ce Gallery. Paintings by Alex J. Reyes.