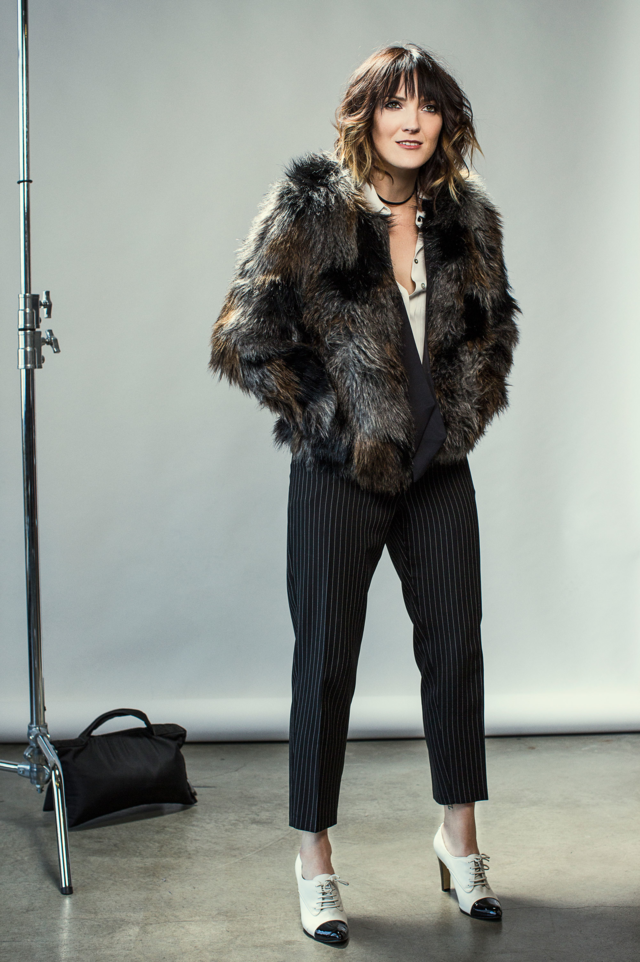 For years Jen Kirkman was branded a party girl. Regular appearances on Chelsea Lately and Drunk History led fans to believe she was all about boozing, schmoozing and goofing off. But as a stand-up comedian, Kirkman has been doing her part to smash the patriarchy and shun traditional gender roles with hilarious, incisive observational humor for years. Her sharp delivery of no-fucks-given material is exactly what earned her a spot at the writers' table for the first two seasons of Amazon's hit show The Marvelous Mrs. Maisel.
While protagonist Midge Maisel isn't modeled after Kirkman, the similarities are at times uncanny — just, you know, with a 60-year gap between their careers. The Scene caught up with Kirkman via phone just hours after this year's Emmy nominations were announced (The Marvelous Mrs. Maisel was nominated for a whopping 20). We talked about her time in the Mrs. Maisel writers' room, her weekly podcast Having Funlessness With Jen Kirkman — in which she talks candidly about everything from mental health and embarrassing moments to UFOs — and, of course, those Emmy nominations. 
"You know what's funny is, I'm no longer writing on the show," says Kirkman after being congratulated. "Right now they're writing Season 3 — and I keep forgetting that the nominations are for Season 2, and I wrote on that! Although I don't get to have an Emmy of my own, I still get to say I was part of it, which is awesome."
Maybe I'm wrong, but I can absolutely hear your style and voice in some of Midge's stand-up performances.
I say this with no modesty, it's not my voice — that's what a miracle working on that show was. The pilot was written and filmed before the creators even knew I existed on the planet earth, swear to God. Someone at Amazon, because of who Midge already was, said to the creators, "Oh, you know, there's this Jen Kirkman person, we'd love to bring her to Amazon." And I got the job because they needed some stand-up comedians to consult. So myself and Noah Gardenswartz, in Season 1 and 2, we got to be in the writers' room for every step of the process. But we were hired because we were stand-ups. So truly, truly, truly what you're seeing with Midge is Amy Sherman-Palladino's brainchild.
I listen to your podcast, and I love the format of it, although I guess there is no format to it. Is it fair to call it a diary?
I think it's fair, yeah. I'm a big Howard Stern fan, and the first hour of a show, typically, is him talking to Robin [Quivers], his co-host, about anything — his opinion on something in the news, or his parents visited him and how that went — and I think of [my podcast] as that minus the co-host. And obviously minus the brilliance of Howard. It's supposed to be about what went on that week, and sometimes — since all I do is travel and I don't want it to become, like, boring travel stories — I'll get into talking about things of interest, like reading crazy articles about things going on. I do touch into the supernatural a lot on my show. I tend to read out loud any article that comes out about UFOs being spotted that gets no attention in the press.
I'm not a performer, but it seems like it would be kind of intimidating to sit down with no plan.
Truth be told, that's kind of how I started stand-up. I've always wanted to be this thing that doesn't really exist anymore, like sit on a stool and tell stories. If it's funny, great, if not, whatever. You can't do that for a living at comedy clubs, so this to me feels the least intimidating because I care about what I'm saying, but you don't have to respond in any certain way for it to be a success. If people laugh, that's great. If they cry, that's great. It's just meant to be a one-way conversation, me talking to you while you're driving or doing your dishes.
The reason I actually started doing it — I think I started it back in 2013 — I was on Chelsea Lately at the time, and I was on Drunk History at least once a season, and I think people thought I was the fun-time party girl. There were a lot of people at my shows like, "Woo! We're getting wasted." And I was like, "Oh, I'm totally misrepresenting myself." So I wanted to show the side of myself that was more of a curmudgeon, more like someone who wants to talk about making lists [and] all the boring things I'm into. 
Did you find that it was hard to be funny after Trump's election, or have you always been like, "Let's take a minute to just laugh together and find some humor in something because that will help us get through this"?
I've gone through so many phases with it. And honestly, I'm not a comedian because I'm earth's happiest, funniest person. I've always been a depressive and whatever. So a lot of times, comedy came from things I don't like. ... [Seinfeld has] this famous bit about where the socks in the dryer go, and he was saying in an interview that that comes from complete anger. The real-life version is a guy raging at the dryer because he can't find the other sock. And that rage turns into observational humor. I don't think all comedy comes from anger or depression, of course, but it's usually the little things that frustrate us, and it's been harder to find the little things that frustrate me without sounding trite. It certainly doesn't work as well on Twitter anymore. You can't be like, "They got my coffee wrong at Starbucks," because here comes an army of people like, "There are children in cages." I'm like, "No, I know, I know." 
I think when we all go to a comedy club or a theater to see someone, we've all agreed that we're going to talk about stuff that isn't that important, and that it's OK.