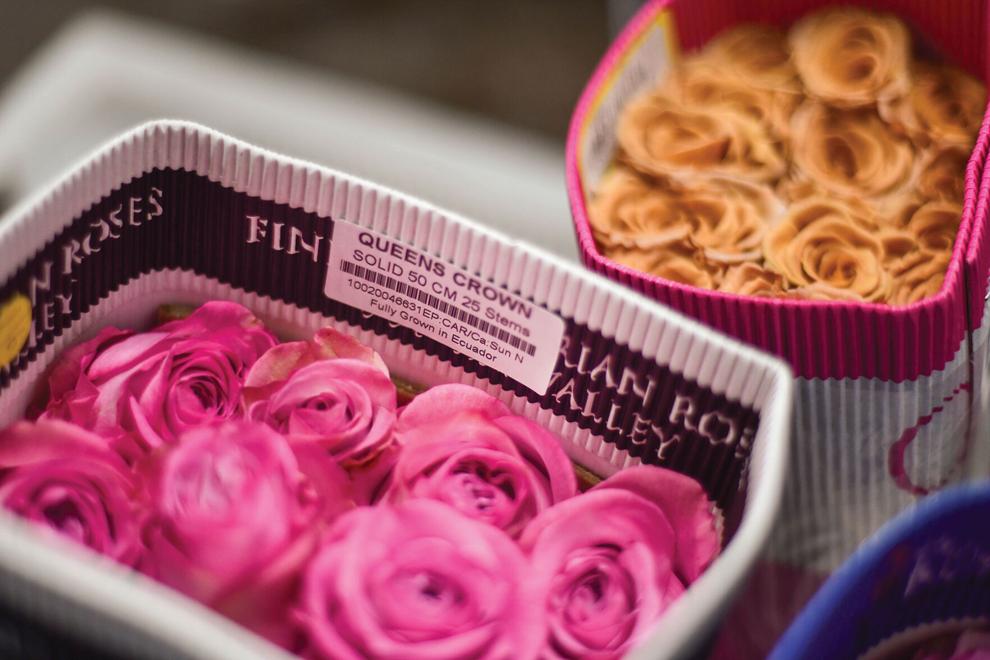 If you're lucky, the roses in your Valentine's Day vase came from Ecuador. That's where all the best roses come from, says local florist Alex Vaughan, co-owner and creative director at Nashville-based floral boutique FLWR. 
Valentine's Day presents a conundrum for Nashville's florists and floral wholesalers — it's the largest demand they get all year, but it's during a time when flowers don't typically grow in Middle Tennessee. Locally based flower wholesaler Dreisbach Wholesale Florist starts planning orders to stock shops for Valentine's Day in December. This week, coolers will be filled with hundreds of thousands of blooms flown in from California, Canada, Holland, Chile, Italy — and of course, Ecuador. 
"People want flowers in February, and we probably will never have flowers in February in Middle Tennessee, unless we spend just as much carbon heating greenhouses [as we'd spend having them shipped]," Vaughan says. "As an industry, I think that we do have a responsibility to try to minimize that and do what we can. We're going to participate in Valentine's Day as a flower shop, because as a business, you have to. But those flowers are going to come from somewhere else." 
Shops like FLWR try to source their flowers locally as much as possible, but the farms here are much smaller than abroad. Most are "one-woman shows," Vaughan says — with nowhere near enough manpower (so to speak) to supply a shop. 
International flowers travel on passenger planes, often to Miami, from where they are subsequently trucked to Nashville. The flower industry saw two issues when it came to keeping their shops stocked during the height of the pandemic, though the issues have since eased up. First, there were fewer passenger flights, and therefore fewer flower routes. And then, planes became so packed with passengers that there was no room for the flowers in addition to all of their luggage. Southwest's infamous recent cancellations affected the California flowers' trip to Nashville too, Vaughan says.
Prices for flowers are higher than Crystal Edwards has seen in her 20 years in the industry. Edwards, who is currently the assistant general manager at Dreisbach, attributes this to higher shipping costs.   
"All the pricing is way more than I've ever experienced," Edwards says. "If it's a sticker shock to me, it's a sticker shock to our customers, and of course it's another sticker shock to their customers." 
It's a simple equation of supply and demand, says Vaughan. FLWR is prepared for 250 arrangements, compared to between 20 and 30 on a normal day. 
"I feel like people have this perception that everyone is just jacking up the prices because they can," Vaughan says. "If you just think about basic supply and demand, that's not what's happening. All of a sudden, on this one day, millions and millions of people want flowers. Of course it's going to be more expensive."
Even in an evermore digital world — and even with higher prices — people are sticking with the classic Valentine's gift. In fact, FLWR has seen demand grow a bit in each of its seven years, Vaughan says. A rose costs $2 to $3 each from the wholesaler, and shops will need to triple each stem price to be profitable. To get more bang for your buck, Edwards recommends hydrangeas, which are around the same price and take up more space than a rose.
"You're gonna pay a premium price for roses, where there's a lot more flowers that are a little more economical that you can mix in," she says.
When Edwards started in the industry 20 years ago, the Valentine's standard was roses and baby's breath. But in the past few years, it's diversified, with more requests for mixed arrangements. At FLWR, a dozen roses isn't even an option. The most popular choice is a mixed arrangement, but in shades of red and pink.
"If you know a little bit about what your person likes in flowers and just give some basic information and allow the florist to make something beautiful based on that info — that's how you're going to get the best product," Vaughan says.  
The local flower shop is going to have higher quality flowers than the grocery store, and they'll put more effort into arranging them, Vaughan notes.
"Florists are going to artfully arrange them into something that's more than the sum of its parts," Vaughan says. "That is the true gift that you're giving. A small ethereal piece of art that won't last, which makes it a luxurious and beautiful gift."