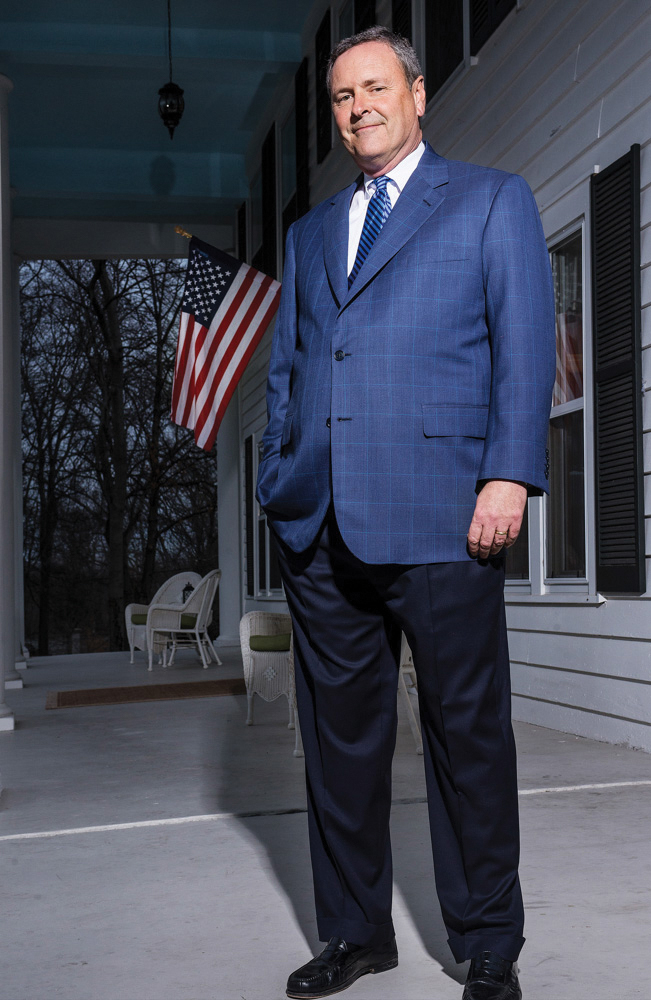 Three weeks ago, District Attorney Glenn Funk spent the day in a Williamson County courthouse as part of a case involving David Chase, a man attacking him in Nashville in a separate lawsuit related to the fallout from a 2014 domestic abuse case. Strange to see? Sure. But the two have a common target: the media.
In February, the Scene, NewsChannel 5 and WSMV-Channel 4 all ran stories based on depositions in a defamation suit brought by Chase against Lauren Bull — his accuser in the domestic violence case — and eight others. Among the details tucked away in hours of video testimony by Chase, his mother Sandra and his father Dean was the allegation that PR man Bill Fletcher sought $2 million from the Chases to make all of the assault allegations go away. How was he going to do that? That seemingly would have required the cooperation of Nashville District Attorney Glenn Funk.
Fletcher denied asking for the money. Funk denied ever hearing about such a scheme. It was a sensational set of allegations in the sworn testimony of participants in a legal case. In the aftermath of the stories, Funk filed a libel suit against NewsChannel 5 and Phil Williams, saying the reporter's version defamed him.
Fast-forward seven months to September, and the attorneys for David Chase are angry over the leaked depositions and seeking sanctions from the court. They obtained subpoenas in an attempt to force reporters for the Scene, NewsChannel 5 and WSMV to reveal their sources — something all have refused to do.
In the course of a full day of contempt proceedings, Brian Manookian, counsel for several of the defendants, testified that he was the source. The media organizations have refused to participate and have told Chase's attorneys that they will invoke the state's shield law and move to quash the subpoenas if there is an attempt to force reporters onto the witness stand. This is a pissing match between lawyers.  
Enter Glenn Funk.
In an affidavit filed with Judge Michael Binkley's court under seal and then again in sworn testimony at the hearing three weeks ago, Funk says the Scene revealed our source to him, something that would jeopardize our shield privilege and deny us protection from testifying. From the court transcript:
Funk: I do not know where [Channel 4 reporter] Jeremy Finley got those materials. I only know what Steven Hale told me where he got the materials.
Brian Manookian [attorney for Lauren Bull and others]: And your testimony was that he said "Brian," but you think he might have said "Brian Manookian."  Do you have any clear recollection as you sit there today whether or not he said "Brian Manookian"?
Funk: It may have been "Brian Manookian." I know for sure he said "Brian." It was already fairly obvious that potentially it was Brian Manookian who was disseminating this information. When he said "Brian," I was a little bit surprised that he would say where he'd gotten the information.  And I certainly had not asked where he had gotten the information, that just came out of Mr. Hale's mouth as far as why I did not need to send to him the documents that I had received from Mr. Finley.
There's only one problem with Funk's testimony — the Scene has a recording of the conversation between Hale and Funk, and it differs from Funk's recollection. From the relevant portion of the recording on Feb.:
Steven Hale [Scene reporter]: I think Dorinda [Carter, Funk's assistant] told you what I'm calling about, and I gather you're aware of the Channel 5 story. I'm about to publish a story about the same documents and allegations and all of that.
Funk: First of all, can you tell me what — I'll tell you, my first knowledge of any of the Chases' statements that someone had asked them for $2 million was through reading a court filing in October 2015. The first time I saw any excerpts of depositions was when Channel 4 gave them to me in January of 2016, just a couple weeks ago. I don't know what you got. All I've ever seen is a portion of Dean Chase's deposition, pages 29 to 32, and then 105 to 112, and then 121 to 124. And then I was given Sandra Chase's deposition, pages 81 to 84, and 113 to 116, and then 121 to 124. Do you have any more than that?
Hale: Well, I have those depositions. Those are the parts, I gather — forgive me, I don't know the page numbers off the top of my head — where they talk about Bill Fletcher coming to them and asking for $2 million, and it's Sandra Chase's deposition where she says that it was their inference, it was their perception, that this might've been for a bribe or something. The question I wanted to ask you, and you've sort of answered this if I'm hearing you correctly, you said you first were made aware of this through a court filing in October of 2015. But what I wanted to ask you was whether you had any — did you talk to Bill Fletcher at all about this?
Funk: Absolutely not. Katy Miller from our office was handling the case. Because it was a high-profile case, she kept me advised of the status of the case. So, I participated in a couple meetings that she had with defense counsel …
As you can see, Hale never mentions the identity or possible identity of the source. 
Here is a transcript of Funk's testimony in court and here is the full transcript of his conversation with our reporter. When someone as powerful as the district attorney says we are offering up confidential sources at the drop of a hat, it harms the reputation of the paper, both with the public and with potential sources. It's simply not what the transcripts above show. 
It's entirely possible that Funk simply misremembered. Not every second of the conversation is recorded, but the relevant portions where Funk discusses the depositions are, and it's important to set the record straight when public officials testify to something while under oath. It's verifiable that Hale never named his source during the recording, and he says that he never identified the source at any other time.
We gave the D.A. a chance to clarify.
"It was stated in open court by Mr. Manookian that he hand-delivered documents to Channel 4 and emailed it to Channel 5, relative to the David Chase case. When General Funk was asked on the witness stand about the documents, he was surprised that the Nashville Scene was brought up," Funk spokesman Ken Whitehouse says. "He remembered very vividly this part of the conversation, however in reflection — while he would take a lie-detector test as to his recollection of the case and of the conversation — he will concede to Mr. Hale that it is possible that they have different interpretations and memories of the conversation and as to which documents were being referred to."
So, why was Funk in Franklin anyway? Because of his suit against Phil Williams and NewsChannel 5, he has a direct interest in the outcome of these contempt proceedings. Lawyers for the two sides in the Chase case disagree as to whether or not the depositions — the ones that were the basis for the stories — were under seal. Lawyers for Funk in his libel suit argue that Williams' fair reporting privilege doesn't exist if the documents were sealed, but if Judge Binkley were to rule that they are part of the public record in the Chase case, it could harm Funk's case against Williams. 
The Scene asked Funk about that interest.
"I am not a party to the Williamson County lawsuit. I am not a party to the petitions for contempt in the Williamson County lawsuit," Funk says. "I was asked to be present in court on Sept. 23 because I was advised that the court might want to hear testimony from me, and so I was present, and when called to the stand I answered the questions."
There was no love lost between Williams and Funk even before the Chase case and libel suit that followed. A series of stories by Williams in early 2015 showed that Funk sought and received a job with the state, one that entitled him to a larger state pension, months before he was sworn in as district attorney in 2014. Tennessee Attorney General Herbert Slatery's office agreed that the setup was improper, but dropped the matter when Funk repaid what he had received.
Meanwhile, over in federal court, Judge Aleta Trauger has kept alive (barely) Chase's civil rights suit against Funk, centering on whether or not Funk withheld dropping charges against Chase until Chase dismissed a federal suit against Metro. 
If that sounds like a lot of lawyers (and legal bills, some of which taxpayers will cover), it is. That's three different cases the district attorney is involved in that have little to nothing to do with the reason he was elected — to enforce the laws in Nashville.