When we last saw the Nashville Predators, they were getting crushed. 
Their first-round playoff series against the eventual Stanley Cup champion Colorado Avalanche in May was never close. The 21-9 score differential after four games was proof enough of that. 
A couple of months earlier, dry-witted Calgary Flames coach Darryl Sutter expressed regret for whichever wild-card team drew the Avalanche, saying it would be "a waste of eight days." But the Predators proved Sutter wrong. They wasted only seven. 
If ever there were a time for the Predators to change direction, this was it. Their loss to the Avalanche marked the first time they were swept out of the playoffs. Their last series win was four years ago.
Instead, the rebuild-averse Predators doubled down. Coach John Hynes — who, to his credit, has done more with less throughout his tenure — received a new two-year contract. General manager David Poile retained the full support of ownership. Past Luke Kunin, no notable players were shipped out of town.
As the 2022-23 NHL season begins, the Predators' roster looks better than it did a few months ago, thanks to some savvy offseason moves. Skepticism remains, however, about how far they can go, and understandably so.
Poile was deliberate in addressing his team's needs during the summer. To help on defense, he brought in Ryan McDonagh from Tampa Bay. In 12 seasons with the Lightning and New York Rangers, McDonagh has never missed the playoffs, winning the Stanley Cup twice in three trips to the final. His 185 career postseason games are second most among active skaters. As he has gotten older, the 33-year-old McDonagh has settled into a shutdown role, which is how the Predators intend to use him — likely on a pair with Mattias Ekholm.  
The Predators also needed an experienced scorer to play in the top six. Center Ryan Johansen spent much of last season lugging around unproductive wingers Kunin, now in San Jose, and Eeli Tolvanen on the Predators' second line. 
For that reason, free-agent signing Nino Niederreiter is a definite upgrade. The 30-year-old power forward scored 24 goals for the Carolina Hurricanes last season, as many as Kunin and Tolvanen combined. Niederreiter's prowess around the net and on the forecheck will be valued by Hynes.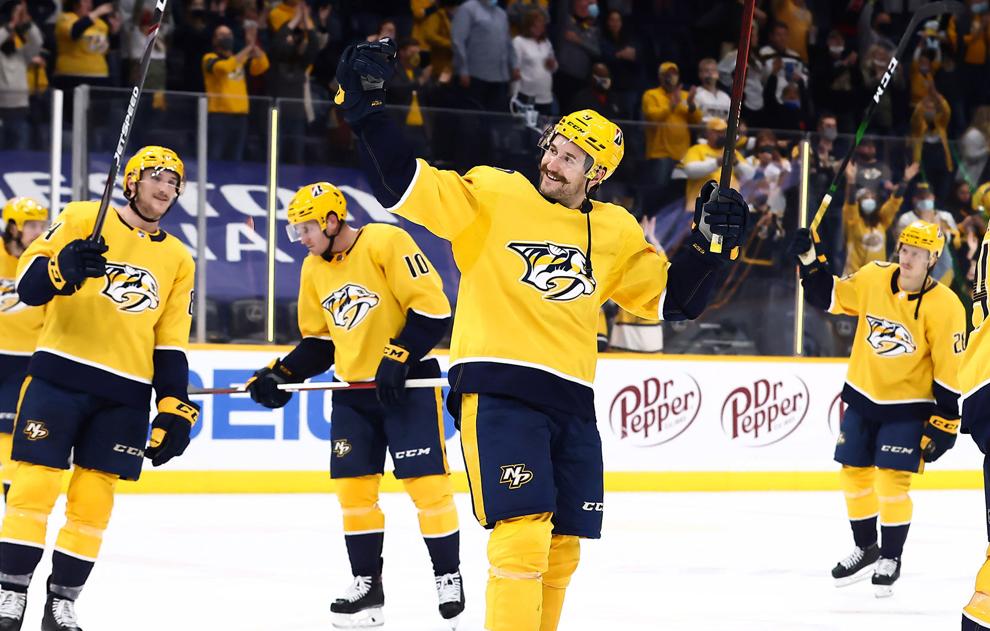 "I was pumped," Predators forward Matt Duchene recently said about the acquisitions of McDonagh and Niederreiter. "I said last year even, '[McDonagh] might be the hardest guy to play against in the league.'… [Niederreiter] has been an unbelievable player his whole career — just a great two-way guy, heavy, hard to play against, physical and can score. The big thing is they fit in with the kind of team we are. They make plays, but they play hard. I think they're a perfect fit for us." 
McDonagh and Niederreiter should make a positive impact, but the Predators' success largely depends on certain core players being able to replicate their career-best performances from last season.
Winger Filip Forsberg got paid after scoring 42 goals, signing an eight-year, $68 million deal in July. Was Forsberg's long-awaited breakthrough a sign of things to come or a money-driven one-off?
Duchene also crossed the 40-goal threshold for the first time and will be counted on to do so again. No one expects captain Roman Josi to have another 96-point season. After all, it had been three decades since a defenseman put up that many. Still, Josi shoulders more responsibility than any player on the team, with the possible exception of goaltender Juuse Saros. 
When Saros hurt his ankle in late April, an injury that kept him out of the playoffs, the Predators' season was effectively over. Although Saros said that his league-leading 67 starts did not contribute to his injury, he seemed to fade down the stretch. Saros undoubtedly gives the Predators the best chance to win, but there is risk in relying too heavily on him. 
Locally, faith in the Predators has fallen sharply since reaching its zenith in 2017, when the team made a surprise appearance in the Stanley Cup Final. In a front-office confidence poll conducted by the Athletic in August, the Predators ranked 25th out of 32 teams, down from No. 1 five years ago. 
To restore that confidence, there must be some sign of progress. At a minimum, the Predators need to win a playoff round, and even that might not be enough to convince a disillusioned fan base. 
A group of players has only so many chances to win the big one. It can be argued that this group has been given more chances than it deserves. 
Nevertheless, the Predators persist, hoping this is the year they finally get it right.