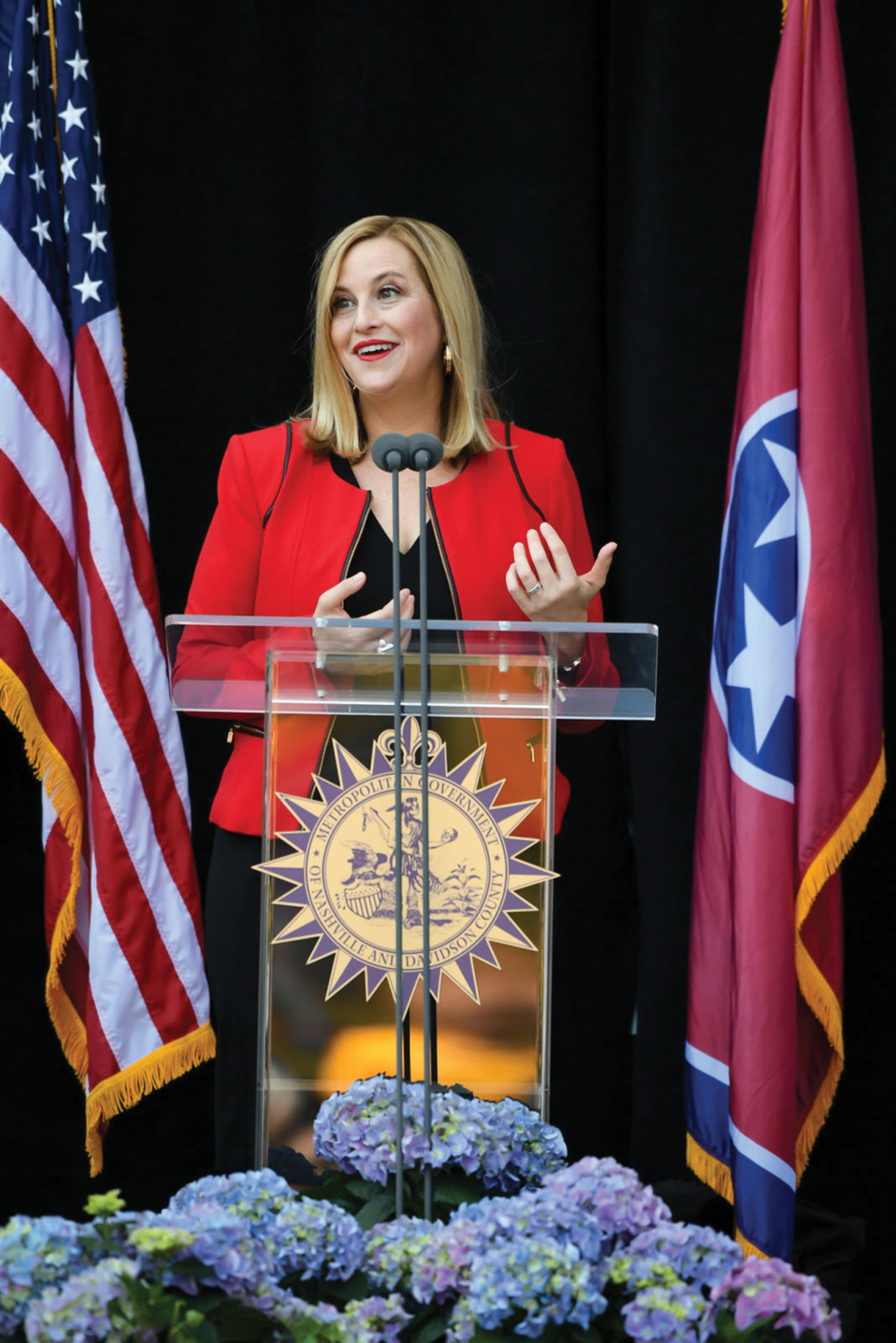 Megan Barry has spent the past decade in public life, and for most of that time her political persona has been defined by the tension between her resilient progressive reputation and her more cautious, moderate record. Those attracted by the former, it seems, are destined to be frustrated by the latter.
That dynamic was on display early in her tenure as Nashville's mayor — see the clearing of the Fort Negley homeless camp — and as she nears the end of her second year in office, it has arisen again. In Donald Trump's America, the friction is all the more apparent. Barry remains a popular mayor, and while her administration is probably pursuing a different agenda than the one that would have come from, say, a Mayor David Fox, she has caused consternation among some people otherwise inclined to support her. 
Most recently, immigration activists and some on the Metro Council were left feeling as if they'd crawled out on a limb only to see it sawed off by an administration that they'd hoped would be an ally. Barry had remained neutral on legislation restricting Metro's cooperation with federal immigration enforcement agencies, and one of two ordinances had been advanced on second reading by a 25-8 vote at the council. But a week before the bill was scheduled for a final vote, the Metro Department of Law gutted a key part of the ordinance in an opinion that argued the bill would not apply to the Davidson County Sheriff's Office, the local agency that works most closely with Immigration and Customs Enforcement. The legal opinion was immediately followed by a statement from Barry in which she asked the council to "reconsider" the ordinance. 
The next day, the bill's sponsors in the Metro Council — Bob Mendes and Colby Sledge — announced they were withdrawing the bill. Barry hadn't killed it, exactly. Vehement and vitriolic opposition had been flooding some council members' inboxes, and the bill had been swept up into the Republican gubernatorial primary. The legal opinion had provided an off ramp for council members desperately searching for one. 
But in the eyes of the bill's supporters, Barry's statement went further than it had to. Activists maintained that the bill would have been worth passing even without the provision relating to the sheriff's office. Instead of backing them up, though, Barry — under increasing pressure from the Republican-controlled state legislature — had foregone the chance to champion the bill on the front end and then, in their eyes, dealt a major blow to it when things got tough. 
Their statements following the bill's withdraw a betrayed their sense of, well, betrayal. As the Trump administration was making various moves to crack down on undocumented immigrants, creating a sense of instability and fear in immigrant communities, Barry had announced that Metro police would not act as immigration police and insisted that Nashville would remain "a warm and welcoming city." Those words were featured prominently in statements from activists and council members reacting to the swift death of the council's immigration bill.
"Nashville has long prided itself on being a warm and welcoming city, but in the face of right-wing hate and bigotry, city leaders are choosing fear over welcome, inaction over courage, and calling on the Metro Council to shelve BL-739, the Nashville Together ordinance," read a statement from the Tennessee Immigrant and Refugee Rights Coalition, one of the primary organizations behind the ordinance. 
TIRRC declined to comment for this story, beyond the public statements they've already made. The bill's sponsors made it clear that the administration's response to an escalating debate over the bill was deflating. 
"I'm incredibly disappointed, I think everyone who was involved with it was incredibly disappointed," Sledge tells the Scene. "I don't think they wanted us to bring it, for one thing, and I think that became clear with Metro Legal's opinion. I also don't know that they expected it to get that far, so it was sort of a second punch in the gut to have really gotten a lot of support in the council and with a lot of different advocacy groups in the city and then all of a sudden to see it reverse so quickly." 
Vice Mayor David Briley, who'd been supportive of the bill since it was introduced, was primarily disturbed by the legal opinion and its reliance on an ordinance from the mid-1800s. 
"I disagree strongly with the law department's legal analysis, I think it's just wrong on a legal basis," Briley says. "I think their reliance on an ordinance that dates back to the slavery era is deeply concerning, because of what all laws were organized to do back then and because of the jail's very important role in sustaining and maintaining the institution of slavery. Slaves were taken to our city's jail in the 1850s and became property of the state. There's no equivalence really between what we're confronting now and the era of slavery — it's not equivalent, but it's related. So it really troubled me that our city was reaching back to that era to justify a legal decision, and I don't think that was right." 
Briley doesn't criticize the mayor's decision to remain neutral on the bill. She has a different job than he does, he says. But he does suggest something was lacking in the administration's handling of the decision to urge the bill's withdrawal. 
"The advocates for these ordinances are smart and sophisticated and understand the pressure the state has and will put on the city," he says. "I think what needs to be said by our city at the same time is, 'Yeah, maybe we gave up to the state, maybe we had to. But we know morally the right thing to do was to pass the ordinance, and we know morally the right thing to do is to protect people in our community who need protection.' "
Outside of the courthouse, some saw the whole episode as a missed opportunity. Sarah Martin, an active progressive and former Metro Council candidate, expressed her disappointment following the release of the mayor's statement.
"She wields a lot of power, and when she has the opportunity to use it for good, she doesn't," Martin said via Twitter.
Indeed, some other municipalities facing opposition from blood-red state legislatures have decided to stand their ground. In Texas, both San Antonio and Austin are suing the state over a harsh immigration law. 
Barry spokesman Sean Braisted says the mayor "shares the same passion for our immigrant and refugee community as the sponsors of this ordinance," and that the bill's withdrawal was not "a signal that we shouldn't continue to come together as a city to take these issues seriously, but rather that we must do so in a way that is legally sound and sustainable." 
That explanation won't soothe activists and bill sponsors who disagreed with Metro's legal analysis and wanted to see the bill go forward despite it. And the administration still declines to say what the Davidson County Sheriff Daron Hall ought to do, regardless of what the law allows the council to make him do — Braisted says only that "voters will have to decide if the sheriff's practices reflect their values." 
The most significant factor in the mayor's approach to the immigration debate, though, seems to be an unwillingness to poke the bear — much less take it to court — when other goals, like a multibillion-dollar mass transit plan, are at stake. Braisted also raises the possibility of punitive overreach by the state that could land hardest on Nashville's immigrant community. 
"In Tennessee, our state legislature aligns with the values of President Trump more often than not," he says. "As such, we must be honest with ourselves and our residents about the power of local governments in Tennessee to impact federal immigration policies. State law already limits our authority on these issues, and we must take into consideration possible state legislative overreactions to local efforts — overreactions that could harm the very new Americans we are trying to protect."  
That may be true. It's also little solace for a group of Barry's strongest supporters itching to make a stand.