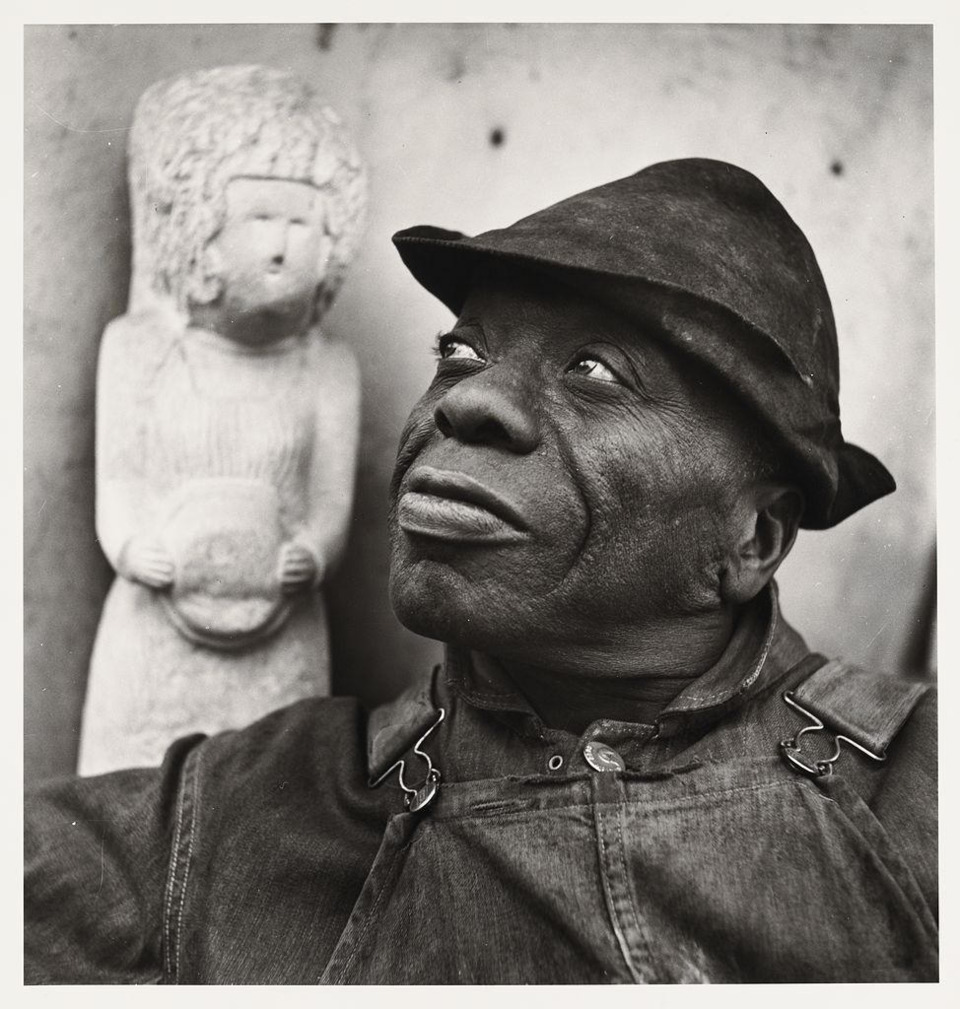 Long story short, William Edmondson was one of the most important artists to come out of Nashville. Born in 1876 to sharecroppers on the Compton farm (which was at the corner of Hillsboro and Harding), Edmondson and his mother and many of his brothers and sisters moved to Edgehill, where William took up sculpting. He was the first African American artist to have a solo show at MoMA. And he made a lot of headstones, many of which are still standing in Nashville and the surrounding area's African American cemeteries.
I made it my mission to do a census of all the Edmondson headstones, just for my own curiosity. I knew, based on the known headstones, that Edmondson made headstones for family, friends and neighbors, and that the headstones were placed in what had been originally old Benevolent Society cemeteries — or in the cases of Toussaint L'Overture Cemetery down in Franklin, or Greenwood here, African American cemeteries where many Benevolent Society members were buried.
So I started searching out old Benevolent Society cemeteries and old Black cemeteries in general. I've been to both Briarville cemeteries. I've been to Bryanttown Cemetery. I've been to cemeteries so remote that even the no-see-ums seemed confused to see me there. And I've been to the Edmondson Cemetery in Lake Providence.
Cheekwood has in its collection a tombstone William Edmondson carved that had been in the Edmondson Cemetery. That marker, for Mary Alice Whitlow, was removed by the family in the wake of massive vandalism at the Edmondson Cemetery. Mary's husband Alfred was William Edmondson's cousin. There's a large Edmondson family from that part of town, known as Lake Providence, and later as just Providence (more on that in a minute). Many of them are buried in the Edmondson Cemetery.
The furthest back I could trace the Lake Providence Edmondsons was to a man named Cayger or Lakayga, born in the early 1820s. He had a son named Green, a daughter named Sarah, and a son named William.
William, the artist, had a sister named Sarah, and his dad and brother were named Orange. I can't tell you how hard it is for me to believe that the Edmondsons with a William, a Sarah, and a Green and the Edmondsons with a William, a Sarah, and two Oranges aren't related — especially considering that the cousins of William the artist ended up buried in the same cemetery as the family of William, the other dude. But I haven't been able to figure out the connection, if there is one.
But I wanted to tell you about Lake Providence. Or at least, what I know of it. Lake Providence was an African American community that sprang up in the aftermath of the Civil War. It was located at the intersection of Edmondson Pike and Nolensville Road. A lot of people assume that Edmondson Pike was named for William Edmondson, but the truth is that there were a lot of very wealthy Edmondsons (and Edmistons — same family) who lived in what is now the Brentwood area, stretching from Nolensville Road clear over to Hillsboro Road all along Old Hickory Boulevard.  Edmondson Pike is named for the white people who had plantations along it.
But a lot of street names in the old Lake Providence area still have the names of the Black people who built the village — Wallace, Goins, Taylor, Winston, Maxwell. I haven't been able to get a good sense of the boundaries of Lake Providence. It certainly didn't reach farther north than the Croft farm (which is now the zoo), but there are enough tiny Black churches south of Old Hickory to suggest a sizable group of people lived in or near Lake Providence. It had two cemeteries, stores, churches, a school. Lake Providence Missionary Baptist Church is now south of Old Hickory Boulevard, but it was originally up in the village proper. It was an incredibly stable community. Families I found in Lake Providence in the 1870s were still in the village in the 1930s. Families had thriving and prosperous farms. They made good lives for themselves.
I have been thinking a lot about the disappearance of Lake Providence from Nashville's collective memory. And honestly, I think the thing that made Lake Providence easy to forget was that it thrived. People had happy lives there. And if the dominant social narrative is that Black people need white people to boss them around or they can't function, white people don't really want to see or remember thriving Black villages.
But that area of Nashville is still an area where minority populations come together and thrive on their own terms. The old ethos of the community lives on, even if its name has been mostly forgotten.