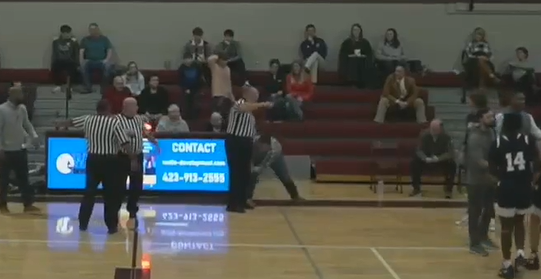 Fights and freakouts happen in sports. Tempers flare, egos get bruised and benches clear. Some are infamous, others hypnotizing scenes of chaos: Metta Sandiford-Artes charging a fan, Rougned Odor's vicious hook to José Bautista's face, Phil Wellman throwing a base and lobbing imaginary grenades.
Rep. Jeremy Faison might not join their ranks, but it's not for lack of trying.
The Cosby, Tenn., rep and House Republican Caucus chair caused a scene at a Tuesday night basketball game between Lakeway Christian Academy and Providence Academy when, following a scuffle on the court, he got into a referee's face. Following some pointing and shouting, Faison — who has a son on the Lakeway team — seemingly tried to pull the ref's pants down. That's what it looks like in some video shared by Tennessee Holler, for sure, which you can check out below.
The full game can be seen in the back half of the Providence Academy Facebook Live stream.
Faison posted an apology on social media, saying he "totally lost my junk" at the game. But he said nothing about the alleged attempted pantsing. So far, Faison hasn't responded to requests for comment about the incident.
The Scene spoke with an attendee of the game who says he witnessed the moment.
"It started out like most basketball fights, a little pushing and shoving," says Dawson Rule, "and then all of a sudden I see that guy jump from about three rows up in the stands onto the court and he gets into the skirmish."
Rule, a junior at Eastern Kentucky University and friend of one of the Providence players, says Faison wasn't pushing people around but was getting into the faces of players and officials before ultimately calming down. "And then a couple seconds later he stepped back towards one of the officials and tried to pull his pants down, when he got tossed. And that's when they threw him out of the gym."
And yes, he's sure Faison was trying to pants the ref.
"He went for one good pull and it didn't work, and then I think after that he kinda caught himself," says Rule. "And he had been thrown out by then, so just he stormed out in a big heat."
Rule studies sports broadcasting and calls play by play at high school games. He says he's seen fights at games before but was surprised the man in this incident was an elected state representative.
"Just in my view, if you're in a public position like that you shouldn't be doing that at a local high school basketball game," says Rule. "And the weird part was, his team was up by 10, so I don't know what he was mad about."