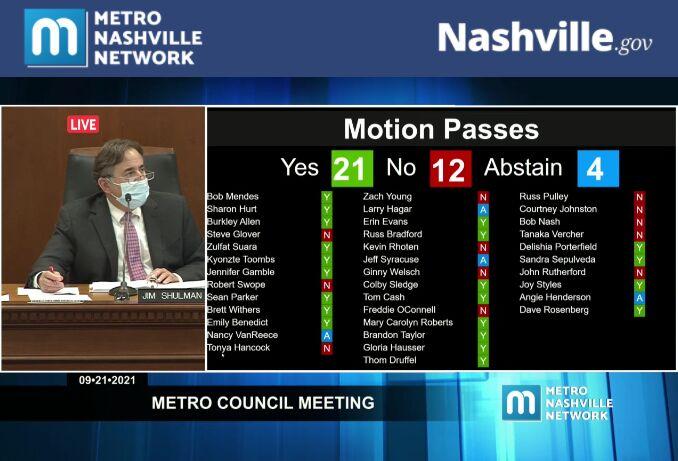 After Nashville's public health director declined to bring back a countywide mask mandate earlier this month, the Metro Council on Tuesday night narrowly advanced a bill that would implement one by city ordinance. 
Following some debate, the bill passed on the second of three required readings by a vote of 21 to 12, with four councilmembers abstaining. On Sept. 7, the council passed a resolution urging the the Metro health department to put a mask mandate in place as it did during an earlier wave of the pandemic last year. But city health officials are resisting a return to those sorts of interventions and restrictions, in large part because of the presence now of highly effective vaccines, but also out of fear of preemption or retaliation from state lawmakers. 
Councilmember Joy Styles, who sponsored the resolution on masks as well as the proposed ordinance along with other members, has argued for a mask mandate to help quell the Delta wave that is straining hospital resources and has made Tennessee one of the world's leaders in new COVID-19 cases. The city's COVID-19 death toll recently surpassed 1,000 people. 
After the vote on Tuesday night, Styles said the city's relatively new public health director, Gill Wright, should be replaced.
I am so grateful for the support of SEIU in the quest to get a mask mandate and save some lives. It is ridiculous that we are still discussing this. BTW, we need yet another new Director of Health. This one is spineless. Enough. https://t.co/05i3M9OA8V

— JoyStylesforDistrict32 (@Stylesfor32) September 22, 2021
Councilmember Freddie O'Connell said he supports mask wearing, but he questioned the efficacy of a mask mandate. He said he would prefer to see more emphasis on plans to increase vaccination rates and improve air filtration in schools. 
Other councilmembers cited the difficulty of enforcing a mask mandate and a reluctance to contradict the health department as reasons for voting against the bill. 
In the end, the bill barely passed the simple-majority threshold needed to advance to a third and final vote. That decision will come in two weeks, and its outcome is likely to depend on what the COVID numbers look like then. There are some indications that we have seen the peak of the Delta wave. If that proves to be true, the proposed mask mandate ordinance is all but certain to lose some support. At-Large Councilmember Bob Mendes said he voted for the bill so that the council could move forward with it next month if it needs to.
Prediction: If the apparent peak in delta cases sticks & numbers decline over the next two weeks, there is essentially no chance of this passing on third reading. I was an aye today to preserve the Council's chance to act at the 10/5 meeting if the apparent peak doesn't stick. https://t.co/YkWQ85g9yi

— Bob Mendes (@mendesbob) September 22, 2021