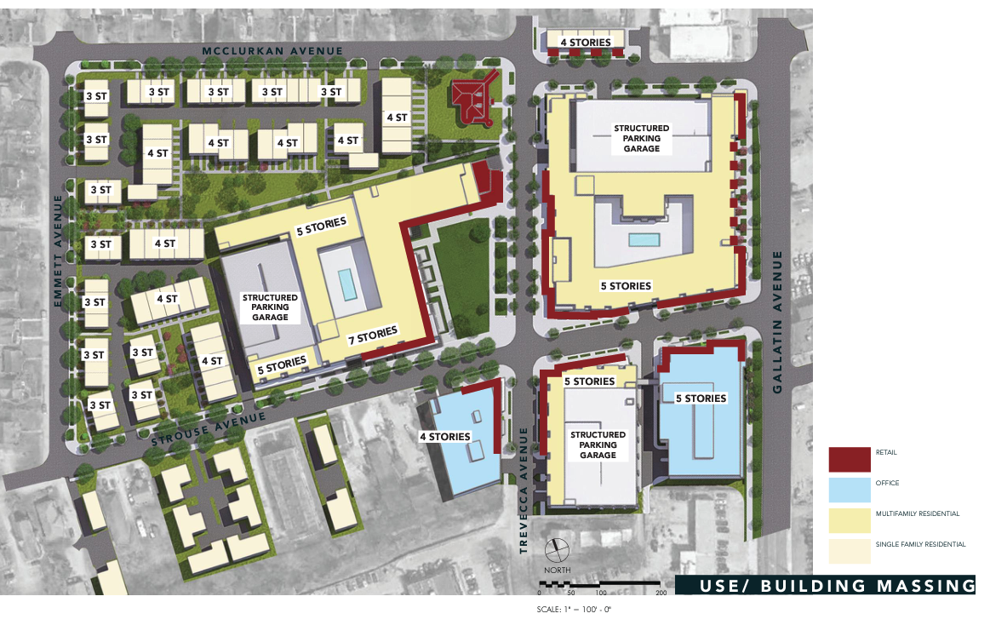 Many locals believe Gallatin Avenue, designated an "Immediate Need Multi-Modal Corridor" by the NashvilleNext plan, needs some serious improvements when it comes to walkability and transit. And a major new redevelopment plan for the Lincoln Tech campus in East Nashville has put a spotlight on the question of the busy corridor's viability for new businesses and retail storefronts.
Southern Land Company held a series of community engagement meetings this week to present its plan for the property, which SLC currently has under contract for purchase. Notably, the plan for a mixed-use development did not include any retail space directly on Gallatin, and instead pulled all active-use space into the middle of the development at the intersection of Strouse and Trevecca avenues. 
"We don't think there's a lot of commercial viability along Gallatin Road," said Ben Crenshaw during the Lincoln Tech redevelopment open house on Wednesday afternoon, which took place on the Lincoln Tech campus. Crenshaw, who is the head of design at SLC, explained that due to a lack of walkability on Gallatin, combined with a need for more transit options besides cars, Southern Land decided it would be best to make the developments lining the corridor office and residential space instead of retail space. 
Metro Councilmember Sean Parker, whose District 5 is bordered by a long stretch of Gallatin, has expressed approval for the plan, calling it a "great opportunity" to provide some active-use off of the busy corridor. He explains that Nashville's zoning policies push a lot of commercial and active use toward busy corridors like Gallatin. 
"And that's great," says Parker. "We've got a ton of awesome businesses there. But you know, they are noisy, they are rather polluted, and they are pretty unsafe for pedestrians and cyclists."
"I think that we can simultaneously maybe find other good spots for active uses than the corridor, and work to improve the safety and noise level and pollution on the corridor," Parker says. "I'd just like to see a world where maybe folks park their car one place and then they go get dinner and then they walk across the street, go to a show and then walk across the street again and get some drinks."
Tyler Cauble, the developer and owner of The Wash on Gallatin, also expresses support for more development of Gallatin's sidewalks and transit options. 
"I think everywhere in Nashville should be less accepting of cars and more accepting of walkable spaces," says Cauble, who points to the walkability of 12South as an example of the sort of development that could bolster business along Gallatin. "So yeah, I'd love to see more of those options up and down Gallatin."
To achieve this, Parker explains, some changes need to be made to the current plan for Nashville's roads. He says the plan currently in place is the same one that envisioned Gallatin having a light rail line running on it — which was handily voted down by Nashville voters in 2018.
"I think we need to update our vision for Gallatin for something that is maybe a little more achievable in the near term," says Parker. "That means prioritizing buses and pedestrians and cyclists more than they are today. It probably means reductions in vehicle travel speeds from where they are today."
The future prioritization of alternative transit is something notably taken into account in the Lincoln Tech redevelopment plan. No on-street parking is being allotted for the space where the development borders Gallatin, and SLC has plans in place to allow for an expansion of Gallatin.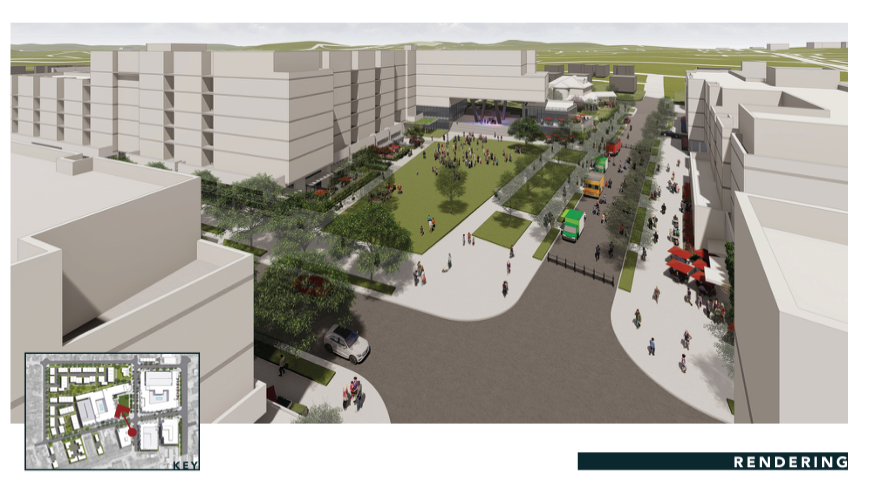 "When we said Gallatin needs some help, part of that is it needs to widen out a little bit, in case there is a dedicated [Bus Rapid Transit] lane," said Crenshaw at Wednesday's meeting. "Whatever Metro wants in the future, they're gonna want some more space, so we're allowing for another seven feet of widening in the future."
SLC director of public relations Jenna Lefever says the company was "very encouraged" by the public meetings.
"Our goal is to create a vibrant mixed-use community that will artfully serve the people of East Nashville as a walkable neighborhood center that enhances people's lives," says Lafever. "To achieve this, we've designed the project around the delivery of prominent public greenspaces that foster neighbor connectivity. Throughout the campus, we see significant opportunity to deliver pedestrian focused streetscapes and walkways that improve safety and accessibility throughout the area."
Back in 2013, the Scene covered public outcry over a proposed plan by then-Mayor Karl Dean for a BRT system called the Amp. The campaign against the plan was eventually successful, and the BRT proposal was canceled in 2015.