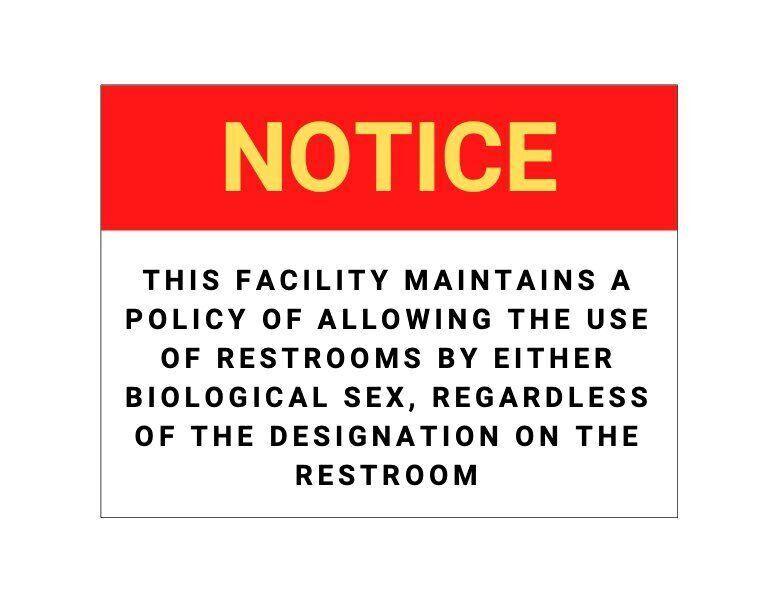 A federal judge has temporarily blocked a new Tennessee law that requires businesses and public facilities to post signage if they allow transgender people to use bathrooms matching their gender identity.
The preliminary injunction came down from U.S. District Judge Aleta Trauger Friday afternoon, two weeks after the the American Civil Liberties Union of Tennessee filed a lawsuit challenging the law on behalf of two Tennessee business owners.
In a release announcing the judge's order, the ACLU of Tennessee highlighted this part of Trauger's reasoning:
Restaurants and performing spaces are businesses, but that is not all they are; they are also among the most important physical locations in which communities — so often consigned, in this era, to electronic space — can gather and grow together in a manner rooted in a particular neighborhood, in a particular city, in a particular state. The plaintiffs have presented evidence that they have strived to be welcoming spaces for communities that include transgender individuals and that the signage required by the Act would disrupt the welcoming environments that they wish to provide. That harm would be real, and it is not a harm that could simply be remedied by some award at the end of litigation. 
Kye Sayers, owner of the Sanctuary — a performing arts and community center in Chattanooga — and one of the named plaintiffs in the suit, celebrated the ruling.
"I am glad the court saw that forcing businesses to display a sign that hurts transgender and intersex people is unconstitutional," Sayers said in a statement included in the ACLU's release. "These signs would have damaged our businesses and the environment we have tried to create for our community, customers, and staff."