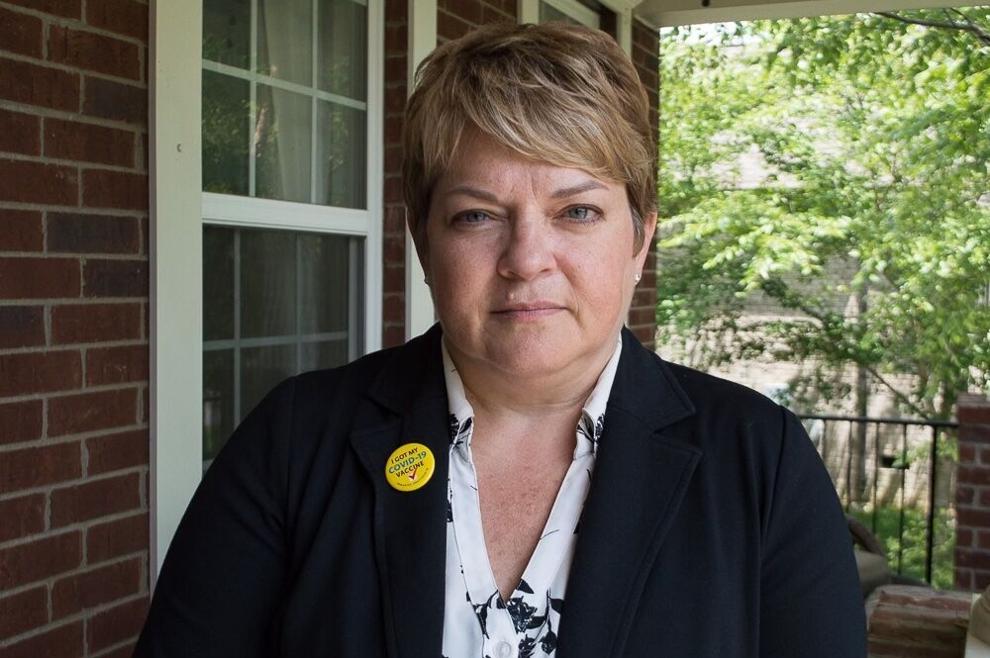 When she answers the phone on Tuesday morning, Dr. Michelle Fiscus is on her way out of Tennessee, driving behind a U-Haul truck that is carrying her family's life to a new home in northern Virginia. The latest development in the story of her controversial firing seems to have vindicated her account of one of the story's most bizarre details, but she says her family's relationship with the state was beyond saving.  
Just three months ago, Fiscus was Tennessee's top vaccine official, leading the state's Vaccine-Preventable Diseases and Immunization Program and heading up efforts get COVID-19 vaccines in more Tennesseans' arms. Then she signed a memo providing guidance to medical providers on a decades-old Tennessee Supreme Court doctrine that allows physicians to treat certain minors ages 14 to 18 without parental consent, and found herself in the middle of a political tempest. Republicans in the state legislature turned their ire on the Tennessee Department of Health and singled out Fiscus for what they framed as dangerous promotion of vaccines targeted at teens. Fiscus was ousted but refused to go quietly, and she quickly went from a longtime-but-mostly-anonymous pediatrician and public health official to the subject of national news coverage. 
But one of the most headline-grabbing details of the whole sordid saga was about an item Fiscus said she'd received in the mail nearly a week before she was fired. It was a dog muzzle, which came from Amazon and was delivered to her state office. Fiscus took it as a vaguely threatening message that she should shut up and defiantly shared pictures of it with the media while reiterating her intention to do no such thing.
"They obviously didn't know me, because they sent me a size 3, which is for Beagles, and I'm obviously a pitbull, which requires a size 6," Fiscus told CNN's Anderson Cooper.
But a little more than a month after Fiscus' firing, Axios' new local outfit reported what appeared to be a stunning revelation. Upon receiving the muzzle, Fiscus had reported it to the Tennessee Department of Safety and Homeland Security. At the time, she told reporters, she was skeptical that anything would come of the investigation because Amazon would not reveal who sent the muzzle and the state was unlikely to successfully get a subpoena for the information. She says that's what the state's investigator told her too, even returning the muzzle to her and apologizing that they couldn't figure anything out. But state investigators later did get a subpoena for the information and traced the purchase back to a credit card in Fiscus' name. 
The story raced around the internet just as fast initial ones about the muzzle and her firing — only this time with the suggestion, at least, that she was not a courageous official but an attention-seeking liar. The original Axios headline — "State investigation finds fired Tennessee vaccine official mailed dog muzzle to self" — was later changed to the more precisely correct "Probe finds evidence fired Tennessee vaccine official bought dog muzzle sent to her." Fiscus denied that she'd purchased the muzzle, suggesting it was done fraudulently. But the damage to her credibility was done. 
Earlier this month, Fiscus filed a federal lawsuit against the state and repeated her assertion that she did not purchase the muzzle in a sworn declaration. 
Now, Amazon is backing her up. Last week, WSMV reported that Fiscus received confirmation from the company that the muzzle was apparently purchased fraudulently, using a credit card she'd reported lost in 2020 and an account in her name. Fiscus also confirmed with American Express that the credit card used to make the purchase matched the one she'd closed last year.
Fiscus tells the Scene that the state will not give her the unredacted copy of the investigative report on her case or the IP address associated with the account that made the purchase. She's made it clear that she takes issue with the initial Axios story — a story quickly confirmed or aggregated by local and national outlets including the Scene — which was initially published without comment from her. Last week, she suggested the outlet owes her an apology. 
"That Axios story broke without doing its due diligence, and unfortunately their headline has had a pretty significant negative impact on me and my family," she tells the Scene.
"I would really like the muzzle thing to be put to rest," Fiscus says. "I hope [the Metro Nashville Police Department, which is investigating the incident] is able to find something out about the IP address that ordered it so that we can put that to rest. Because that's still very much hanging over my head, this accusation that I sent it to myself. It's impacted employment opportunities, I lost a national award because of it. I don't appreciate that tarnish on my reputation, and I look forward to getting to the bottom of that."
Fiscus declines to elaborate on the award she was going to win, or the organization that withdrew it, but she says it was going to recognize her for the stand she took over Tennessee's approach to the pandemic and vaccination efforts. As for her family's decision to move, her contentious firing and the maelstrom that followed it coincided with her husband Brad Fiscus' unpleasant experience on the Williamson County School Board during angry debates over mask policies in schools. She'll still be pursuing her lawsuit against the state and Tennessee Department of Health officials, but not from here. 
"I didn't ask for any of this," she says, driving east away from the state where she lived and worked for more than two decades. "I didn't want to have to leave and find another line of work and move my family. At the same time we've been in this community for 24 years, and what we've seen it turn into, in Williamson County especially, over the last six or seven years is just not something that we want to be involved in. It's just become toxic and kind of hate-filled and racist and lots of other bad things. Lots and lots of good people there, but there's an awful lot of really loud bad ones."