Mayoral candidate and Scene reader Carol Swain made a visit to the Islamic Center of Tennessee over the weekend in an apparent attempt to repair the damage done by things she has regularly said about Muslims. In particular, an op-ed she wrote in 2015 after the Charlie Hebdo massacre in Paris asked: "What horrendous attack would finally convince us that Islam is not like other religions in the United States, that it poses an absolute danger to us and our children unless it is monitored better than it has been under the Obama administration?"
Swain announced her visit to the mosque on her campaign Facebook page:
I visited the Islamic Center of Tennessee yesterday. We discussed my 2015 op-Ed written in the wake of the Charlie Hebdo attack in Paris that caused angst in their communities. I expressed regret that it seemed to blame all Muslims. As mayor, I intend to represent all Nashvillians and that starts with having an open and honest conversation in hopes of obtaining a deeper understanding. I was welcomed and treated with courtesy and respect during my visit which lasted a few hours. At the end of the day we're all hard working citizens of Nashville who want to feel safe, live comfortably, not sit in traffic all day and have our elected officials represent us properly. I will make that a reality for Nashville. Do your part and vote August 1st
Reader, it did not go over well. 
Although she did receive some supportive comments, a lot of her fans immediately slammed her as a sell-out. Here's a sample of comments from people whose profiles say they live in Nashville:



They get much uglier, although it seems that some of the extreme comments are from people outside of Nashville. In any case, it offers a disquieting glimpse into the sort of crowd Swain has attracted to herself over the years.
In a later post, Swain — or the person piloting her Facebook account — jumps into the comments to question the angry crowd: "Has it occurred to any of you that the worse thing we can do is ignore people or treat them like we hate them? If someone has a better idea, I would like to hear it."
That attracted comments like this: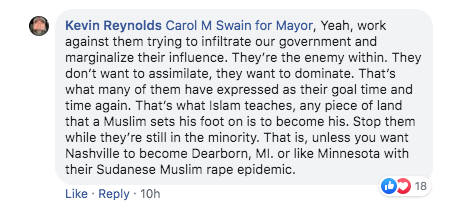 In any case, it's interesting to see Swain rethinking some of her stances. Now we're wondering if she'll re-evaluate her suggestion that God was killing Vandy students, or at least allowing them to die tragically, because of "Vanderbilt's treatment of Christian groups" or her reaction to the Waffle House shooting last year.