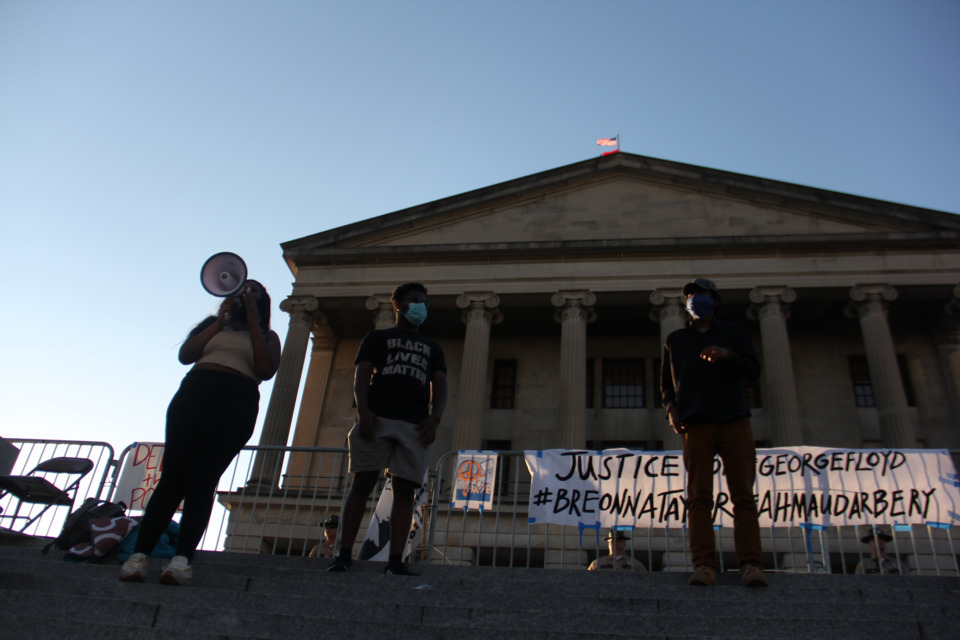 On Friday morning, protesters who have been occupying Legislative Plaza for 62 days announced via social media that they will no longer continue with the round-the-clock on-site protest but instead seek a more "sustainable format" for their movement.
"We will no longer occupy the Plaza 24/7, but we will continue to keep fighting and organizing for our goals," reads a statement posted to Instagram and Twitter.
The announcement arrives not long after the state legislature's special session, during which lawmakers passed a bill that would increase penalties for vandalism and violations of laws banning camping on state grounds. Gov. Bill Lee said he plans to sign the legislation, which would increase the penalty for camping violations from a misdemeanor to a felony. 
The protesters' statement says the decision is not a response to the new legislation: "We are not leaving in fear of these unjust, unconstitutional and undemocratic laws. Rather, we recognize that our work takes a variety of approaches and tactics."
As the Scene previously reported, the conversation for rethinking the protest was discussed at the end of July, before Gov. Bill Lee called for the special session. The statement says activists will continue to organize events and actions at the plaza, which they have at different points called the People's Plaza and Ida B. Wells Plaza, the latter in honor of the pioneering Black journalist and activist.
Protesters occupying the plaza have been seeking an audience with Lee to discuss racial injustice, defunding the police and the removal of the Nathan Bedford Forrest bust from the Capitol. While the process to relocate the statue of Forrest — a Confederate general, alleged war criminal and early Ku Klux Klan leader —  has begun, the governor has not met with the protesters.
Jonelle Christopher, one of the earliest protesters at the plaza, says she is still hopeful and optimistic about the future of the movement, whatever form it takes.
"We've grown as a group here," says Christopher. She says the protesters want to focus less on the state legislature and continuous protest and instead put their resources and skills into their communities. 
"I'm also very shocked and saddened by the bills that were passed in the House and Senate, but not surprised as we see lawmakers here hold up Confederate symbols and hold onto racist values," Christopher says. "I'm not surprised they're trying to suppress the voices of protesters."
Christopher says the protesters have "removed [their] presence from the plaza" but will return for future events and protests, including a charity drag ball next week. She adds that a planning meeting about the future of the protest community is scheduled for Sunday afternoon in Shelby Park.