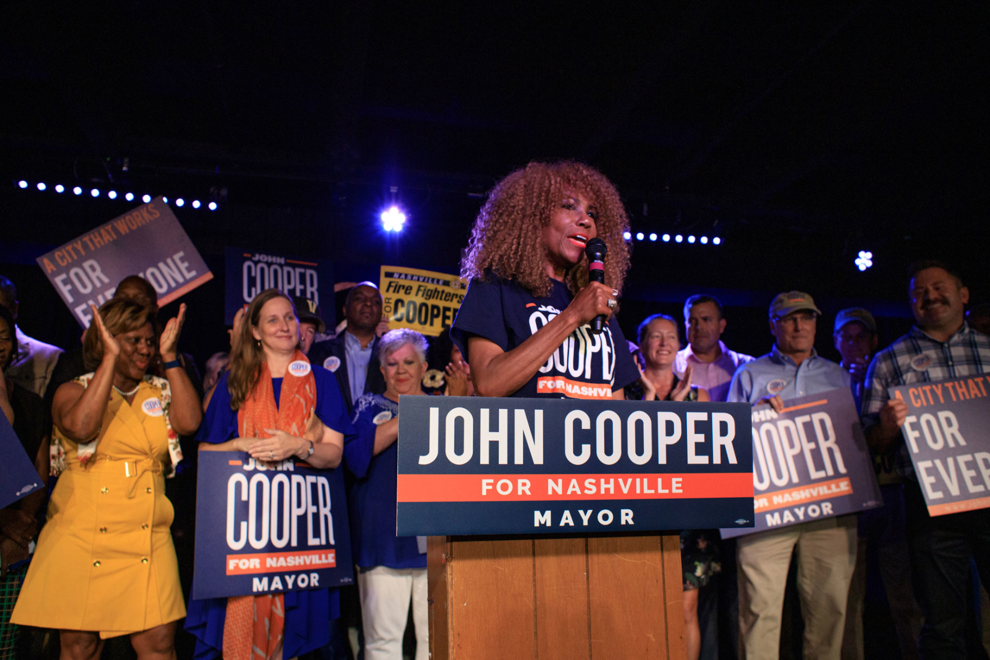 Mayor John Cooper's team is coming together.
Brenda Haywood, the congenial former Metro councilmember who represented Whites Creek, has joined the Cooper administration as deputy mayor for community engagement. With her background in education, faith-based ministry and councilmanic experience, Haywood will be an excellent complement to Mayor Cooper as they work closely with key parts of Nashville's many neighborhoods. I've no doubt she will shepherd significant progress in educational goals and in increasing positive relationships between Metro and our many communities across Nashville.
Another key individual on the mayor's team is Kristin Wilson, who has been named Metro's chief of operations and performance. Her work with the city of Atlanta, which involved tackling such problems as improving customer service and addressing homelessness, makes her qualified for Nashville's challenges.
I am also impressed with Cooper's choice of Mike Jameson as director of legislative affairs. Jameson has previously worked as the Metro Council's lead attorney, and his council experience should help Mayor Cooper build and maintain a solid relationship with the Metro Council.
Arguably the most important team member in Cooper's administration is Metro director of finance Kevin Crumbo, who is at the center of tackling the city's budget and finance challenges. His report to the council is expected in the coming days, and it will lay out the mayor's plans to address gaps in Metro's current budget. Faced with very few options to get Metro back in the black, Crumbo will have to endure his share of time in the hot seat in the coming days and weeks. But because of his background with both public and private companies doing the very same work he's doing for Metro, Crumbo is a good choice to serve as a responsible, cautious and capable helmsman as Metro navigates its return to safe financial waters. 
With its total general-obligation debt currently sitting at more than $4.55 billion, Metro Nashville has clearly been borrowing more than it should. In FY2019, the general-obligation debt sat at $4.15 billion. The year before that, it was $3.96 billion. Regardless of appeals for frank assessments and reviews of how Metro collects, spends and borrows money, our debt has only grown. Decisions made by past Metro Councils and by past directors of finance have put us in a tight spot. Despite former finance director Rich Riebeling's recommendation to refinance a portion of Metro's overall debt in 2010 for the cost of a mere $47 million, it is clearly going to impact Nashville's debt burden for much longer than anticipated. We have seen a year-over-year increase in debt service payments alone, costing Metro 14 percent of our $2.33 billion FY2020 budget, compared to a relative sliver of this much-larger budget pie in FY11, which cost us only 6 percent of our then-$1.5 billion budget. 
We have challenges ahead. Up first is patching the holes in the current budget; that is critical and time-sensitive. The second is the much larger and looming job of reining in spending and borrowing. With Cooper and Crumbo at the wheel, though, Metro will hopefully be in capable hands. 
Alexander Graham Bell once said, "Great discoveries and improvements invariably involve the cooperation of many minds." Mayor Cooper's first round of hires and appointments shows he understands that. Solutions will need experienced and capable people working together to conquer the tasks set before them. 
Bill Freeman
Bill Freeman is the owner of FW Publishing, the publishing company that produces the Nashville Scene, Nfocus, the Nashville Post and Home Page Media Group in Williamson County.