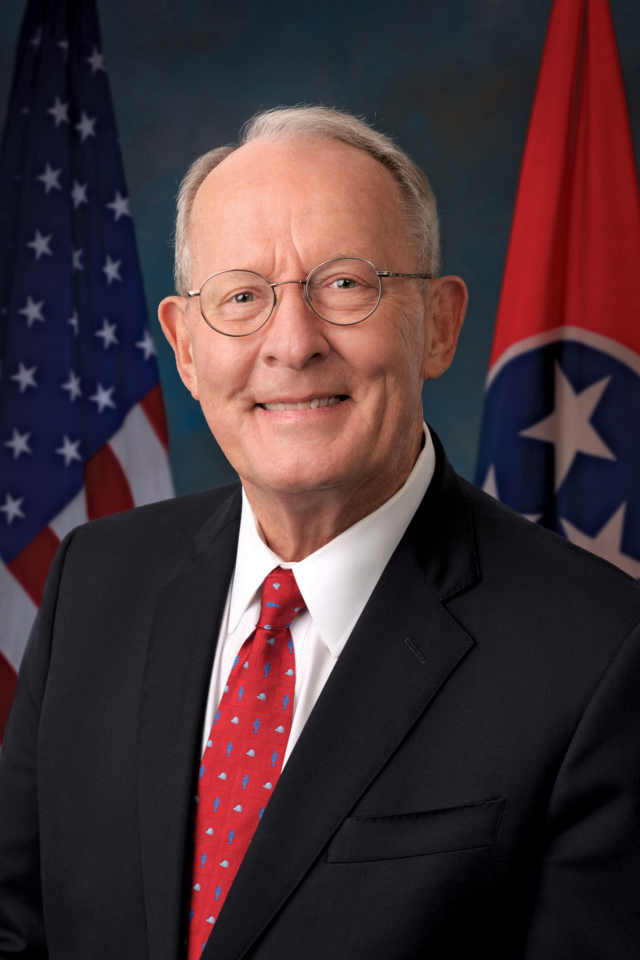 Lamar Alexander
We've heard only one brief sentence from our senior senator about the whistleblower complaint involving Ukraine and the subsequent impeachment inquiry proceedings. Sen. Lamar Alexander's statement was a mere 23 words: "The Senate Intelligence Committee is determining the facts in the Ukraine whistleblower matter, and I want to know the facts before I comment." 
We can but wonder whether Sen. Alexander — one of the few Republicans who is unbeholden to and unencumbered by President Donald Trump, as he isn't seeking re-election when his term expires next year — will speak with honesty and forthrightness once he has facts. 
Speaking of the Senate Intelligence Committee, it makes me hopeful that the committee is conducting the investigation with relatively little fanfare and media drama.
There are signs that the alarm over our president's alleged actions is crossing party lines. I was impressed that Sen. Mitt Romney (R-Utah) came out and said the whistleblower complaint warranted investigation. There is public outcry even from some of the country's staunch Republican groups — Defending Democracy Together, run in part by former New Jersey Gov. Christine Todd Whitman, has come out strongly against Trump. Through the project Republicans for the Rule of Law, the group has put the screws to a number of key GOP congressional leaders, including Sen. Alexander: "Senator Alexander, your voice is critical," the group has said. "Stand up for the country and stand up for the rule of law."
Sen. Alexander's recent vote against border wall funding is a hopeful indicator that he will vote on the facts and not the politics in an impeachment trial. Though, honestly, it might have been a rather useless vote, as Trump is sure to veto the resolution, as he did a similar vote in March. But we can hope.
Who will be the modern Howard Baker?
I recommend David Leonhardt's Sept. 29 column in The New York Times, in which he calls on a handful of GOP senators to demonstrate their stated belief that "America is different." He specifically calls out Sen. Alexander, among several others, noting that his mentor and hero, Sen. Howard Baker, stood by President Richard Nixon during the Watergate investigation until he'd seen and heard enough. Ultimately, Sen. Baker asked the question that echoes still: "What did the president know, and when did he know it?"
Leonhardt reminded Alexander that in his 2014 eulogy of his hero Baker, Alexander said, "He demonstrated courage." And, Leonhardt pointed out: "Sen. Alexander, you will be retiring soon, ending a distinguished career in which you have served as governor, cabinet member and now a senator. Will you honor your mentor by summoning the same courage that he did?"
Great question.
We will, of course, see. In December, Sen. Alexander told The Tennessean: "The job of the United States Senate is to restrain popular excesses. To restrain the excesses of the executive … [and to restrain] the tyranny of the majority." 
When the time comes, and if the facts indeed indicate that Trump's behavior deserves impeachment, will Sen. Alexander stand up for what's right? Howard Baker stood up for what was right. His adherence to the rule of law won him the respect and admiration of Tennesseans of various political beliefs.
Sen. Alexander, I join the chorus of voices asking that you do the same. Howard Baker summoned the courage to stand up to a clear violation of what was right. You can do the same. 
Bill Freeman
Bill Freeman is the owner of FW Publishing, the publishing company that produces the Nashville Scene, Nfocus, Nashville Post and Home Page Media Group in Williamson County.