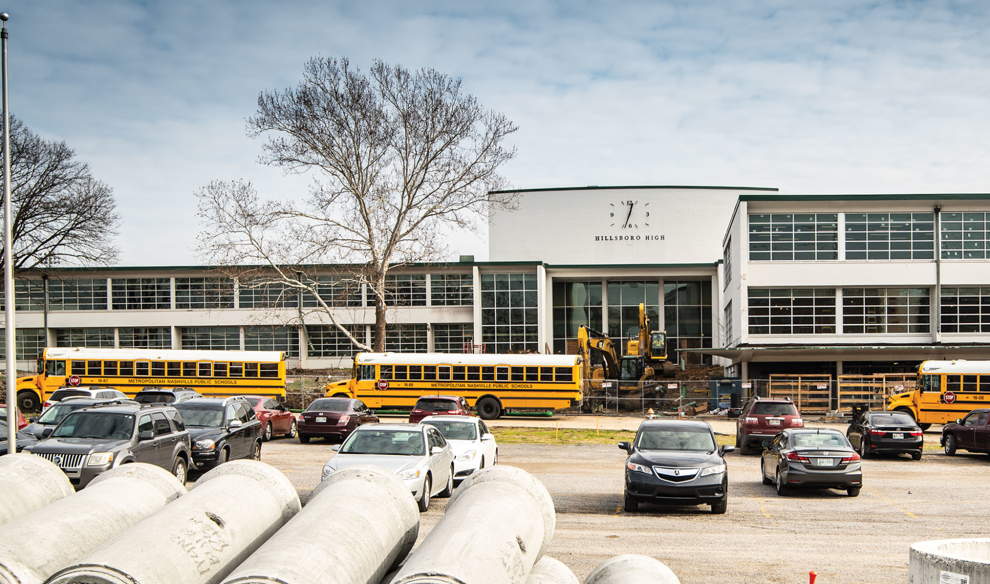 Metro Nashville Public Schools are faced by challenges on nearly every front, but it is heartening to see the support MNPS is receiving from our city administration.
MNPS has joined a lawsuit with Metro Nashville government and Shelby County Schools protesting the school voucher bill passed by the state legislature in April with the narrowest of margins. MNPS argues that the voucher program will unduly cause harm to its students and unfairly limit the financial support needed to keep schools operating satisfactorily. 
Adrienne Battle, MNPS interim director of schools, understands our school system extremely well, because she has experience at every level. She graduated from an MNPS school, has taught at our schools, has been a principal and district superintendent before, and ascended to her current position. She knows too well what the ramifications of this legislation will mean for Nashville schools. "Taking money and students out of public schools is a terrible thing to do to a community," she said. "We need investment in public education, not disinvestment. We need a firm commitment to our schools and an unwavering belief in what they can do for our children." 
Mayor John Cooper has put the full weight of the Metro government behind this challenge, calling it a "last-resort response" to ensure that MNPS is not burdened with an uneven redirection of tax dollars from public education funding to schools outside the oversight and responsibility of the public school districts. "It is both my job and the responsibility of this administration," he said, "not only to protect Metro's limited resources for public school funding but to seek more public education investment from the state." 
With the strong-arm tactics that the disgraced former House Speaker Glen Casada used to ensure passage of this legislation, it's not surprising that even conservative lawmakers have taken issue with the voucher program. The bill designed to repeal the law has received bipartisan support. The bill's sponsor, Bo Mitchell (D-Nashville), referenced the lawsuit filed by Nashville and Shelby County schools when he commented, "This was wrong from the beginning, it's still wrong, and I can't wait for the courts to tell them it was wrong." 
It's understandable that everyone, including our conservative legislators and Gov. Bill Lee, want to do everything within their power to improve our schools. We all agree on that point. But the methods of seeking improvement are where the differences lie. The school voucher bill and the state's methods of calculating education funding illustrate the challenges Tennessee faces to properly fund all of the state's school districts. Using the standard Basic Education Program methodology, the state determines the percentage of state funding for each school district, based in part on perception of the overall costs to run each district. 
With this algorithm, the state has routinely provided roughly one-third of MNPS' budget needs. Recent news coverage showed that the state contributed $289 million to Metro schools in FY2020 and expected Metro's portion of necessary funds to be $366 million. Not many would call that an unfair split. The problem lies in the fact that Metro spent much more on schools than the $366 million calculated by the state — in FY2020, they spent $625 million in local funding. 
So where does the difference come from? Is it infrastructure needs? Construction costs? Staff and faculty pay and benefits? 
It isn't from staff and faculty compensation, since a quick look at FY20's budget shows MNPS with roughly 10 percent fewer employees than it had two years ago — with 9,079.4 budgeted positions during FY20 compared to 9,950.4 positions in 2017-18. Is it because of Metro's comparatively needier students? According to MNPS' 2018-19 Annual Diversity Report, 16 percent of MNPS students are English Learners, 13 percent have exceptional needs, and 42 percent come from economically disadvantaged homes. The fact that Nashville's public school students have more hurdles facing them than the average student certainly counts for something. 
In the coming months, complex conversations and decisions will be made between the state and its capital city to determine what is best for our state, our cities and our schoolchildren. Gov. Lee has proposed the largest increase in teacher salaries in the history of Tennessee, equating to a 4 percent increase. His recent State of the State address highlighted the importance of education. "We know it is passion that brings teachers to the classroom," he said, "but we also know our teachers deserve to be paid more for the important work they do." 
Regardless of differences in political ideologies, our children and their education are important to everyone. I am glad Metro is supporting our schools and working with the state to determine the most successful path forward. I am confident we will work out a plan for Tennessee and Nashville to succeed and, most importantly, for our children to prosper. 
Bill Freeman
Bill Freeman is the owner of FW Publishing, the publishing company that produces the Nashville Scene, Nfocus, the Nashville Post and Home Page Media Group in Williamson County.