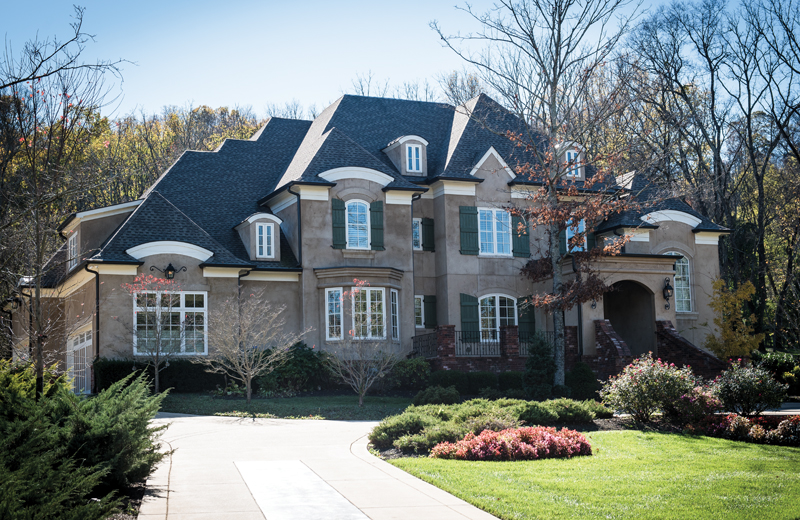 No matter the month, Headline Homes will always surprise.
For example, this month's list includes an A-frame — a quirky, kitschy home design that rarely results in seven-figure sales. And even more bizarrely, there's a seller taking a $200,000-plus bath on a house bought near the bottom of the market and renovated between then and now, the top of the market.
Among the buyers and sellers is the usual collection of doctors and lawyers, but also a TV exec and a renowned car collector.
As always, these are the top 10 homes in Nashville and surrounding counties for October, ranked by sales price.
1. 862 Windstone Blvd., Brentwood, 37027
Buyers: Cary L. Glotzer and Traci L. Duke
Sale price: $2.725 million
Sellers: Justin W. and Alison S. Davis
Sellers' agent: Alison Davis, Pilkerton Realtors
Buyers' agent: Donna Tisdale, The Lipman Group Sotheby's International
Television executive Glotzer — founder of production company Tupelo Honey-Raycom — and wife Duke were featured in a Wall Street Journal story last year about the difficulties of selling highly customized luxury homes. Glotzer and Duke's home in the Hamptons included a $400,000 half-court indoor basketball court (with electronic scoreboard) and an outdoor basketball-and-tennis court. His new Middle Tennessee home doesn't have those unusual amenities. It does, however, have two wet bars. 
2. 1431 Tyne Blvd., Nashville, 37215
Buyer: Mary Page Hickman
Sale price: $2.12 million
Seller: Land Trust Agreement
Seller's agent: Carolyn D. Akins, Neal Clayton Realtors
Buyer's agent: Tricia C. Ericson, French King Fine Properties
This six-year-old Tyne Boulevard home has 23-foot ceilings; perhaps Hickman should consider an indoor basketball court. It also has (deep breath): a master suite with coffee bar, a space that could be a wine cellar or workout room (or both!), a wrapping station and an outdoor kitchen. If that's not enough, the four refrigerators remained with the sale, as did all the barstools. The drapes, on the other hand, were listed as "negotiable."
Mrs. Hickman is the buyer of record; she's a "wife and mother," per social media. Her husband Winston is a principal with T.W. Frierson Construction.
3. 206 Lynnwood Blvd., Belle Meade, 37205
Buyers: Raymond D. and Leigh M. Barnes
Sale price: $1,817,500
Sellers: Darrin L. and Margaret J. Rohr
Sellers' agents: Rita Starling Puryear and Trudy Byrd, Fridrich and Clark Realty
Buyers' agent: Bill Bainbridge, Bainbridge Realty Group
Built in 1924, this home on a secluded section of Lynnwood Boulevard went through an extensive renovation in 2013, including a to-the-studs redo of the master suite. 
Seller Darrin Rohr is the chief human resource officer at Bridgestone. Raymond Barnes is an attorney.
4. 2828 Sawyer Bend Road, Franklin, 37069
Buyers: Donald G. and Melissa K. Blaschke
Sale price: $1.768 million
Seller: R. David Houston
Seller's agent: Laura Baugh, Worth Properties
Buyers' agent: Darren Rippy, Keller Williams
This 5,500-square-footer sits on five "private acres." The bathroom in the master suite is not content to have run-of-the-mill bathing facilities: It has a steam shower and a soaking bath. There is also a pool and a pool bath. The five acres back to the Harpeth River and across the river is land-trust property.
Donald Blaschke is a doctor. 
5. 3180 Carl Road, Franklin, 37064
Buyers: Steven J. and February L. Wyse
Sale price: $1,706,500
Seller: Hassan S. Rifaat
Seller and buyers' agents: Tim Thompson and Brent Thompson, Tim Thompson Premier Realtors
This historic farmhouse, built in 1910 on 17 acres, has recently been renovated, but still includes the original hardwoods and arched doorways. The on-site barn also includes a bunkhouse. Like home No. 4, this property backs to 214 acres owned by the land trust. 
Seller Rifaat is a doctor and president of the Nashville-based Windsor Health Plan. Steven Wyse is the founder of Granite Industries, a scaffolding manufacturer. 
6. (tie) 660 Belle Park Circle, Nashville, 37205
Buyers: Mike and Jane McLain
Sale price: $1.7 million
Sellers: Maureen F. Cassidy and Gerald M. Kluft
Sellers and buyers' agent: Steve G. Fridrich, Fridrich and Clark Realty
This "Charleston-inspired" home includes heart-of-pine flooring, period reproduction fixtures and ironwork, and a driveway bricked in a herringbone design.
Mike McLain is a senior adviser to Irving Place Capital and was previously CEO of worker safety equipment company Aearo. The McLains also lend their name to an endowed professorship at Auburn's college of business.
The home came in at No. 4 in the February 2010 edition of Headline Homes, selling for $1.2 million. Cassidy is an associate hospital director at Monroe Carell Jr. Children's Hospital. 
6. (tie) 5107 Harvard Court, Brentwood, 37027
Buyers: Faryab F. and Taraneh J. Lohrasbi
Sale price: $1.7 million
Seller: Brian S. Jones
Seller's agent: Molly Edmondson, Fridrich and Clark Realty
Buyers' agent: Fruz Roshan, Covenant Real Estate Services
In addition to a five-bay garage, this Princeton Hills home has "so much space" — 7,171 square feet of it, to be exact. Buyer Faryab Lohrasbi is a urologist.
8. 2320 Golf Club Lane, Nashville, 37215
Buyers: Jason B. and Amy S. Robbins
Sale price: $1,687,500
Sellers: William N. and Lee Anne Fry
Sellers' agent: Steve G. Fridrich, Fridrich and Clark Realty
Buyers' agent: Sam Logan, SilverPointe Properties
Sitting on a full acre near Green Hills proper, this 1940-built home features a saltwater pool, cabana and a pool house that doubles as a guesthouse (at the time the home was on the market, the guest house was being rented). 
Interestingly, the Frys bought the home in July 2008 — near the bottom of the Nashville market — for $1.9 million, and they sell it now, at the peak of the market, for more than $200,000 less. In the meantime, the home was re-roofed, new windows were put in, and the carport was renovated. The home was on the market for 250 days, originally listed at $1.985 million.
At the time of his purchase, Bill Fry had just been named CEO of Oreck Corp. He is now a managing director for American Securities. Jason Robbins is a dermatologist. 
9. 1731 Ravenswood Farm Lane, Brentwood, 37027
Buyers: Ken and Shelli Thwaits
Sale price: $1.535 million
Seller: Michael E. Karl
Seller's agents: Gary Ashton and Monica Veal, The Ashton Real Estate Group
Buyers' agent: Lisa Culp Taylor, Parks
Here's a rarity for Headline Homes: an A-frame. In addition to the quirky design, the home sits on five acres, which includes a lighted tennis court. Inside, there's a recording studio. 
Ken Thwaits is the owner of Precision Dynamics and is an occasional auto racer, but is renowned for his extensive collection of Chevrolet Camaros; he owns one from every model year the sports car has been produced.
10. 899 Plantation Blvd., Gallatin, 37066
Buyers: Orlando C. and Imelda P. Rodriguez
Sale price: $1.475 million
Sellers: Jay Frey and Valerie R. MacLeod
Sellers' agent: Kari Powell, Keller Williams
Buyers' agent: Shelia Allen, RE/Max Elite
Tucked between the ninth tee of Fairvue's golf course and Old Hickory Lake, this home has three master suites (sort of stretching the definition of "master"), an expansive covered outdoor entertaining area and an oversized boat dock. 
Orlando Rodriguez is a cardiologist.